Alveolar Process Fracture
OBJECTIVES
1 Recognize injury by appropriate clinical and radiographic examination.
2 Identify the various dental, periodontal and alveolar elements involved in the injury.
3 Define objectives of acute treatment.
4 Describe healing outcomes.
DESCRIPTION AND CLINICAL APPEARANCE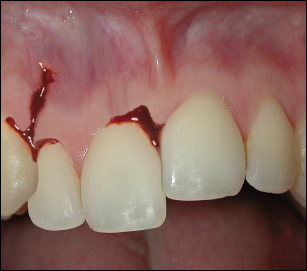 This trauma entity is a fracture of the alveolar process, which may or may not involve alveolar sockets.
The typical clinical appearance is often one in which a segment containing one or more teeth is displaced axially or laterally, usually resulting in occlusal disturbance.69,70 When mobility testing is performed, the entire fragment is found to be mobile (several teeth move as a unit), and a percussion test gives a dull sound. Gingival lacerations are frequently observed.
RADIOGRAPHIC APPEARANCE