Splinting
OBJECTIVES
1 Describe placement of two types of flexible (semi-rigid) splints.
2 Describe removal of flexible splints.
The application of a splint is indicated in all cases where repositioning has been performed after a luxation or avulsion injury and root or alveolar bone fracture.174 Several studies have shown that a flexible splint may optimize pulp and PDL healing.175–187 The flexibility of various splint types has been tested in in-vitro situations.178–186 Two general types of splint exist in this category: a flexible temporization material splint and a flexible wire/fiber composite splint.
ETCHING ENAMEL
The incisal one-third of the labial aspect of enamel on the injured and adjacent teeth is acid-etched (30 seconds) with phosphoric acid gel.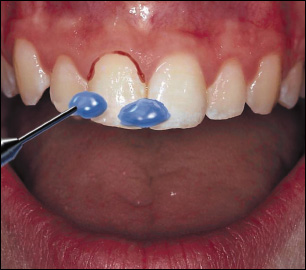 RINSING AND DRYING ENAMEL
The etchant is removed with a 20-second water spray and the enamel dried with a stream of compressed air; the etched enamel has a matte, chalky appearance. The teeth are isolated with gauze sponges labially and palatally. Hemostasis can be achieved by compress/>