Fig. 9.1
Fluorapatite crystal structure [
16
]. Note that the only difference between the fluorapatite and HA cells is that the HA unit cell is slightly larger.
Black
 = calcium,
Yellow
 = phosphorous,
Pink
 = oxygen
HA, like all apatites, has a hexagonal system with space group P6
3
/m [
11
,
17
]. The acceptance of a hexagonal P6
3
structure provides a poor least squares fit to XRD data. Therefore, two monoclinic models have been suggested: P21/b [
18
] and P21 [
19
]. Their chemical composition and Ca/P ratios are summarised in Table
9.1
.
| Symbol | Chemical formula | Chemical definition | Ca/P |
| --- | --- | --- | --- |
| MCP | Ca(H2PO4)2 | Monocalcium phosphate hydrate | 0.5 |
| DCPA | CaHPO4 | Dicalcium phosphate anhydrous | 1.00 |
| DCPD | CaHPO.2H2O | Dicalcium phosphate dihydrate | 1.00 |
| OCP | Ca8H2(PO4)6.5H2O | Octacalcium phosphate | 1.33 |
| α-TCP | α-Ca3(PO4)2 | α-Tricalcium phosphate | 1.5 |
| β-TCP | β-Ca3(PO4)2 | β-Tricalcium phosphate | 1.50 |
| TTCP | Ca4(PO4)2O | Tetracalcium phosphate | 2.00 |
| OHA | Ca10(PO4)6(OH)2 − 2xOx | Oxyhydroxyapatite | 1.67 |
| OA | Ca10(PO4)6O | Oxyapatite | 1.67 |
| HA | Ca10(PO4)6(OH)2 | Hydroxyapatite | 1.67 |
Figure
9.2
a shows the phase diagram of HA with no water present and (b) at a partial water pressure of 500 mmHg. Figure
9.2
a indicates that HA can decompose into other calcium phosphates such as tetracalcium phosphate (TTCP), tricalcium phosphate (TCP), monetite (C
2
P), and mixtures of calcium oxide (CaO) and C
4
P. Figure
9.2
b shows that HA is stable up to 1,550 °C. The two renditions of the phase diagram indicate that the phase equilibrium of HA is influenced greatly by the partial pressure of water in the surrounding atmosphere. Fang et al. [
24
] reported the effect of stoichiometry on the thermal stability of HA from experiments where HA powder samples with Ca/P ratios remained within 1.52–1.68 when heated to 1,100 °C.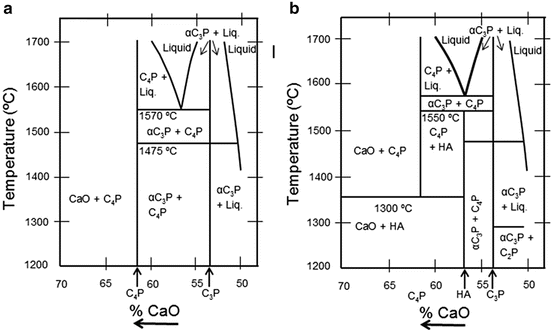 Fig. 9.2
(
a
) Phase diagram of the system CaO–P
2
O
5
at high temperature. No water present. (
b
) Phase diagram of the system of Cao-P
2
O
5
at high temperature and at a partial water pressure of 500 mmHg. (Note: There are many references to the hydroxyapatite phase diagram. The following references are examples where information can be accessed (White et al. [
22
]; Gross et al. [
23
]))
These potential changes in phase structure are of direct relevance since the DC plasma operates under high pressures at atmospheric conditions that comprise water vapour.
9.2.1.2

Comparison of Hydroxyapatite and Bone

HA, due to its apatite structure, contains structural sites that allow substitution of other ions. For example, if there is a deficiency in either calcium or carbonate species, then sodium (Na

+

), magnesium (Mg

2+

), acid phosphate (HPO

4

), potassium (K

+

), carbonate (CO

3 2−

), fluoride (F

−

), and chloride (Cl

−

) ions may be substituted as minor elements. The trace elements of strontium (Sr

2+

), barium (Ba

2+

), and lead (Pb

2+

) may also be observed. Synthetic HA and the main constituents of the bone are compared in Table

9.2

.

Table 9.2

Comparison of bone and hydroxyapatite ceramics (Nicholson [

25

])
| Constituents (wt.%) | Bone | HAa |
| --- | --- | --- |
| Ca | 24.5 | 39.6 |
| P | 11.5 | 18.5 |
| Ca/P ratio | 1.65 | 1.67 |
| Na | 0.7 | Trace |
| K | 0.03 | Trace |
| Mg | 0.55 | Trace |
| CO3 2− | 5.8 | – |
There are different methods available to deposit calcium phosphate, and their mechanical properties vary accordingly. Likewise, HA powder differs in grain size and in composition because of different preparation methods for the HA scaffold materials. Small grain size provides greater fracture toughness. Table
9.3
shows a comparison of mechanical properties of cortical bone, cancellous bone, and HA scaffolds where large variations can be observed.
9.2.1.3

Dissolution Behaviour

Hydroxyapatite is very stable in physiological media. However, the dissolution rates of other phases formed due to the high temperature of the plasma spray process are more pronounced. The phases that appear in the HA coating are tricalcium phosphate (Ca

3

(PO

4

)

2

, TCP, i.e. α-TCP and/or β-TCP), tetracalcium phosphate (Ca

4

P

2

O

9

, i.e. TTCP), calcium oxide (CaO), oxyhydroxyapatite (OHA), and oxyapatite (OA). Hydroxyapatite may also exist as an amorphous phase, ACP. The dissolution order is as follows [

11

,

28

]:
29].
The dissolution of unstable phases in the coating leads to an undesirable reduction of the mechanical strength in a coating. It should be kept in mind though that these dissolved phases have been shown to enhance bone tissue growth [
30
,
31
] so that there is a compromise between dissolution rate and growth rate. Ducheyne et al. [
30
] compared the performance of three calcium phosphate coatings (polylactic acid/calcium-deficient HA, calcium-deficient HA, and oxyhydroxyapatite/α-TCP/β-TCP) with an uncoated implant in vivo. The calcium phosphate-coated implants were observed to permit a greater degree of bone growth than the uncoated implant.
9.2.1.4

Thermal Behaviour
9.2.2

Hydroxyapatite Powder
9.3

Human Bone

Since the main intention of HA implant coatings is to support the growth of human bone tissue on the implant surface, it is necessary to understand the structure of this tissue and its modelling and remodelling behaviour. In this way, the intention is to design an artificial microstructure that mimics the performance criteria of natural bone.

In general, there are two types of bone tissue, the high and the low porous ones, called the compact and the trabecular bone [

45

]. With 75–95 % porosity [

45

], the trabecular bone (also called cancellous or spongy bone) is mostly found in the epiphysis, the ends of long bones [

46

]. There the matrix is formed of 200 μm thick [

45

] trabeculae. The trabeculae matrix formation directions follow the principal stress axes [

47

] within the bone that allows the transfer of high loads along these axes. Overall, the trabeculae of the cancellous bone form 80 % of the bone surface [

48

].

The high-density bone is found in the middle parts of long bones, the diaphysis, and in the outer parts of bones, where it forms the bone shell that is termed cortical bone. With 80–85 % of the skeletal bone mass, it provides protection and strength for the whole bone [

48

]. This compact matrix shows a porosity from 5 to 10 % [

45

,

49

]. Within the pores of the matrix, there are tissue types that display different morphologies and character [

47

], the detail of which is considered out of scope for this current chapter.

Primary bone is located on the bone surface. A new bone structure will be arranged parallel to this shell structure and is termed as "lamellae". The bone matrix itself is continuously changing. Therefore, the primary structure will be replaced by the secondary bone. It is interesting to note that the substructure of the bone has a morphology of 200 μm in diameter and consists of approximately 16 layers [

45

] that are surrounded by a cement line. This dimensional feature is similar to the dimensions of a single HA splat that is formed via thermal spray processing.
9.3.1

The Composite Structure of Bone
9.3.2

Bone Modelling and Remodelling

There are two bone formation processes, i.e. the endochondral and the intramembranous modelling processes [

56

]. The specialised cells need an unmineralised tissue to mineralise bone matrix as a foundation. But when a bone grows, this interim, softer matrix needs to withstand loads that affect the bone. Therefore, cartilage, which is able to resist high compressive pressures, provides a base for the bone-mineralising cells [

45

]. Long bones grow along their length axis. Thus, two bone-growing zones are located near the ends of the bone [

45

]. Later, osteoclasts and osteoblasts will remodel the bone, and secondary bone matrix will be mineralised [

56

]. These processes are called the primary and the secondary ossification.

After modelling the primary bone matrix, permanent remodelling processes take place in the whole skeleton. The main purpose is to react to changes in stress [

57

] caused by different loads on the bone, e.g. generated by changes in daily activities or age- and disease-related alterations. Thereby, Wolff's law proclaims that less strain causes degradation of bone, whereas overstraining causes increased production of bone matrix in this area. Furthermore, remodelling enables the body to repair small damage of the bone matrix [

57

]. Therefore, at any time, approximately 20 % of the trabecular bone is situated within a remodelling process, and every bone surface region will be remodelled nearly every second year [

45

,

57

].

The remodelling process takes place in separate regions at the bone surface matrix, depending on where it is necessary. Osteoclasts and osteoblasts work together in so-called basic multicellular units, BMUs, resorbing old and creating new tissue [

45

,

57

]. Activation and movement of BMUs is a not a sufficiently investigated field. It is assumed that osteocytes can sense stresses in the bone matrix and, therefore, these cells transfer signals to the BMUs to activate remodelling of this part of the bone in accordance to the changed needs [

57

].
9.3.3

Mechanical Properties of Bone

Bone is a non-orthotropic material. Therefore, cortical and trabecular bone can be differentiated in terms of mechanical properties. The porosity of trabecular bone is much higher than that of compact bone, and thus, the density and Young's modulus are lesser in this tissue. Additionally, it is important to note the load direction during measurement of the mechanical properties of the bone. Since the bone matrix grows along the main stress axes, the bone properties change longitudinal or transverse to this direction as seen in Table

9.5

.

Table 9.5

Typical mechanical properties for human bone (Non-marked values after R.B. Martin et al. [

45

])

a
ID

Property

Cortical bone

Cancellous bone

Average bone

Bone material HA

Bone material collagen

1

Young's modulus [GPa]

0.07–0.49

Longitudinal

17.4

Transverse

9.6

Bending

14.8

2

Shear modulus [GPa]

3.51

3

Poisson's ratio

0.39

4

Tensile yield stress [MPa]

Longitudinal

115

5

Tensile ultimate stress [MPa]

Longitudinal

133

Transverse

51

6

Compressive yield stress

Longitudinal [MPa]

182

Transverse [MPa]

121

7

Compressive ultimate stress

Longitudinal [MPa]

195

Transverse [MPa]

133

8

Shear yield stress [MPa]

54

9

Shear ultimate stress [MPa]

69

10

Bending ultimate stress [MPa]

208.6

11

Tensile ultimate strain [%]

Longitudinal

0.0293

Transverse

0.0324

12

Compressive ultimate strain

Longitudinal [%]

0.0220

Transverse [%]

0.0462

13

Shear ultimate strain [%]

0.33

Hardness [MPa]

–

Longitudinal

Transverse

14

Density [g/cm3]

1.8–2.0

1.0–1.4
As reflected in Table
9.5
, the property differences between HA and collagen are significant due to the material properties. Bone is a composite of both materials, and thus, the bulk values of the bone lie between those of collagen and HA, depending on the degree of mineralisation. Finite element studies of Jäger and Fratzl [
63
] have indicated that the mineral concentration and the mineral arrangement influence the whole bone properties significantly.
9.4

Hydroxyapatite Coatings
9.4.1

Historical Development of the Natural Material

In 1979, the American Society of Testing and Materials (ASTM) enacted the ASTM standard C633-79 (now updated to C633-01), a standard test method for adhesion or cohesive strength of flame-sprayed coatings [

64

]. Although the thermal spray manufacturing process has been in use for over 90 years, their application to clinical implants began in the 1980s [

40

], for example, with the material and clinical research by Osborn (in 1985 and 1987) [

65

,

66

]. Further studies, especially concerning sprayed HA coatings, such as by Mornachon (in 1985) [

67

] and De Groot (in 1987) [

15

], presented evidence of promising clinical implementation.

Naturally grown HA is located in many countries, e.g. Switzerland, Germany, Italy, and the USA [

68

]. The HA feedstock material is now produced synthetically for clinical applications to guarantee quality.
9.4.2

Manufacturing Processes

The manufacturing process of the coating greatly influences the coating properties since the microstructure will reflect the process. Therefore, good knowledge and understanding of this method is essential for analysing, developing, and upgrading HA coatings. Various methods, as mentioned in Sect.

9.1.2

, have been developed to deposit HA onto an implant surface, such as biomimetry [

69

,

70

], dip coating [

71

], sol-gel methods [

72

–

74

], immersion coatings [

6

,

75

], plasma sintering [

76

], ion beam-assisted deposition (IBAD) [

77

], electrophoretic deposition [

8

,

78

–

80

], pulsed laser deposition [

81

], electrohydrodynamic spraying [

82

] and thermal spray techniques [

83

,

84

] such as plasma [

85

], flame [

86

], and high-velocity oxygen fuel (HVOF) [

87

].

Many of these processes have disadvantages, which make the manufacturing inefficient or which do not fulfil mechanical and clinical expectations. Reasons for failure [

40

] include (1) the impurity of the HA coating, (2) poor bonding strength between the coating and implant, and (3) changes in structure and properties of the implant metal or the HA coating due to the processing heat.

Among these techniques, thermal spray, in particular plasma spray, has been approved by the FDA for the deposition of HA coatings [

88

]. The plasma spray method can prepare large-scale coatings that exhibit good adhesion to substrates of complex shape [

40

,

89

]. Plasma spraying has the ability to produce specialised coatings with functional properties such as biocompatibility, fixation, corrosion, and wear resistance that is beneficial to the field of biomedical engineering [

90

–

92

]. The plasma spray method (1) offers good chemical and microstructural control, (2) can be used on difficult surfaces and implant shapes, (3) has demonstrated an ability to form coatings of variable thickness, and (4) exhibits good biocorrosion and substrate fatigue resistance [

40

]. Figure

9.4

depicts the typical surface of a HA coating deposited by a plasma spray method.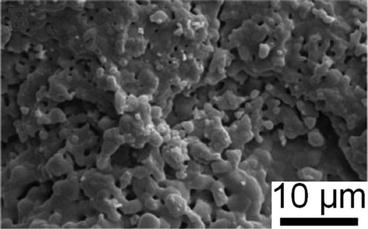 Fig. 9.4
Typical structure of a sprayed hydroxyapatite coating (Ng et al. [
55
]. Reprinted with permission. The copyright is held by the referenced source)
9.5

Thermal Spraying

Thermal spray employs high temperature and velocity to melt the powder or wire as a feedstock and deposit one material onto the surface of another. Thermal spray methods can be divided into two major classes: (1) chemical energy of the combustion gases that power the flame spray torch and (2) electric currents providing energy for plasma generators.