Chapter 9
Mucogingival Grafting Procedures – An Overview
Aim
This chapter aims to describe the different surgical techniques available for managing localised gingival recession. The principal causes of localised gingival recession have been discussed in a previous book in this series (Periodontal Medicine – A Window on the Body).
Outcome
At the end of this chapter the reader should be familiar with the different surgical treatment options to augment the gingivae and cover the exposed root when localised recession defects are present. The reader should appreciate that mucogingival surgery can be technically challenging, recognise that there may be limitations to what can be achieved surgically and be able to identify those patients who would be better managed in a specialist care setting.
Introduction
Gingival recession is the exposure of the root surface owing to the apical migration of the gingival margin. Mucogingival therapy (also referred to as periodontal plastic surgery) may be required to:
prevent further recession

correct aesthetic problems

aid plaque control

reduce dentine hypersensitivity

prepare a solid tissue bed for implant surgery.
There are several different mucogingival treatment approaches, which usually involve the manipulation of the patient's tissues to augment the gingivae and cover the exposed root.
The latest Adult Dental Health Survey carried out in the UK revealed that 66% of dentate adults had at least one tooth with a root surface that was exposed, worn, filled or decayed. Gingival recession is a common feature in populations with good as well as poor standards of hygiene. It may be localised or generalised in nature.
Risk Factors for Gingival Recession
Trauma – most commonly caused by aggressive tooth-brushing and less commonly factitious injury. This usually results in a localised recession defect.

Anatomic factors – narrow apicocoronal height and decreased buccolingual thickness of the attached gingivae can predispose to gingival recession. This recession usually arises on the buccal surfaces of teeth. Short vestibular depths and prominent fraenal attachments may limit plaque control and therefore potentiate recession.

Malaligned teeth – fenestrations and dehiscences (Fig 9-la,b) are commonly found around malaligned teeth. These make teeth more susceptible to gingival recession.

Postorthodontic therapy – where labial bodily movement of teeth can position them outside the labial alveolar plate. This can subsequently lead to dehiscence formation.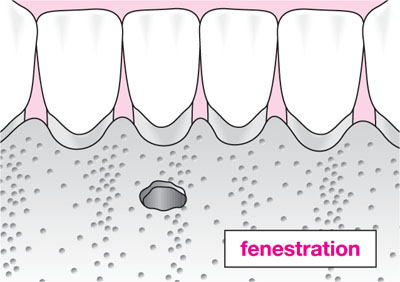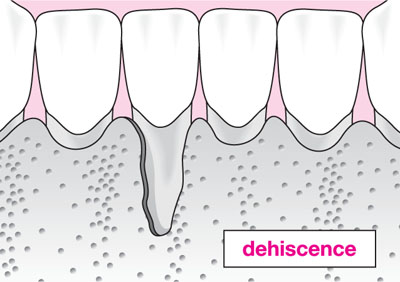 Miller's Classification of Recession
Whilst many classifications of gingival recession are used in epidemiological research, Miller's classification is probably the most widely used clinical index (Table 9-1). This classification gives the dental surgeon a useful indication of difficulty and potential success of surgical treatment.
Table 9-1 Miller's classification of recession

| | |
| --- | --- |
| Class I: Marginal tissue recession not extending to the mucogingival junction. No loss of interdental bone or soft tissue. | |
| Class II: Marginal tissue recession extends to or beyond the mucogingival junction. No loss of interdental bone or soft tissue. | |
| Class III: Marginal tissue recession extends to or beyond the mucogingivaljunction. Loss of interdental bone or soft tissue is apical to the cementoenamel junction but coronal to the extent of the marginal tissue recession. | |
| Class IV: Marginal tissue recession extends beyond the mucogingival junction. Loss of interdental bone extends to a level apical to the extent of the marginal tissue recession. | |
Management of Gingival Recession
Presurgical Management
Therapy should be directed at plaque control, debridement of any calculus, reduction of inflammation and correction of deficient restorations. Advice should be given regarding an atraumatic brushing technique. Study models or scaled photographs may be used to check for progression of the recession defect.
Presurgical management is a vital first stage in all patients with recession. It is ill-advised and potentially deleterious to carry out surgery in patients whose plaque control methods are inadequate or continue to be traumatic. Where anatomical concerns, such as a prominent fraenal attachment, make plaque control difficult or impossible, however, this should be addressed surgically in the first instance.
The traditional dogma concerning an adequate width of attached gingiva for prevention of attachment loss is not scientifically supported. The health of the gingivae can be maintained independent of their dimensions. There is evidence from both experimental and clinical studies that, in the presence of plaque, areas with a narrow zone of attached gingiva possess the same "resistance" to continuous attachment loss as teeth with a wide zone of attached gingivae (Dorfman, 1982).
Indications for Surgical Intervention
All the indications listed below assume a high level of plaque control and patient motivation:
Poor aesthetics – the appearance of recession may be unacceptable to the patient, especially if there is an unfavourable high lip line, if teeth appear abnormally long or if gingival margins are irregular.

Hypersensitivity that cannot be managed with desensitising agents.

Unfavourable contour of the gingival margin that limits efficient plaque removal.

Progression of the recession defect.

Orthodontic tooth movement likely to cause an alveolar bone dehiscence – an increase in the thickness of the covering soft tissue may reduce the risk for development of soft tissue recession.

Creation of a more favourable soft tissue bed pre-implant surgery (Chapter 11).
Box 9-1 shows contraindications to microgingival surgery.
Box 9-1 Contraindications to mucogingival surgery
Current smoking

Periodontal pocketing

Unrealistic patient expectations

Inadequate connective tissue at donor site

Severe recession defect – Miller Class IV

Self-inflicted recession defects

Prominent fraenal attachments that may need correcting prior to surgery

Medical contraindications, e.g. patients with scleroderma
Mucogingival surgery is defined as a periodontal surgical procedure designed to correct defects in the morphology, position and/or amount of gingiva surrounding the teeth. The treatment aims of mucogingival surgery are to obtain an increased zone of keratinised tissue and root coverage. There are several different treatment approaches to cover the exposed root:
free gingival graft

subepithelial connective tissue graft

laterally positioned pedicle flap

coronally positioned flap

guided tissue regeneration (Chapter 5).
Case Selection and Outcome-related Factors
Mucogingival surgery is a technically demanding procedure that involves delicate manipulation of the periodontal tissues. Mastering these techniques requires training and experience. Careful case selection and choice of procedure are essential to maximise root surface coverage. The following factors should be considered:
The height of the interproximal bone and interdental papilla influence anticipated root coverage. Root coverage will never extend to beyond the level of the interproximal tissue. In cases where there is bone or soft tissue loss interdentally, the outcome of root coverage is not predictable. Only partial coverage is expected for Class III Miller recession defects, and Class IV recession defects are not amenable to coverage.

Coverage of a shallow, narrow recession defect is generally more predictable than coverage of a wider defect. Graft survival is highly dependent upon the underl/>