8
The perioperative patient journey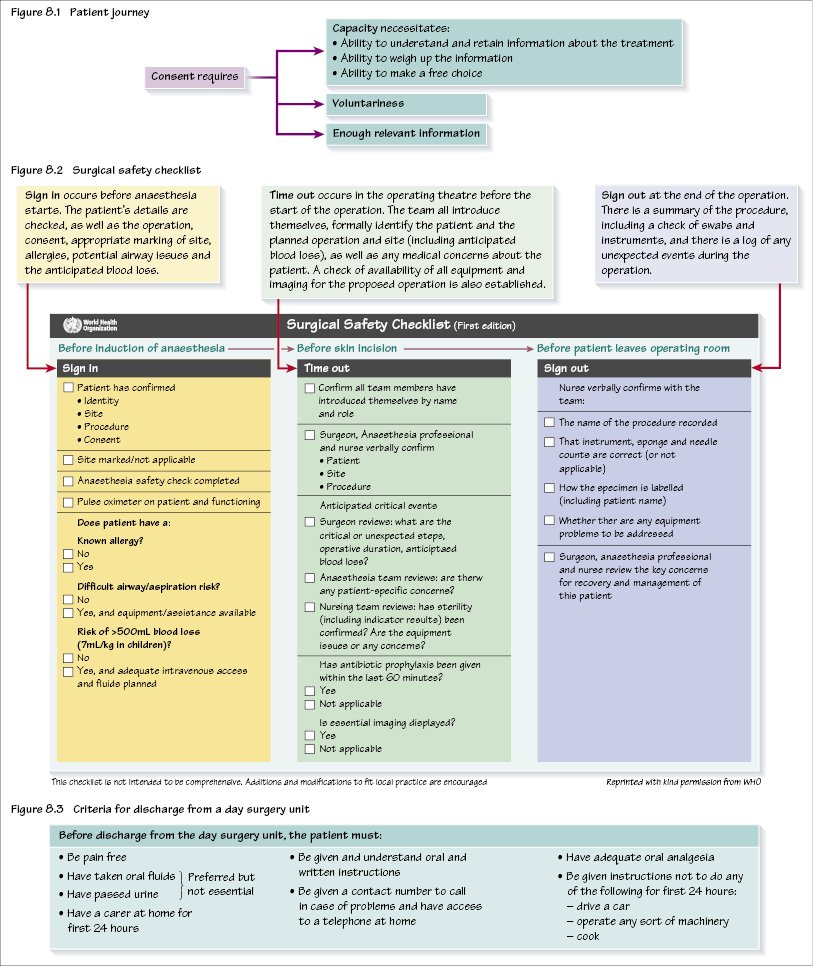 Preoperative stage
Once a patient is listed for a particular operation, they follow a series of steps. Patients attend a preoperative assessment clinic, which will be nurse-led for low-risk patients and doctor-led for higher-risk patients who have co-morbidities (e.g. cardiovascular or respiratory disease). Questionnaires filled out in advance identify patients needing to attend the doctor-led clinic.
Those identified as at high-risk for anaesthesia/surgery due to their premorbid state will ideally attend an anaesthetic clinic. Here they will be assessed and examined by an anaesthetist and specialist investigations arranged, including:
echocardiography;
lung function tests;
cardiopulmonary exercise testing;
coronary angiography;
routine investigations will already have been arranged, depending on the patient's age, sex and general health:

blood tests (haematology, biochemistry)
chest X ray
ECG.
Patients who have not been seen in an assessment will be seen by the anaesthetist either the evening before or, increasingly often, on the day of surgery.
Anaesthetic consent is an important aspect of operative consent. All patients should have received written information in advance (see Figure 8.1 for a summary of the components of consent). Patients should have the opportunity to discuss options for the type of anaesthesia (e.g. local vs. general) as well as an explanation of side effects:
common side effects, e.g. postoperative nausea and vomiting (PONV; see Chapter 14);
rare side effects, e.g. nerve damage after spinal or epidural anaesthesia;
risks specific to that patient – this can relate to a career (e.g. an opera singer and the risk of vocal cord injury) or the risk of perioperative myocardial infarction in a patient with a significant history of cardiac disease.

/>