33
Anaesthesia for ECT, dental surgery and special needs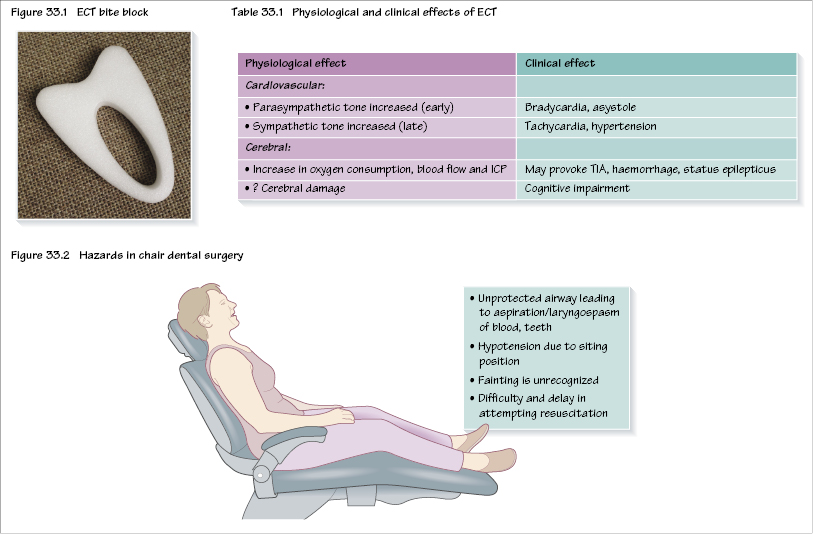 Anaesthesia for electroconvulsive therapy
Electroconvulsive therapy (ECT) is used mainly for severe depression, where other treatments have failed. It involves passing a current through the brain, inducing a fit. Generally, four to six treatments are administered twice weekly during a course of therapy. There are various immediate side effects, including headache and short-term memory loss, but there may be long-term cognitive effects as well. Usually, bilateral ECT is used as it seems more effective but unilateral ECT may have fewer side effects. There is debate about the optimum fit duration, with too short (<10 seconds) and too long (2 minutes) being less effective.
There are a number of considerations for the anaesthetist undertaking anaesthesia for ECT.
Remote location
ECT very often takes place in remote psychiatric units and the presence of a senior anaesthetist is mandatory. As with any anaesthetic, full precautions are mandatory and include oxygen, suction, monitoring and full resuscitation equipment and drugs.
Consent
Most patients can give consent but sometimes ECT may take place under the Mental Health Act.
Co-morbidities
Patients are often elderly with other co-morbidities. A full history (which may prove to be impossible) and examination should take place. Sometimes ECT should be postponed to improve the patients physical status (e.g. heart failure) but this has to be weighed up against the risk of delaying treatment. ECT should not be administered if the patient has had a recent myocardial infarction, cerebrovascular accident or has raised intracranial pressure or a cerebral aneurysm. If the patient has a pacemaker or an automated implantable cardioverter-defibrillator (AICD) then cardiological assistance should be sought. Occasionally, patients may need to be transferred to an acute hospital with the psychiatrist and ECT machine to allow safe administration of ECT.