8
Putting It All Together: Introduction to Treatment Planning
As discussed in chapter 1, the clinical process is sequentially divided into three main components: (1) data collection, (2) establishment of the problem (problem list or diagnoses), and (3) development, presentation, and implementation of the treatment plan (Figure 8.1). The intent of this chapter is to provide the fabric for the treatment planning process.
Data collection is the indispensable first step in initiating the clinical process. Interpreting and correlating the database in the light of principles gained from basic biomedical and clinical sciences will lead to the establishment of coherent, defendable, relevant, and timely diagnoses (Table 8.1), which provide the basis for the development of preventive and therapeutic strategies.
Restorative problems
Reversible pulpitis
Primary or recurrent caries
Lost restoration
High restoration
Improper proximal contact
Tight contact
Open contact
Overhang
Cracked tooth syndrome
Trauma
Injuries affecting hard tissues
Infraction
Uncomplicated crown fracture
Complicated crown fracture
Crown – root fracture
Root fracture
Injuries affecting attachment apparatus
Concussion
Subluxation
Extrusion
Lateral displacement
Intrusion
Avulsion
Prosthodontic problems
Missing teeth
Complete dentures
Fractured artificial teeth
Fractured denture base
Deficient posterior palatal seal
Removable partial dentures
Fractured artificial teeth
Fractured base or fiange
Fractured metallic connector
Loss of abutment or other teeth
Implant failure
Fixture fracture
Fastener failure
Endodontic problems
Irreversible pulpitis
Necrotic pulp
Acute apical periodontitis
Acute apical abscess
Periodontal problems
Gingival abscess
Periodontal abscess
Necrotizing ulcerative gingivitis
Postoperative problems
Pain
Root surface sensitivity
Bleeding
Injection
Swelling
Lost dressing and/or sutures
Increased tooth mobility
Sequestra
Oral surgical problems
Nonrestorable tooth
Pericoronitis
Postoperative problems
Pain
Bleeding
Alveolar osteitis
Nerve injury
Infection
Air emphysema
Soft tissue injury
Jaw fracture
Oral medicine problems
Traumatic ulcers
Recurrent aphthous stomatitis
Herpes simplex virus infection
Oral candidiasis
Lichen planus
Erythema multiforme
Xerostomia
Burning mouth syndrome
Suspected malignancy
Temporomandibular disorders
Socio – economic problems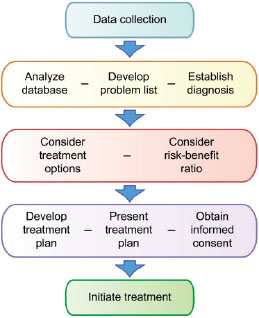 Within the concept of TQM, as a treatment plan deviates from optimal design and implementation, its quality (value, outcome) decreases at an accelerated rate. Consequently, in considering preventive and therapeutic options the clinician must consider not only disease-related variables, but such other factors as the availability of material resources (e.g., facilities and equipment); human resources (e.g., the clinician's own knowledge and technical skills, the availability of an adequate number of qualified support personnel, and a cooperative patient [a patient physically and/or psychologically able to undergo and respond to dental care]); and organizational resources (access to consultants).
The above variables clearly affect outcome and mandate different solutions for identical problems and, at tim/>