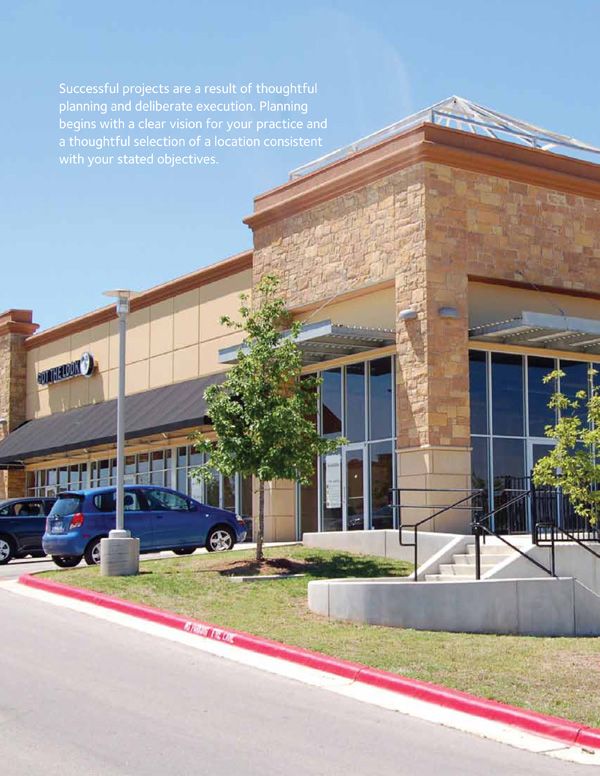 Exterior Considerations
By Jeff Carter, D.D.S. and Pat Carter, I.I.D.A.
LEARNING OBJECTIVES
• Understand the value of patient/growth demographics
• Verify optimal square footage for your lease space or your site size for a full building
• Qualify the visibility benefits to your practice
• Recognize the impact to your location by the surrounding area
• Avoid parking shortages
• Evaluate the accessibility to your location
• Understand how the orientation of the lease space / site orientation impacts your operatory
• Investigate what is included in the lease or property purchase
• Establish a due diligence period
People often assume that the exterior criteria for your dental office differs greatly when looking for land for a "ground up" building or seeking a lease space for an interior build out. In fact, there are similar considerations for both types of projects even if the level of detail and extent of verification varies between a "ground up" building as an owner purchasing property and as a tenant occupying lease space for a "building owner." The process of deliberation is the same with each step thoughtfully taken beginning with:
• Site selection
• Site investigation
• Verification of "buildability" prior to your purchase or lease commitment
Site Selection: Finding an Optimal Location
The word "optimal" should be defined by your specific practice objectives as they relate to a number of criteria. This significant point is based on our experience with dentists who purchased property or signed leases to be in a specific area or as a last resort, only to discover considerable shortfalls in their selections. There are many things to keep in mind when searching for your ideal location.
Demographics: Where Are Your Patients?
Verifying the demographics, including population, ratio of residential to commercial, number of other dentists in the area, etc., is a helpful first step when considering where you wish to locate. It can inform or reinforce your initial location preference based on your type of practice and your familiarity with patients in the area. Locations of choice for a first practice, start-up dentist who wants to attract families will differ from an established practitioner in the same area who wants to limit the amount of kids seen in the practice.
Strong drivers for the start-up, family oriented general practitioner who is new to the area may include:
• Locations that show new growth population trends for building a practice base
• A lower concentration of competing dentists
• Reasonable visibility for their initially limited new practice marketing budget
• Competitive rent options since he or she may consider this office as a "starter office" with the expectation of moving once established
The seasoned practitioner may have completely different reasons for moving his or her practice, such as to:
• Add production space
• Update the practice image
• Hold onto current patients
• Locate to an area of town with more potential patients
Additionally, the goals of the seasoned practitioner may not be the same as a dentist who is just starting out. Some things an experienced dentist may seek in a practice location are:
• More developed areas of quality by association
• Ease of access and appeal to the current patient base (avoiding areas where patients won't travel based on patient surveys)
• More optimal square footage
• Reasonable rental rate or land purchase costs to achieve the long term objective of this final career move
Secure this data, if only to confirm your expectations for your preferred location. Commercial realtors or lenders can supply such data to you at little to no cost. Clarifying the demographics most favorable to your practice objectives not only requires you to be clear about your practice vision and objectives, but it is statistical data that will substantiate the best area for your office location. It is the great way to begin an informed search that will include other criteria you will use to evaluate potential sites.
PROPERTY SIZE AND SQUARE FOOTAGE:
What Should I Look For?
The size of your new office is a critical feature when rebuilding or relocating. How much land do you need or how much space should you lease? Inadequate space or property to meet your functional needs would negate any benefits gained by other exterior criteria. Typically the answer to the question of size is settled by what is available. You can try and compare the space by estimating your space needs based on your current facility. But this is problematic for several reasons. Such assumptions don't acknowledge the shortcomings of your current office, such as:
• Insufficient storage space
• Insufficient business space
• No offices for dentists
• No private patient consultation space
• A nonexistent staff area
• A lack of private space for patients at the front desk
Square footage alone will not solve these issues. You should approach the problem systematically. We suggest using the following square footage guidelines to ensure your needs are met in your new facility:
Lease Space = 500 square feet per operatory chair
(Chair count for ortho would include records or exam consultation spaces.)
For example, 5 operatories x 500 square feet = 2500 net square feet
Purchased Property = 7 x the size of your office in square footage
For example, 7 x 2500 square feet = 17,500 square feet
If an acre of land is 43,500 square feet then your building will need about 1/3 acre.
As with any guidelines, there are exceptions, such as an unusually shaped lease space or property shape, which may require more square footage due to efficiencies lost to unusable space or lot. By the same token, a five-operatory practice might be satisfied by a space of 2,350 square feet. Aim for what you need by using these guidelines and then verify what you need by a more thorough assessment.
Visibility: How Much Visibility Do I Really Need?
There is no argument that visibility requires special attention. If your patients can't find your office because of compromised visibility of your space, then it will persist as a negative issue for new patients and your practice's growth. It is, however, a myth to then assume your dental office should be located in a high-traffic, prime retail location with signage that would compete with McDonald's. McDonald's, Starbucks, or other retail businesses seek locations that deliver high-traffic for spontaneous purchases and recognized branding. Such stand-out visibility is targeted to demographics consistent with their store placement objectives. We would argue that most retail ROI and selling objectives differ from those of a dental professional.
As a dental professional, "visibility" more aptly refers to locations that are easy to see from the access street, are near a familiar landmark in the area, or within a larger professional development. And while there is merit in a location that new patients might take special notice, dentistry is not a spontaneous purchase commodity. Patients make a deliberate choice to come to you at a specified appointed time. Sites, whether property or lease spaces, "across from the high school" or "in the Layton professional business park" will translate to visibility that serves you and your patients well.
Location by Association: What Difference Does the Surrounding Area Make?
Growth patterns for business or retail development in an area are difficult criteria to predict. It becomes even more of a challenge for you if moving into a new area that is unfamiliar. The primary objective for "location association" is to assess the longevity of growth within your selection area. The significance of this issue is evidenced by dentists whose primary reason for a new location is because their current location is becoming "run down," and has become a poor reflection on the practice.
FIGURE 8.1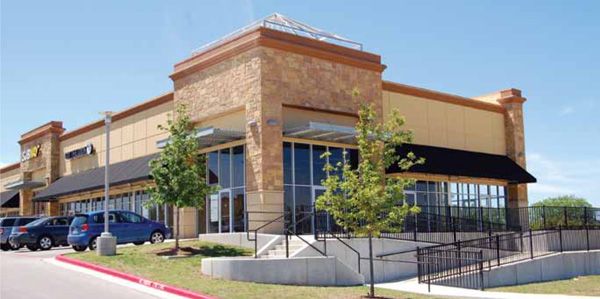 Example of a highly visibile retail space location
If you are uncertain or unfamiliar with the anticipated growth or transition of your preferred location, seek the counsel of a commercial realtor who is familiar with the area. They should be able to advise you on historical and current growth patterns in an overall area and the potential impact on your area of choice specifically.
Of course, future growth, development and maintenance of an area can be difficult to anticipate, but it remains a key consideration for you as a dental practice owner if you are investing in this location for the long term. As a bui/>