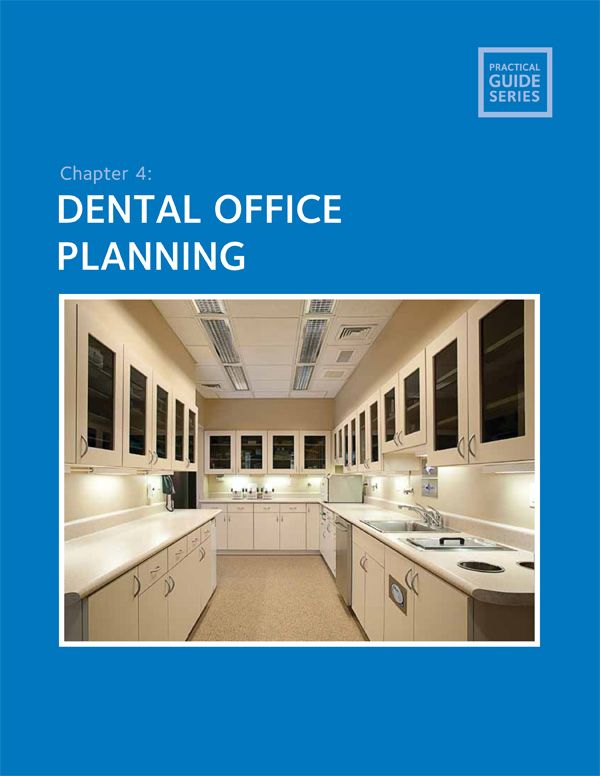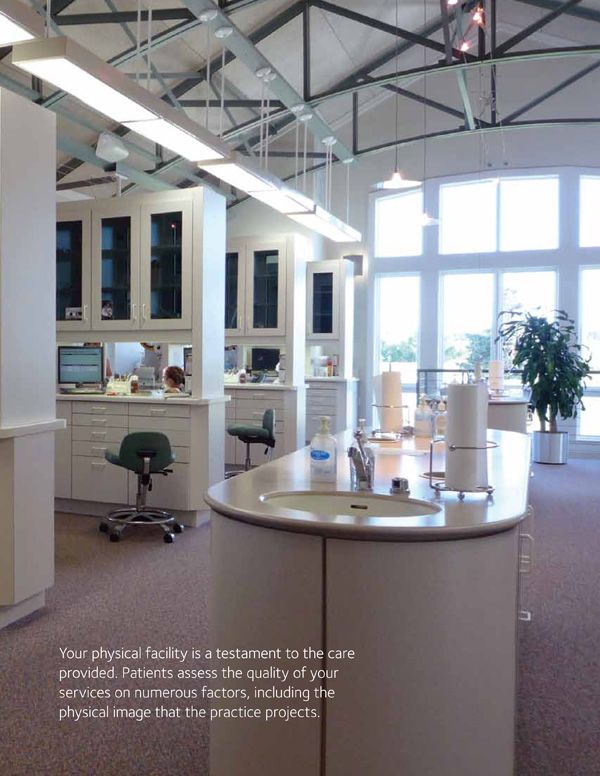 Dental Office Planning
By Michael Unthank, D.D.S., Architect
LEARNING OBJECTIVES
• Understand how your facility communicates the quality of your services
• Appreciate the importance of developing your design program prior to commencing your actual design
• Determine the size of the facility you need
• Identify what to look for when choosing a location for your office
• Recognize the zones of your office based on the varying need for privacy
• Learn how to save money by "building right" from the start
Creating a new environment for your practice is likely the largest single investment you will make in your business. A well-planned dental office can have an immediate and positive impact on virtually all facets of your practice. It can improve your productivity while decreasing your stress. It can allow you to create an image or identity for your practice consistent with the type of practice you currently have or wish to develop. It can communicate the quality of your services, inspire your patients' confidence, and promote their comfort.
Your physical facility is a testament to the care provided. Patients assess the quality of your services on numerous factors, including the physical image that the practice projects. If the space is worn, tattered, cluttered, and poorly organized, patients may transfer that perception to the quality of the services. Your office should communicate that your patients will receive the finest of care in an attractive, state of the art facility.
Dental offices must satisfy a range of diverse needs. They must be welcoming, yet function clinically. They must exude professionalism, yet not appear ostentatious, all on a budget that makes sound financial sense. Allow adequate time to make the right decisions that will have a positive impact on your practice for the rest of your practice life. From the onset of planning, be sure everything will work the way you desire. If it does, you may never have to build, expand or remodel again. If it doesn't, your costly errors will haunt you continuously, affecting the efficiency of your practice and the morale of your entire office team. It costs more to build it wrong than to build it right.
Successful dental office design is directly affected by the choices you make concerning:
• Space relationships
• Equipment
• Technology
• Lighting
• Ceiling heights
• Color selections
• Finish materials
All of these details and others can communicate quality, encourage patients to tell their friends about you, and keep you and your staff enthusiastic, efficient, and productive.
The first step, and the single most important step in the entire planning process for your new practice facility, is the development of your design program. In architectural jargon, your design program is a written document detailing how you intend to practice, which may vary from how you have practiced in the past. It is the critical information upon which all planning and design decisions will be based. It defines such factors as the functions that will be performed in your office, the breadth and relationships of these functions, and the level of privacy required for each.
The process of developing your program requires a bit of projection on the part of the practitioner. You must determine in writing, not necessarily what the practice is today, but what the practice can become or "how you intend to practice." The configuration of the office is actually the three-dimensional translation of the written program. Your design program will be unique to your practice.
If a space for a specific function, such as a consultation room, is included in your program, position it conveniently to the areas in which other related activities will occur, and provide appropriate access for patients, staff members, and the dentist. Other functional spaces should be arranged to reflect the necessary square footage, access, and desired adjacencies. Should you develop your plan without an adequate understanding of all the activities your office walls will accommodate, it will be compromised from the start. If a function was overlooked, it must be added after the fact and a domino effect occurs, creating the need for an entirely new (and often expensive) redesign. Time spent in program development will save substantial time and cost in potential modifications.
The "programming" phase is an ideal time to begin collecting photographs and images of buildings, dental offices, and other spaces that appeal to your aesthetic preferences. It is important to also consider how the "look" and "feel" of your office will be perceived by your patients (as well as those you hope to attract to your practice). Will it help patients to feel relaxed, comfortable, and confident in your quality of care, without making them question your fees?
Top Ten Things to Consider When Planning Your Dental Office
1. Hire design professionals who possess an empathetic understanding of the practice of dentistry
2. Determine and define how you "intend to practice," which may differ from how you have been practicing. In architectural terms, this is your design program
3. Plan for what your practice may ultimately become (number and type of providers, etc.)
4. Rely upon a seasoned design professional to determine the appropriate size of your facility to accommodate your needs. Wasted square footage translates to wasted dollars
5. "Squareish" rectangular spaces allow a more space-efficient dental office design
6. Layer your office functions from public to private
7. Consider the glare and solar gain created by the sun when selecting the treatment side of your office — north is best
8. Be certain your office is designed to be adaptable for future changes in technology and equipment
9. To help ensure your office is appropriate to your needs and to avoid change orders during construction, "build your office on paper first," paying attention to every detail
10. Communicate to your patients that you are improving your office for their benefit, not as a shrine dedicated to your practice
Once your design program is established, actual planning can begin with the goal of locating the walls to create the most efficient floor plan. All functions should be of the appropriate size and in the appropriate relation. The goal is to allow you to end your day having been more productive while experiencing less stress, and with you and your team looking forward to returning the next morning!
Laying the optimal groundwork for your construction or renovation project depends on three key factors:
1. Effective program development
2. Guidance through the planning process by the appropriate professionals
3. Complete project design and documentation
Incorporating these critical elements will help to assure the smoothest possible construction process and maximize the return on your investment in your office.
Determining the Size of Your Practice
"How much space do I need?" is a common question when contemplating the construction of a new dental office, or the expansion of an existing one. Based on our experience in the planning of only dental and specialty offices over the past 31 years, I have (along with my colleagues at Unthank Design Group) developed some rules of thumb.
To determine the approximate size of your new office, multiply the number of treatment chairs desired (as developed through your design programming process) by a factor of 500 square feet. For instance, if you desire a five chair office:
5 x 500 square feet = 2,500 net square feet
This is the approximate total net area required for your office, whether you are improving a space or constructing a new building. It will vary based upon your program.
Some dental specialties may require less area because they have fewer functional requirements, such as the decreased need for a case presentation room and laboratory in an endodontic practice (unless placing implants). Although the space-efficient bay concept of orthodontics and pediatric dentistry would seem to require less area, space needed for other functions typically required for these specialties (such as brushing teeth before treatment, records areas, etc.) may offset this savings.
When constructing a building to determine the approximate square footage of land necessary to accommodate your building, related parking, landscaping, water retention areas, and so forth, multiply the net square footage of your office (determined with the previous formula) by a factor of 7. To continue with the previous example:
7 x 2,500 square feet = 17,500 net square feet
Therefore, 17,500 square feet of land is the approximate area appropriate for a 2,500 square foot office.
Once you have located a suitably zoned parcel of land, the buildable area of that parcel will vary based on (typically) four limiting factors:
• The terrain (lay of the land)
• Building setbacks that limit how closely you can build to the property line
• Utility easements that define the area necessary for maintenance of a utility that may border on or cross your property
• Any restrictive covenants if the parcel is a part of a larger development or association
You should determine the feasibility for your intended use before purchasing the property.
From a planning standpoint, the most efficient shape for your office (and property) is a "squareish" rectangle. Avoid long and narrow shapes, triangular, truncated or L shapes, or any odd geometric form. Look for a suite with no or minimal interior columns. Odd shapes and columns may prove to be complete roadblocks to successful planning, or at the least increase the amount of area required for your purposes.
The single most important variable in construction costs is how busy the contractors in your area are at the time you bid your project. Given the current state of the economy, some parts of the United States are enjoying a more competitive bidding climate than in the past decade. With this in mind, it is not unusual to spend approximately $130 per square foot for leasehold improvements (including all custom cabinetry, but excluding dental equipment), and $220 per square foot for a new one-story dental office building, built on a concrete slab (without a basement), excluding land and equipment costs. An unfinished basement will add about $20 per square foot and, if greater than 1,000 square feet, will re/>