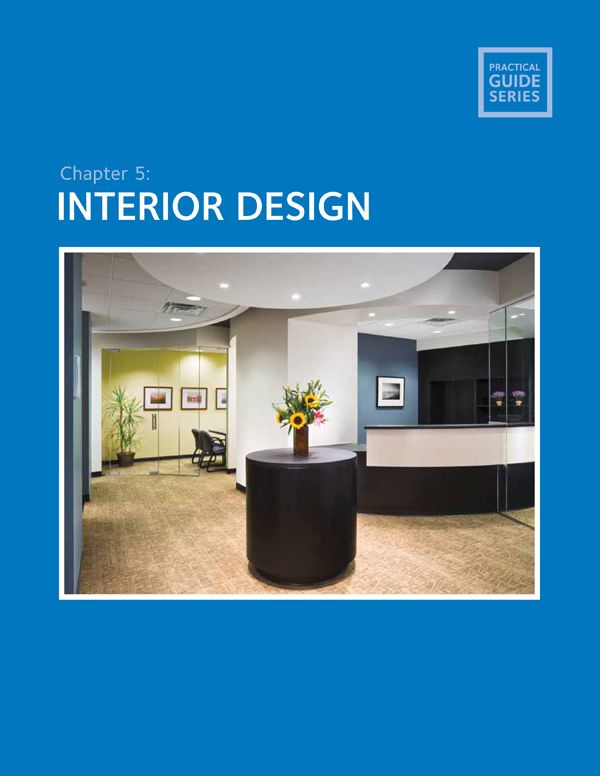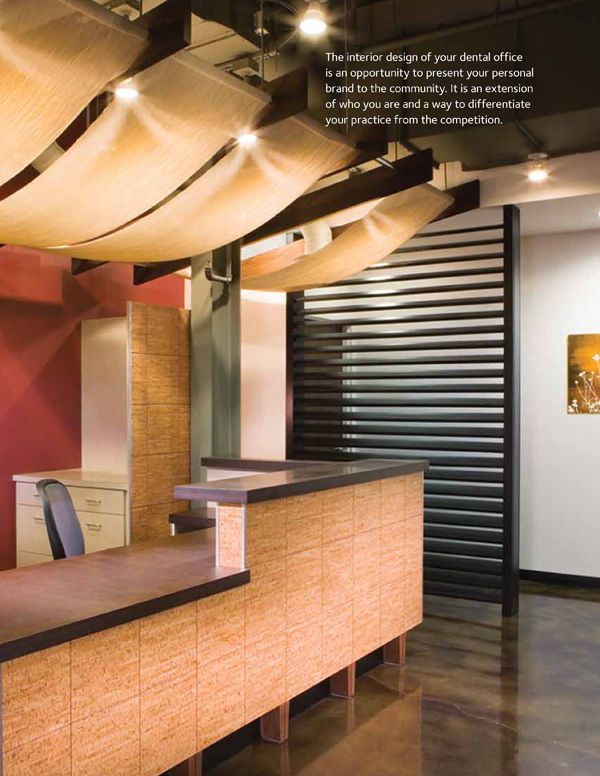 Interior Design
By Joe Miller, A.I.A.
The interior design of your dental office is an opportunity to present your personal brand to the community. It is an extension of who you are and a way to differentiate your practice from the competition. Your patients will often meet your office before they meet you. A well-designed office can suggest the quality of care and service that your patients can expect from you and your practice. Understanding the design process before you start down the path allows you to maximize the opportunity and truly enjoy the experience.
Please note that, for the purpose of this chapter, the terms design professional and designer are used in reference to your architect and/or interior designer. It is important to recognize the role of an experienced, licensed professional in the planning and construction of your office.
Why Do I Need to Work with an Architect/Interior Designer?
I am often asked, "Why should I hire a licensed design professional when my dental equipment vendor will provide me with a dental equipment plan for free?" To answer this question, I provide the following visual: the equipment plan that a vendor provides typically fits on an 8 ½" x 11" sheet of paper. An architect/designer experienced in dental office design will provide you with a set of drawings that consists of 20 to 25 sheets, 24" x 36" in size and packed with information. This considerable discrepancy is made up of hundreds of design decisions that need to be made before construction begins. These decisions include, but are not limited to, the selection of finishes, doors, ceilings, lighting, plumbing fixtures and cabinetry. Everything you and your patients can see and touch must be selected and specified in the drawings. It is your designer's job to guide you through each of these decisions and do so in a clear and simple manner.
This is not to minimize the importance of your dental equipment specialist – they are an extremely important member of the team. They will need to work closely with you and your architect to help everyone fully understand your equipment goals. However, the job of designing your office should be left to design professionals, not your equipment specialist and certainly not your general contractor.
Selecting a Design Professional
Selecting a designer is a process not unlike selecting a dentist. You will speak with friends and colleagues to gauge their experiences. You may even meet with several professionals before selecting an individual or firm that best aligns with your needs.
When considering designers, speak with dentists in the area who have recently been through the process of designing and building/remodeling an office. Ask your equipment specialist for a list of the design firms they have worked with and what their experience has been. A good design professional makes their job easier. Review the designers' websites and confirm that they have a body of work that is presented in a professional manner.
The individual or firm you select should have the ability and resources to perform and facilitate all of the skills necessary to design a dental office.
When interviewing the applicants, you may come across examples in their portfolio of past projects that closely represent what you are looking for in the design of your office and in some cases you may not. Do not be distracted if their current portfolio doesn't already include "your office." This should not be the only measure of the designer. Architects and interior designers are not trained to design in one particular style. Good designers have an ability to interpret their client's goal and provide a design that is unique to them.
Selecting a designer is a process not unlike selecting a dentist. You will speak with friends and colleagues to gauge their experiences.
Good Interior Design Is More Than Skin Deep
In my opinion, the interior design of your dental office should ideally be performed by the same professional who is responsible for designing your floor plan (as described in Chapter 4: Office Layout) and defining the three-dimensional character of your space.
While it is technically possible to bring in a secondary designer or "decorator" towards the end of the process to select some attractive finishes, this approach will often yield disjointed results. Selecting finishes should be an integral part of the overall design process, not a superficial afterthought. When your design professional is performing a full scope of services, from design through construction, he or she is better able to guide the process toward the intended the results.
Good designers have an ability to interpret their client's goal and provide a design that is unique to them.
FIGURE 5.1:
DESIGN INFLUENCED BY PAINTING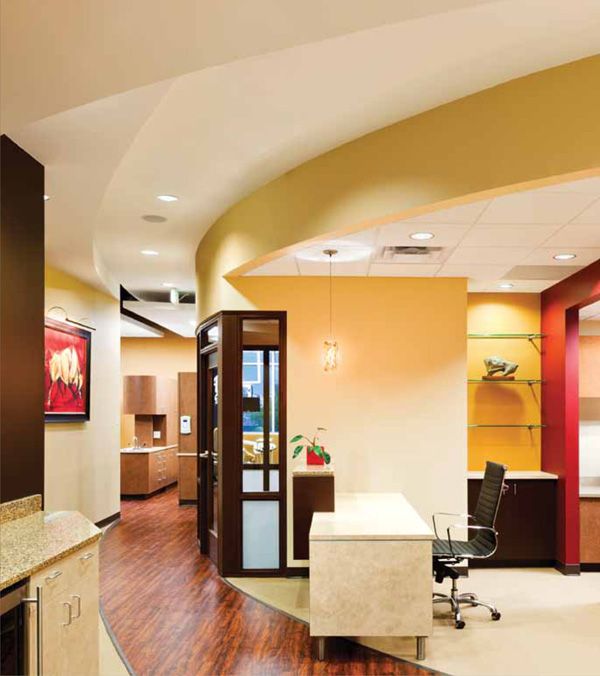 The office design for Riverside Dental, located in Littleton, Colorado, was influenced by a painting by the dentist's father located at the left hand side of the photo.
Some of the images we have received from our clients over the years have been of other dental offices but often these images have nothing directly to do with dental. They might be of a restaurant the doctor and his or her family frequent, or a hotel where they have stayed on a recent vacation. As we have learned, this inspiration can come from anywhere. Recently, a general dentist presented us with a painting that her father, a talented artist, had painted years earlier and asked us to allow the painting's forms and colors to inspire the design of her office, presented in Figure 5.1. On another occasion, a client who is passionate about collecting small antique sculptures and artifacts asked us if we could find a place for these pieces in his new office. Together, we decided to design the office around them. Work closely with your architect to discover where the inspiration for your new office lies.
Know Your Audience
Putting personal styles aside for a moment, the right interior design for a general practice in downtown Chicago is not necessarily right for an office in rural Indiana. What may be right on the mark for an office design in suburban Dallas may not be appropriate for a practice located on the Florida coast. It is important to have a clear understanding of the patient demographic you are serving. This will allow you and your architect to target that audience through a well thought out design scheme.
Keeping Up with the Joneses
The interior design of your office is a way to differentiate yourself from the competition. Let's say that you are a general dentist planning your first office or an established dentist looking for another way to distinguish yourself from the masses. If you are located in an established community, there is a very good chance that many of the existing offices in the area are a bit "long in the tooth." That is to say old, outdated and perhaps a bit threadbare.
A fresh office design is going to stand out in the crowd. There is also the obvious perception that the standard of hygiene in a newer, cleaner office is superior to that of the practice that hasn't been renovated since the Nixon administration. The same can be said regarding technology. If a doctor is going to invest in the latest equipment and technology it is reasonable for them to want the interior design of the office to reflect the same progressive approach to dentistry. From a timing standpoint, remodeling an office at the same time as you are upgrading the technology can often be less expensive then performing this work separately.
We often have doctors voice the concern, "I don't want my patients coming into a Taj Mahal office and thinking, 'I guess this is what I am paying for.'" You certainly don't want your patients preoccupied with the level of finish in your office to the point where they feel like they are subsidizing you pipe dream.
That is not to say that you shouldn't put the same level of design attention into a $90 per square foot office that you do into a $200 per square foot space. Good design in not synonymous with expensive design. Good design is a function of thoughtful planning regardless of the budget. A sensitive designer will understand this and provide you with an interior design, and with a palette of materials, fixtures and finishes that is appropriate for your audience.
Figures 5.2 and 5.3 show two general dental offices located in the same town, designed by the same architect and constructed at approximately the same time. One is a new office for an established dentist. While price is a concern on every project, this office was not built on what we would consider an entry-level budget. The other is of an office for a new-start general dentist. In his case, he was working on a limited budget based on what the bank typically provides for someone just starting out.
While we might argue about which office design we prefer or which has the higher level of finish, I think we can all agree that the quality of the interiors in both cases is relatively high. Neither space would ever be described as "vanilla." What is important is that the same level of attention was invested in the design of both offices. As I stated earlier, good design in not synonymous with expensive design.
Time for a Facelift
If your current office is somewhat dated or worn out, but appropriate in size and functioning properly, then you may be a candidate for a "facelift." A facelift is a term used to describe a minimal level of remodeling that does not require adding or subtracting walls or any other invasive form of construction. It is typically limited to modifying existing surfaces of your office such as floors, walls, ceilings, lighting and occasionally cabinetry. A facelift can be a quick and relatively inexpensive way to breathe new life into a fading office environment. Depending on the extent of the remodel, this work can sometimes take place over the course of a week or less.
Keep in mind that while a facelift will certainly make your office outwardly more attractive, it will not cover-up flaws in the original design, layout or flow of the office. Before rushing into construction, work with your design professional to determine your goals for the remodel. If what you really need is that extra chair or a designated consultation room, a facelift is not the answer. An extensive remodel can be costly and time consuming, but it may add far more to your practice's bottom line when compared to a facelift.
/>