Chapter 7
Preventive Health Principles for Dental Practice
Aim
The aim of this chapter is to provide the reader with definitions and evidence of health education and models of health behaviour.
Outcome
At the end of this chapter the reader should know the different definitions and categories of oral health education and prevention, why oral health education is important for practice and models of health behaviour to help establish a preventive outlook and promote oral health in his/her patients.
Definitions of Health Education
The World Health Organization (WHO) has stated that the overall approach to health education should be to assist people:
adopt and sustain healthy lifestyles

make sensible use of health services

make decisions both individually and collectively to improve their health status and environment.
It is within the WHO conceptual framework that dentists can promote healthier lifestyle behaviours in their patients. Why should the promotion of preventive oral health behaviours be important in everyday practice? To answer this question it is necessary to consider first the benefits from the perspective of evidence-based practice, secondly the benefits for patients and, thirdly, the benefits for dentists. Kay and Locker (1996) reviewed the dental health education literature and showed that one-to-one dental health education with patients at the chair-side helped them to adopt and sustain healthier oral lifestyles. Benefits for patients include the development of personal health skills (for example, maintenance of healthier dietary regimes), accepting responsibility for their own health (sensible use of health services) and empowerment with regard to decision-making (improvement of their own oral health status).
The promotion of oral health is associated with benefits that include shifts in policy from restoration to prevention (for example, preventive dental units, the employment of hygienists and/or oral health educators) with reductions in costs of patient care and occupational stress. Improvements in oral health of patients mirrors the development of an oral health-promoting dental practice. Under such circumstances, it is to be hoped that remuneration systems will shift to rewarding dentists for saving rather than filling teeth.
How can Practice-Based Oral Health Promotion be Achieved?
Dentists may achieve preventive health goals by using communication skills to discover the appropriate level of dental health need to allow their patients to adopt and sustain a healthier oral health lifestyle. The first step is the assessment of patient need.
Assessment of Need
Oral health education is about increasing awareness, providing health information and improving patient skills to maintain oral health. For dental health education to attain its oral health goals, the information must be tailored to the specific 'needs' of the patient. Three different types of need exist:
normative need – the professionally defined need. It is identified by dentists and other health professionals when they diagnose disease

felt need – this is the lay perception of health needs, what people want and what they think needs to be done

expressed need – the needs that people express to the dentist. These needs may be expressed in both words and actions.
Assessment of Preventive Oral Health Need
As a second step it is necessary for dentists to understand that within any population there will be healthy people, some who are at risk to disease, some who are suffering from disease and some who are getting better. Each group of patients requires a different health education input, and these various forms of prevention have been described as:
primary prevention

secondary prevention

tertiary prevention.
The type of health education will be tailored to the health and health risks of the patient. Hence, patients who are healthy may only need information to raise their awareness and to maintain their healthy status (primary prevention). Patients who are at high risk may be encouraged to take actions by the negotiation of health goals, their health behaviours and accept treatments, as may be indicated clinically (secondary prevention). Finally, patients who have been ill and recovering will need information and help to maintain their health (tertiary prevention) (Fig 7-1). In this situation a specific and tailored rehabilitation programme may be devised, with achievable health maintenance goals negotiated, agreed and set. It is necessary to decide how patients will achieve their preventive health goals. In order to help the patient do so, the dentist must be aware of the models of health behaviour that assist in the understanding of behaviour modification. This understanding will allow an appreciation of what is achievable for the patient with regard to oral health gains (for example, increase in oral health knowledge). What will be apparent in the next section is that for each category of prevention there is at least one model of health behaviour that may assist in achieving a health goal and the associated oral health gain (Fig 7-2).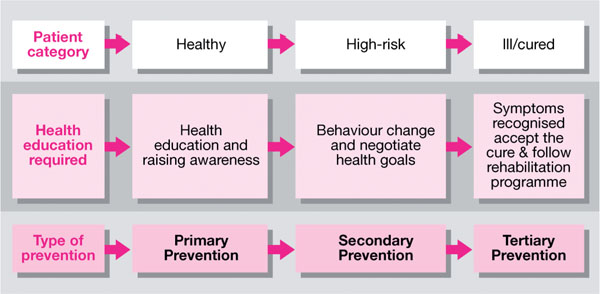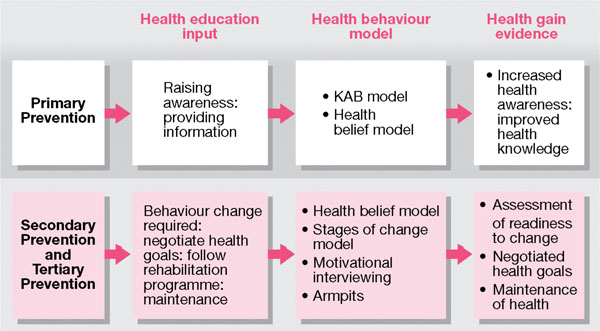 Strategies for Primary Prevention: Health Behaviour Models and Health Gains
The KAB model of health behaviour: The Knowledge, Attitude and Behaviour (KAB) model of health behaviour is based on an educational format in which the patient is provided with health information. Previously, providing knowledge was felt to modify attitudes and enable behaviour change. This approach, however, was doomed as the provision of information was not potent enough to allow for the modification of attitudes or actions. Other reasons included the absence of acknowledging the importance of psychosocial factors. Patients from lower socio-economic groups were provided with less health advice and had shorter consultation times, which resulted in the inappropriate use of health services. The adoption of the KAB model in these circumstances resulted in an increase in health inequalities. Middle class patients were given more health education advice, were thus able to modify their attitudes and consider the adoption of new health behaviours. KAB, by not acknowledging the role of psychosocial factors in health behaviour, therefore, resulted in failure with regard to changing health actions and in increasing health inequalities.

The health belief model and health gains: The health belief model (HBM) was conceived by Rosenstock in the 1970s. It suggested that people's health behaviour was dependent on how individuals perceived themselves with regard to the susceptibility, severity of a health condition and the benefits and costs of adopting a healthier lifestyle:

perceived susceptibility to a health condition

perceived severity of a health condition

beliefs in the benefits of a health action

beliefs concerned with the costs (time, degree of difficulty and so on) of taking a health action.
People's cues for action were based on their perceived threat of the health condition. Cues for action included media campaigns (for example, oral cancer awareness we/>