Chapter 3
Advanced Communication Skills
Aim
To present guidelines for some common episodes within dental consultations that require advanced communication skills.
Outcome
By the end of this chapter the reader will be able to relate to an inclusive method of obtaining consent from patients, breaking bad news and dealing with complaints and solving problems. Moreover, recommendations on how to give bad news to patients will be outlined.
Obtaining Consent
To embark on treatment the dentist requires consent from the patient to proceed. Traditionally this process has depended on the dentist making a diagnosis of the patient's disease and then constructing a treatment plan. At this stage the patient would be told of the condition and proposed treatment and, if the patient voiced no objections, the work would begin. The General Dental Council has placed increasing emphasis on consent, and a more interactive approach is advocated. This deliberately involves the patient in the decision-making process. Dentists have mixed views about obtaining consent. Estimates of the amount of time spent gaining consent have shown that general dental practitioners (GDPs) spend seven minutes explaining and obtaining consent, whereas salaried and private dentists spend on average 11 minutes (King et al, 2000). Over 80% of dentists in a recent survey stated that they explained the problem, but less than half explained risks of treatment or checked patient understanding. Furthermore, less than a quarter actually obtained written consent. From the patient perspective it was found that a large majority felt they had received enough information about their dental problem (95%) and that the dentist had explained things well (78%). Six out of 10 patients stated that they had not been told about alternative treatments, and 42% were uncertain about when the treatment would be completed.
There are advantages from following a comprehensive consent procedure (see Fig 3-1).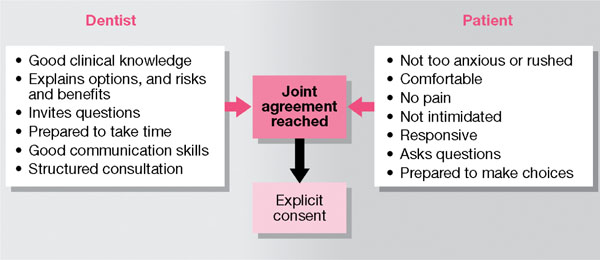 The communication skills employed when obtaining consent are numerous and have to be coordinated. Ensure that the procedure occurs when you and the patient are seated together, preferably at the same level so that eye contact can be made with little effort. Have pencil and paper to hand to assist with explanations of dental problems and possible treatments and to summarise risks, estimates and costs. Offer leaflets as back-up material to aid explanation.
It is easy in this process to rush on ahead, in particular with time scheduling in mind. Time spent on the consenting procedure will save time in subsequent sessions. Hence at each stage check with the patient that s/he is clear about what you have said. Patients will perceive this process as very supportive – in particular if all members of the dental team adopt this 'checking' approach. Of course, if patients are asked for their comments or questions then they must be given space in the process to respond. There is a temptation to ask the patient questions and to launch forward before s/he can muster their thoughts and reply.
The suggested model, outlined above (Table 3-1), proposed by King et al (2000) identifies procedures for dentists to obtain consent from patients who have little difficulty in comprehension. Other patients – for example, those with learning difficulties, from other cultures, or from vulnerable groups (young or old people) – may demand special consideration. The involvement of advocates, translators, carer and parent/>