CHAPTER 7. Cysts of the jaws
Cysts are pathological fluid-filled cavities lined by epithelium
TYPICAL FEATURES OF JAW CYSTS
Most jaw cysts behave similarly and usually grow slowly and expansively. They differ mainly in their relationship to a tooth and the radiographic features are usually a good guide as to their nature (
Box 7.1
). Even when it is not possible to decide the nature of a cyst, this affects treatment only with less common types. However, it is particularly important to distinguish odontogenic keratocysts and unicystic ameloblastomas from common types. These occasionally have identical radiographic appearances and diagnosis ultimately depends on histopathology.
Box 7.1
• Form sharply-defined radiolucencies with smooth borders
• Fluid may be aspirated and thin-walled cysts may be transilluminated
• Grow slowly, displacing rather than resorbing teeth
• Symptomless unless infected and are frequently chance radiographic findings
• Rarely large enough to cause pathological fracture
• Form compressible and fluctuant swellings if extending into soft tissues
• Appear bluish when close to the mucosal surface
The classification of cysts is summarised in
Box 7.2
. There is not currently a complete classification of cysts that is accepted internationally.
Box 7.2
Developmental cysts
• Odontogenic
'Gingival cysts' of infants (Epstein pearls)
Odontogenic keratocyst ('primordial' cyst)
Orthokeratinised odontogenic cyst
Dentigerous (follicular) cyst
Glandular odontogenic; sialo-odontogenic cyst
Inflammatory odontogenic cysts
OTHER CYSTIC OR CYST-LIKE LESIONS → Summary p. 157
Cystic odontogenic tumours are not included in the above classification, but cystic ameloblastomas and calcifying odontogenic (ghost cell) cysts can be mistaken radiographically for radicular or other non-neoplastic cysts as discussed later.
Also excluded from the above classification are cysts (in bone cavities) without epithelial lining (pseudocysts), namely solitary (simple) bone cysts and aneurysmal bone cysts. These also are cystic only in their radiographic appearances. They are skeletal diseases and affect the jaws only occasionally, as discussed in
Chapter 9
.
Odontogenic cysts (not surprisingly) affect the tooth-bearing region of the jaws. Most non-odontogenic, true cysts are developmental and form in the region of the anterior maxilla. Their relative frequency is shown in
Box 7.3
, though figures in the different surveys vary as a result of differences in ­categorisation, what kinds of cysts are included and other factors.
Box 7.3
| | |
| --- | --- |
| Radicular | 65–70% |
| Dentigerous | 15–18% |
| Odontogenic keratocyst | 3–5% |
| Nasopalatine | 5–10% |
| Lateral periodontal | <1% |
| Paradental | <1% |
Radicular cysts are discussed first as, being the most common type, their treatment forms the basis for that of most other jaw cysts.
Residual and lateral radicular cysts → Summaries pp. 135, 190
A radicular cyst may persist after extraction of the causative tooth. Residual cysts are a common cause of swelling of the edentulous jaw in older persons (
Figs 7.12
and
7.13
). Residual cysts may interfere with the fit of dentures, but may slowly regress spontaneously. This is suggested by the progressive thinning of the lining (
Fig. 7.14
).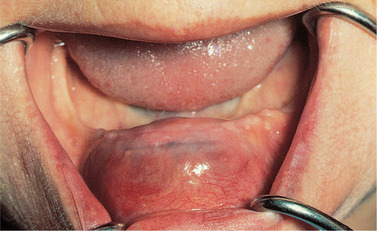 Fig. 7.12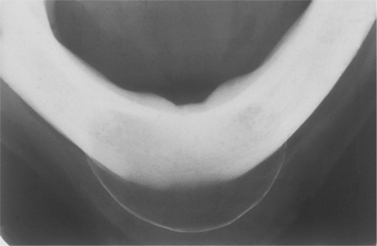 Fig. 7.13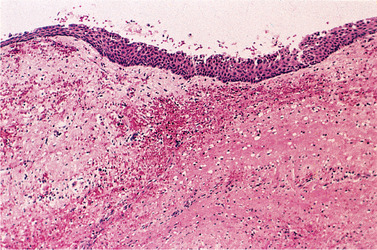 Fig. 7.14
Lateral radicular cysts can occasionally form at the side of a non-vital tooth as a result of the opening of a lateral branch of the root canal. They are rare and must be distinguished from lateral periodontal cysts which are another entity as discussed earlier.
Differential diagnosis
There are many causes of circumscribed areas of radiolucency in the jaws (
Box 7.6
).
Histologically, the lining of simple stratified squamous epithelium with an inflammatory infiltrate confirms the diagnosis. Distinguishing features of other types of cysts are discussed below.
Neoplasms
Benign (odontogenic) tumours or, occasionally, an ameloblastoma may resemble a simple cyst radiographically. Resorption of adjacent teeth suggests a neoplasm rather than a cyst but is not diagnostic in itself. It is essential that the whole of a cyst lining be available for examination, since part of the lining, even though neoplastic, may appear as a thin layer of flattened stratified squamous epithelium like that of a simple cyst.
Rarely, a metastasis in the jaw may cause a sharply defined area of radiolucency. More often it causes a lesion with a hazy outline and irregular shape. Tumours also tend to be painful and to grow more rapidly than cysts. Nevertheless, it may be difficult or impossible to distinguish them from infected cysts radiographically, but at operation the solid nature of a tumour will be obvious and histological examination will confirm the diagnosis.
Treatment
Enucleation and primary closure
Enucleation is the usual method and usually entirely effective (
Box 7.7
). The affected (dead) tooth may be extracted or root-filled and preserved. A mucoperiosteal flap over the cyst is raised and a window is opened in the bone large enough to give adequate access. The cyst is then carefully separated from its bony wall. The entire cyst is removed intact and should be sent in fixative for histological examination. The edges of the bone cavity are smoothed off, free bleeding is controlled and the cavity is irrigated to remove debris. The mucoperiosteal flap is replaced and sutured in place. The sutures should be left for at least 10 days.
Box 7.7
Advantages
• The cavity usually heals without complications
• Little aftercare is necessary
• The complete lining is available for histological examination
Possible disadvantages
• Infection of the clot filling the cavity
• Recurrence due to incomplete removal of the lining
• Serious haemorrhage (primary or secondary)
• Damage to apices of vital teeth projecting into the cyst cavity
• Damage to the inferior dental nerve
• Opening the antrum when enucleating a large maxillary cyst
• Fracture of the jaw if an exceptionally large mandibular cyst is enucleated
Any disadvantages are largely theoretical and in competent hands even very large cysts can be enucleated safely. Recurrence is remarkably rare. There are few contraindications: they are relative rather than absolute.
Marsupialisation
Marsupialisation is a largely outmoded treatment for radicular cysts. The cyst is opened essentially as for enucleation, but the lining is sutured to the mucous membrane at the margins of the opening. The aim is to produce a self-cleansing cavity which becomes, in effect, an invagination of the oral tissues. However, considerable aftercare is needed to keep the cavity clean. The cavity is initially packed with ribbon gauze and, after the margins have healed, a plug or extension to a denture is made to close the opening. Food debris has to be regularly washed out but, once the cavity has filled up from the base and sides sufficiently to become self-cleansing, the plug can be removed. The cavity usually becomes closed by regrowth of the surrounding tissue and restoration of the normal contour of the part. However, the orifice may close and the cyst re-form. Also, the complete lining is not available for histological examination.
The main application of marsupialisation is for temporary decompression of exceptionally large cysts where fracture of the jaw is a risk. When enough new bone has formed, the remaining cyst can be enucleated. Occasionally, retention of the tooth in a dentigerous cyst is needed and marsupialisation may allow it to erupt.
PARADENTAL CYSTS
Enucleation is effective.
DENTIGEROUS CYSTS
A dentigerous cyst surrounds the crown of a tooth and is a dilatation of the follicle (
Figs 7.15
and
7.16
). The cyst is attached to the neck of the tooth, prevents its eruption and may displace it for a considerable distance.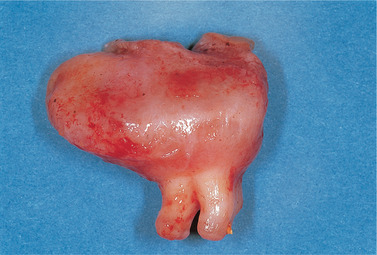 Fig. 7.15