Chapter 7
Clinical Governance
Aims
This chapter aims to explain the meaning and interpretation of clinical governance and to illustrate how the Healthcare Commission's framework can be applied to general dental practice.
Outcome
After reading this chapter, the reader should be familiar with the principles and application of clinical governance in everyday practice.
Introduction
In England and Wales, Clinical Governance (CG) is the vehicle for the delivery of quality healthcare in the NHS. The Labour government introduced the concept in 1999 in the white paper The New NHS: Modern, Dependable. It came about as a result of various NHS scandals through the 1990s, but concerns were expressed about the purpose and process.
David Haslam, a general practitioner and respected writer, noted that: "The concept of clinical governance has become something as unwelcome as a dental checkup. We know that we have to do it; we know that it is really for the best, but we simply cannot dig deep and find any enthusiasm for the process."
Neville Goodman, a consultant anaesthetist in Bristol, wrote that "the most important elements in the delivery of quality in healthcare are contained in the relations between human beings. With good working relationships clinical governance happens naturally; with poor working relations, setting up committees and defining quality on bits of paper delivers only bits of paper."
A duty of quality was placed on NHS organisations in the 1999 NHS Act. In Section 18(1) it states that: "It is the duty of each Health Authority, Primary Care Trust and NHS Trust to put and keep in place arrangements for the purpose of monitoring and improving the quality of health care which it provides to individuals."
This Act introduced corporate accountability for clinical quality and performance. Clinical Governance is described as a "whole system" process with the following features:
Patient-centred care needs are at the heart of every NHS organisation. This means that patients are kept well informed and are given the opportunity to participate in their care.

Good information about the quality of services is available to those providing the services as well as to patients and the public.

Variations in the process, outcomes and in access to healthcare are greatly reduced.

NHS organisations and partners work together to provide quality assured services and drive forward continuous improvement.

Health professionals work in teams to a consistently high standard and identify ways to provide safer and even better care for their patients.

Risks and hazards to patients are reduced to as low a level as possible, creating a safety culture throughout the NHS.

Good practice and research evidence is systematically adopted.
Consequently, in 2001, it became a requirement for dentists practising in the NHS to have a quality assurance system in place. The new dental contract in 2006 places further emphasis on this requirement.
The Health and Social Care (Community Health and Standards) Act 2003 refers to the "duty of quality" and states that it is the duty of each NHS body to put and keep in place arrangements for the purpose of monitoring and improving the quality of healthcare provided by and for that body.
Definition
Clinical Governance is a system through which NHS organisations are accountable for continuously improving the quality of their services and safeguarding high standards of care by creating an environment in which excellence in clinical care will flourish. (Scally and Donaldson) (Fig 7-1)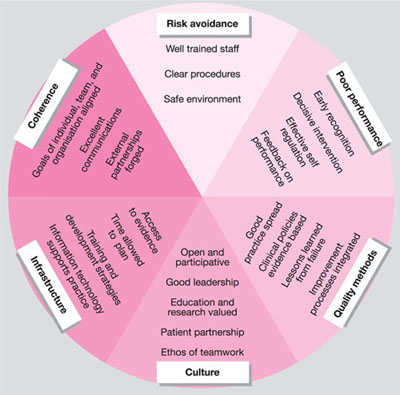 Roy Lilley, a prolific writer on healthcare matters, took the view that it was about "doing anything and everything required to maximise quality".
Adding the words "by everyone" makes it an inclusive activity involving all members of the dental team.
The Royal College of General Practitioners defines it in relation to activities by describing it as "a framework for the improvement of patient care through commitment to high standards, reflective practice, risk management, and personal and team development."
The underlying ten principles of CG were first set out in The New NHS: Modern, Dependable. These are:
Evidence-based practice

The dissemination of good ideas in practice

Quality improvement processes

Use of high quality data to monitor clinical care

Clinical risk reduction programmes

Investigation of adverse events

Learning from complaints

Dealing with poor performance

Implementation of professional development programmes

Leadership skill development.
In this publication, the Department of Health has clearly stated the importance of quality control in the NHS by stating that:
"Every part of the NHS and everyone who works in it should take responsibility for working to improve quality. This must be quality in the broadest sense; doing the right thing at the right time for the right people and doing them right first time. And it must be quality of the patient's experience as well as the clinical result-quality measured in terms of prompt access, good relationships and efficient administration."
Aims
CG sets out to ensure that:
systems to monitor the quality of clinical practice are in place and are functioning properly

clinical practice is reviewed and improved as a result

practitioners meet standards, such as those issued by the national professional regulatory bodies

practitioners adhere to best practice guidelines.
The idea is to raise standards generally which means pushing the profession's whole performance profile up. As dentists recognise something as good practice, and define it as a guideline, so more dentists will adopt the practice, thereby shifting the mean standards of practice (Fig 7-2).
Government Agencies
As part of its drive for quality in healthcare, the British Government has created a number of organisations (Table 7-1). The work and remit of these agencies affects dental practice; their involvement is likely to be strengthened from 2006 with the advent of local contracting and commissioning. The characteristics of these are summarised in Table 7-1 (pages 98–99).
Table 7-1 Characteristics of the four NHS regulators created by the British Government

| | | | | | |
| --- | --- | --- | --- | --- | --- |
| Name | Who it regulates | Date est. | Mission or purpose | How it works | What it is |
| National Institute for Health and Clinical Excellence (www.nice. org.uk) | NHS in England and Wales | April 1999 | To provide patients, health professionals, and the public with authoritative, robust, and reliable guidance on current "best practice" | Uses teams of experts to review health technologies and interventions and produce guidance which is then disseminated | A special health authority, set up by statutory instrument (SI 1999 Nos 220 and 2219) |
| Commission for Healthcare Audit and Inspection (Healthcare Commission) (www.health-carecommis-sion.org.uk) | NHS in England and Wales | Nov. 1999 | To help improve the quality of patient care by assisting the NHS in addressing unacceptable variations and to ensure a consistently high standard of patient care | Undertakes clinical governance reviews of all NHS organisations every 4 years; monitors implementation of guidelines from NICE, national service frameworks, etc; investigates major system failures within the NHS | A non-departmental public body established by the Health Act 1999 |
| National Patient Safety Agency (www.npsa. org.uk) | NHS in England (at present) | July 2001 | To collect and analyse information on adverse events in the NHS, assimilate safety information from elsewhere, learn lessons and feed back to the NHS, produce solutions, set national goals and establish mechanisms to track progress | Operates a new, mandatory national system for reporting adverse events and "near misses," and provides national leadership and guidance on patient safety and adverse events | A special health authority set up by statutory instrument (SI 2001 No 1743) |
| National Clinical Assessment Service (www.ncaa. nhs.uk) | NHS in England (at present) | April 2001 | To provide a support service to health authorities and hospital and community trusts who are faced with concerns over the performance of an individual doctor/dentist | Deals with concerns about doctors in difficulty by providing advice, taking referrals and carrying out targeted assessments where necessary | A special health authority set up by statutory instrument (SI 2000 No 2961). In April 2005, it became part of the NPSA. |
National Patient Safety Agency (NPSA)
The NPSA is a Special Health Authority created in July 2001 to coordinate the efforts of the entire country to report, and more importantly to learn from mistakes and problems that affect patient safety. It encourages all healthcare staff to report incidents without undue fear of personal reprimand and has recently launched its publication Medical Error to redouble its efforts in this respect.
Examples of its advisory work relevant to dentistry include the information published in May 2005 on how to better protect patients with latex allergy. This is available from the NPSA website.
NICE
The National Institute for Health and Clinical Excellence is a special health authority for England and Wales. Its role is to provide patients and health professionals with "authoritative, robust and reliable guidance on current 'best practice'."
NICE guidance covers three areas:
Clinical guidelines – these cover the appropriate treatment and care of patients with specific diseases and conditions within the NHS in England and Wales.

Technology appraisals cover the use of new treatments within the NHS in England and Wales.

Interventional procedures cover the safety and efficacy of interventional procedures for diagnosis and treatment.
The publications relevant to dentistry are:
Guidance on removal of third molars

Dental recall (clinical guideline 19 published in October 2004)

Use of HealOzone in the treatment of pit and fissure caries and root caries (technology appraisal 92, July 2005).
It is now a requirement under clause 71 of the General Dental Services Contract for dentists working in the NHS to apply the NICE guidance when advising patients of the recall interval between their clinical examinations. To assist with this process, NICE has drawn up a clinical risk assessment framework, shown in Table 7-2 (pages 102–103).
Table 7-2 NICE risk assessment
Oral health review date:
Yes
No
Yes
No
Yes
No
Medical history
Conditions where dental disease could put the patient's general health at increased risk (such as cardiovascular disease, bleeding disorders, immunosuppression)
❏
❏
❏
❏
❏
❏
Conditions that increase a patient's risk of developing dental disease (such as diabetes, xerostomia)
❏
❏
❏
❏
❏
❏
Conditions that may complicate dental treatment or the patient's ability to maintain their oral health (such as special needs, anxious/nervous/phobic conditions)
❏
❏
❏
❏
❏
❏
Social history
High caries in mother and siblings
❏
❏
❏
❏
❏
❏
Tobacco use
❏
❏
❏
❏
❏
❏
Excessive alcohol use
❏
❏
❏
❏
❏
❏
Family history of chronic or aggressive (early onset/juvenile) periodontitis
❏
❏
❏
❏
❏
❏
Dietary habits
High and/or frequent sugar intake
❏
❏
❏
❏
❏
❏
High and/or frequent dietary acid intake
❏
❏
❏
❏
❏
❏
Exposure to fluoride
Use of fluoride toothpaste
❏
❏
❏
❏
❏
❏
Other sources of fluoride (for example, lives in a water-fluoridated area)
❏
❏
❏
❏
❏
❏
Clinical evidence and dental history
Recent and previous caries experience
New lesions since last check-up
❏
❏
❏
❏
❏
❏
Anterior caries or restorations
❏
❏
❏
❏
❏
❏
Premature extractions because of caries
❏
❏
❏
❏
❏
❏
Past root caries or large number of exposed roots
❏
❏
❏
❏
❏
❏
Heavily restored dentition
❏
❏
❏
❏
❏
❏
Recent and previous periodontal disease experience
Previous history of periodontal disease
❏
❏
❏
❏
❏
❏
Evidence of gingivitis
❏
❏
❏
❏
❏
❏
Presence of periodontal pockets (BPE code 3 or 4) and/or bleeding on probing
❏
❏
❏
❏
❏
❏
Presence of furcation involvements or advanced attachment loss (BPE code*; that is, attachment loss is at least 7mm and/or furcation involvements are present)
❏
❏
❏
❏
❏
❏
Mucosal lesions
Mucosal lesion present
❏
❏
❏
❏
❏
❏
Plaque
Poor level of oral hygiene
❏
❏
❏
❏
❏
❏
Plaque-retaining factors (such as orthodontic appliances)
❏
❏
❏
❏
❏
❏
Saliva