51
Augmentation and Site Preparation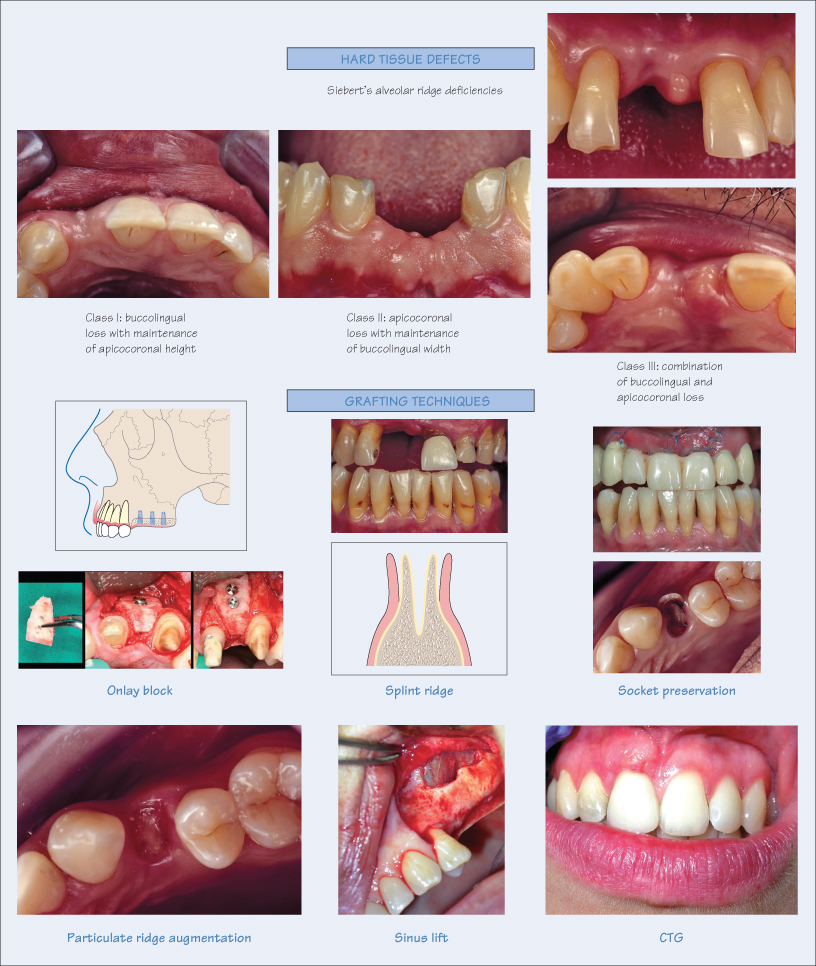 The surgical guide of the prosthetically driven treatment plan (PDTP) will elucidate whether pre-surgical augmentation is required for ideal implant positioning for existing bone and/or soft tissue deficiencies.
Ridge Defects
Many criteria have been proposed for classifying ridge defects, for example, the Siebert for alveolar deficiencies, and systems based on tooth extraction, for example, the Meltzer classification. Ridge defects range from a pristine ridge with no resorption, requiring no augmentation, to extensive such as atrophic ridges presenting with labial concavities and knife-edge morphologies.
Principles of GTR and GBR
Guided tissue regeneration (GTR) is exclusion of connective and epithelial tissues in order to create space for cells of the periodontal ligament to colonise the root surface. Therefore, in GTR five components are involved: epithelium, connective tissue, periodontal ligament cells, cementum and bone. Guided bone regeneration (GBR) is similar to GTR, but only two components are involved: the connective tissue and bone. In GBR the competing, non-osteogenic connective tissue is excluded, and a space created to encourage bone formation.
Bone Grafting Materials
Bone grafting materials offer structural stability and space for the promotion of osteogenesis. Their mode of action can either be osteoconductive, acting as a scaffold for new bone regeneration, or osteoinductive, i.e. actively stimulating osteoblasts to form new bone. Graft materials can be used in combination to gain advantages of different materials. Examples of bone grafts include:
Autogenous grafts

–

osteoinductive

and nonimmunogenic,

harvested from the patient's body

, either

intra-oral sites

, e.g. ramus of the mandible, mandibular symphysis, nasal spine/>