32
Micro-Invasive and Minimally Invasive Techniques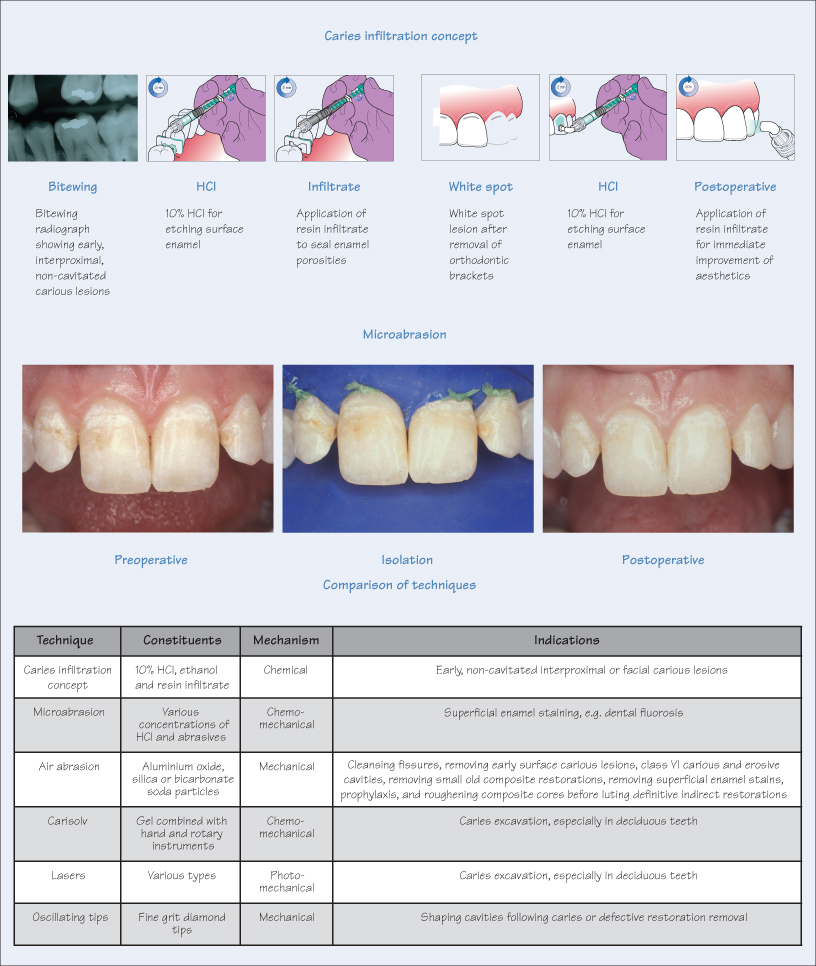 This first section on tooth preparation discusses micro-invasive and minimally invasive techniques. These treatment modalities are minimally invasive, atraumatic, avoiding more traditional and invasive rotary techniques for tooth preparation.
Micro-Invasive Techniques
Caries describes the process and lesion of dental decay. Caries is an infectious disease, and the protagonist bacteria is Streptococcus mutans, which attacks dental hard tissues. The driving force of caries is not the bacteria per se, but the biofilm that contains the bacteria and carbohydrates. If the biofilm is removed or disturbed, caries can be reversed or arrested by remineralisation with calcium and fluoride ions present in saliva.
The earliest carious lesion is termed a 'white spot' that can be active or inactive. Micro-invasive techniques such as the caries infiltration concept (Icon, DMG, Germany) aim to arrest early caries before cavitation occurs. This is probably the least invasive method of tooth preparation, involving etching with hydrochloric acid (HCl) and applying an infiltrate (low-viscosity resin) that penetrates and seals the lesion by capillary action. This treatment is indicated for early interproximal lesions, and is also effective for immediate improvement of aesthetics after removal of fixed orthodontic brackets.
Microabrasion
Microabrasion is recommended for removing unaesthetic staining that is limited to the superficial layer of enamel due to fluorosis, prosthodontic demineralisation, localised hypoplasia or other idiopathic brown/white enamel dysmineralisation.
Enamel fluorosis, especially of the maxillary anterior teeth, is due to excessive intake of fluoride (greater than 1 ppm) during the second and third years of life. T/>