47
Removable Prostheses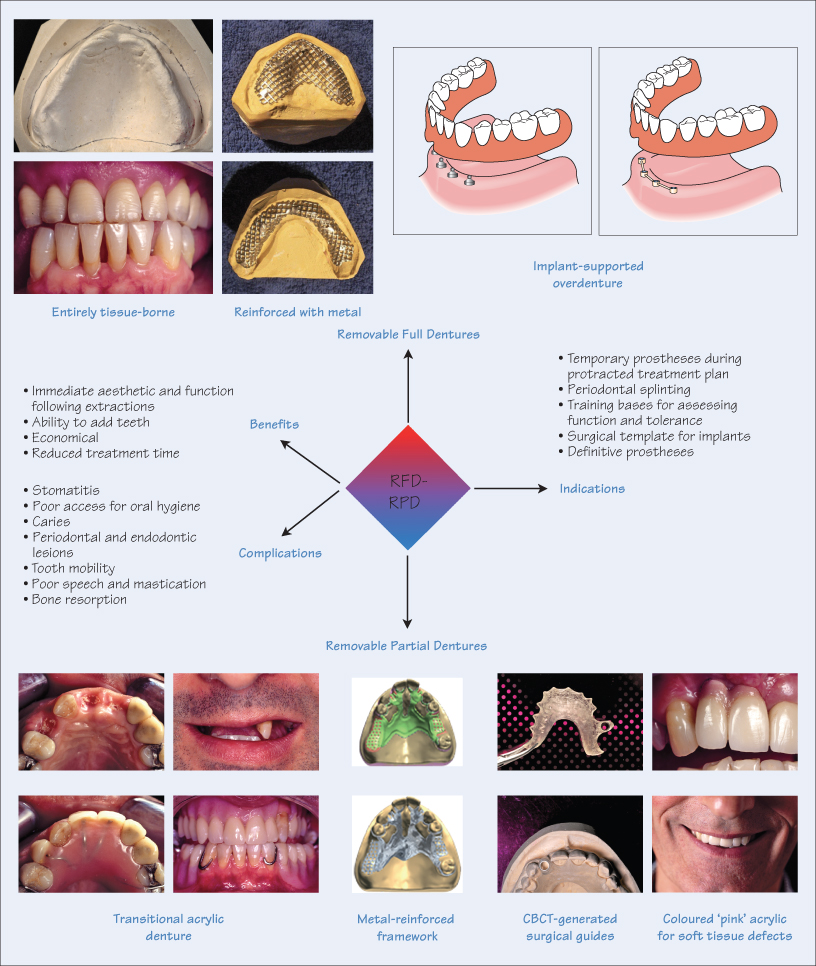 Removable dentures are categorised as full (complete) or partial, and can either be immediate, delayed or replacement dentures.
There has been a significant decline in the provision of exclusively tissue-borne removable dentures in the last few decades, but an increase in implant-stabilised removable dentures. The reason is diminishing clinical knowledge and reduced expertise of technicians (and less experience), and a reluctance to provide removable prostheses when fixed prosthodontic solutions, such as implants, are available for oral rehabilitation. Furthermore, the success of removable dentures, especially of totally tissue-supported dentures, relies on acceptance by the patient and tolerance of the prosthesis, which is often difficult to assess and predict. However, this type of modality is valuable and indispensable in many clinical situations such as transitional phases of treatment, or as a definitive prosthesis when extensive grafting procedures for implants are contraindicated due to medical history or intra-oral or financial status.
Indications
The indications of removable prostheses include:
Transitional

full or partial dentures awaiting osseointegration for definitive fixed or removable implant-supported prostheses;

Periodontal splints

;

Training bases

for assessing altered OVD and anterior guidance;

Templates (with radiographic markers)

for preoperative CBCT scans for implant treatment planning;

Surgical stents

with drilling holes/sleeves for

guided implant placement

in fully or partially edentulous arches;

Definitive oral rehabilitation

.
Edentulism
The sequelae following tooth extraction are alveolar bone loss and remodelling, resulting in:
Pseudo class III

and cross-bites of dental ridges;

Differential

or site-sp/>