41
Impressions: Soft Tissue Management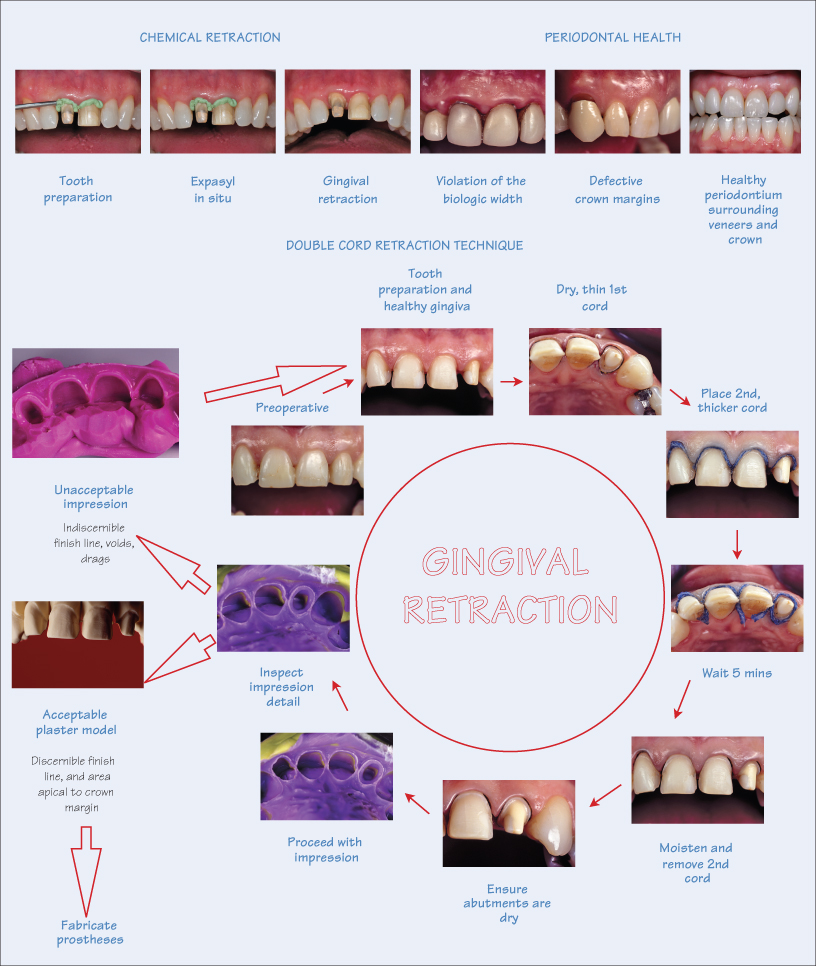 The last factor determining the accuracy of an impression is efficacious soft tissue management. This involves a transient displacement (retraction) of the circumferential gingivae surrounding the prepared tooth, or implant abutment in order to:
Visualise the finish line

;

Maintain an arid environment

, particularly for addition silicone (PVS) impression materials;

Accommodate a sufficient bulk of intrasulcular impression material

(at least 0.2 mm thickness);

Record an area apical to the finish line

to create a correct

emergence profile

of the artificial prosthesis.
The definitive restoration is only as good as the impression. Adequate soft tissue management is essential for both analogue and digital impressions. Apart from the need to choose the appropriate impression material and to use a correct impression technique, most substandard impressions are attributed to ineffective soft tissue control. Soft tissue management can be categorised as, first, achieving and maintaining periodontal health, and second, manipulating the gingivae to facilitate impression making.
Periodontal Health
The primary determinant for achieving a successful impression is achieving and maintaining periodontal health. A healthy periodontium is a prerequisite for facilitating not only impression making but also subsequent stages such as the try-in and cementation procedures. There are two aspects influencing periodontal health: patient and operator factors.
The patient factors are predominately beyond the patient's and clinician's control, including:
Genetic predisposition or constitution;
Age, race, gender, e.g. pregnancy and osteoporosis;
Systemic illnesses, e.g. diabetes, compromise/>