38
Provisionals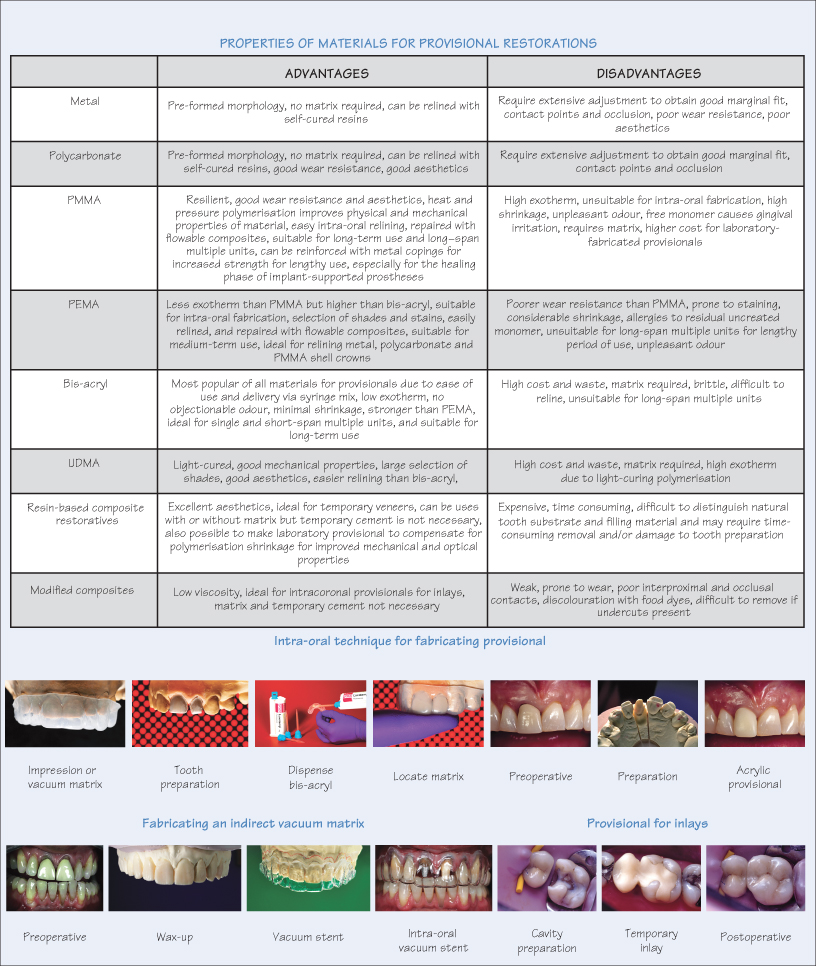 A provisional (or temporary restoration) is used as an interim before fitting the indirect definitive restoration or prosthesis. In essence, a provisional is disposable, but should remain for the intervening period while awaiting the permanent analogue.
Function of Provisionals
Besides acting as a stopgap, provisionals have numerous useful functions for assuring the ultimate success of the permanent restoration, such as:
Health

– of

exposed dentine

and

pulp vitality

. In addition,

periodontal health

requires monitoring, especially if there is prevailing information due to previous

defective restorative margins

,

crown lengthening

or

implant and surgical augmentation

. Healing may be accompanied by gingival recession and may require

relocation of the preparation margins

, particularly for anterior restorations. In addition, a provisional is useful for

tissue sculpturing

, either at a pontic site or around implant abutments in order to achieve acceptable

'pink aesthetics'

;

Function

– for planned occlusal changes such as

anterior guidance

,

lateral excursions

and

vertical dimension

alterations. Also, the restorations should be

comfortable

and not an

impediment

to

phonetics

or

embouchure

;

Aesthetics

– when gross morphological changes are planned, e.g. restitution of

worn dentition

or for

elective cosmetic

procedures. Provisionals based on

diagnostic wax-ups

are minimally invasive, and are ideal for assessing aesthetics and function before carrying out irreversible tooth preparation;

Tooth preparation

–

sufficient tooth removal

in order to accommodate restorative materials using

intra-oral guides

for precise and calculated tooth reduction, e.g. for adhesively retained PLVs.
Choice of Materials
The number of materials on the market for provisionals is both impressive and confusing, and the c/>