33
Luxations and Avulsion
Concussion and Subluxation
These teeth are not displaced and can be managed conservatively and treated symptomatically. They have a good prognosis.
Splinting is not required.
Baseline radiographs and pulp tests.
Lateral and Extrusive Luxation
These teeth need to be repositioned as soon as possible. After 24 hours it is usually very difficult to replace the teeth in the original position (Fig. 33.1).
1.
Baseline periapical radiographs.
2.
Reposition teeth manually, avoiding any further damage to the root.
3.
Non-rigid splinting, although, if multiple teeth are involved, a more rigid wire may be required.
4.
Review fortnightly, then at 1, 3, 6 and 12 months.
5.
Initial pulp sensibility tests may give false negative readings.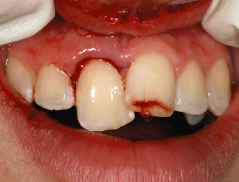 The prognosis for these teeth is usually good, although root canal therapy may be required. Resorption is uncommon, but pulp canal obliteration occurs more frequently in luxated immature teeth. The prognosis is poorer if there is an associated dento-alveolar fracture.
Pulp Necrosis in Luxated Teeth
Teeth need to be monitored for loss of vitality using all available parameters, including radiographic and colour changes. Transient apical breakdown is commonly seen in lateral luxations, but these teeth are not necrotic. Avoid starting root canal treatment unless there are other indicators of infection of the pulp canal.
The prognosis for most intrusive injuries is poor as the periodontal ligament is crushed against the bone and teeth will usually become ankylosed and lost through replacement resorption.
If intrusion is minimal and the tooth is only partially erupted then it can be monitored and may re-erupt.
In all other cases, manually reposition or place orthodontic appliances to extrude the tooth over 7 days and then splint.
Commence root canal therapy within 10–14 days and place calcium hydroxide as an intra-canal medicament.