In dentofacial orthopedics, interferences may hinder the orderly development of the alveolar processes and basal bone, thus disrupting the normal course of growth of the masticatory apparatus.
These interferences, which may be of many types and may occur at any stage, may have repercussions on other anatomic structures (skeletal, dentoalveolar, temporomandibular joint-related, or postural), esthetics, or the psychological well-being of the child.
There are three general categories of interference: mechanical, functional, and psychological (Gugino and Duss 2000). This chapter will discuss only the first two.
Interferences associated with malpositioned maxillary teeth—the functional guidance arch—precipitate compensatory reactions in the mandibular arch. This tends to lock the mandible into positions that limit its capacity to complete excursive movements, limiting mastication to primarily vertical activity.
Mechanical interference can be dental or skeletal in origin, can occur in the maxilla or in the mandible, and can operate in all three dimensions of space.
Transverse
Transverse interference is common (Figs 3-1 and 3-2).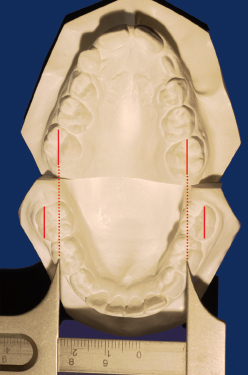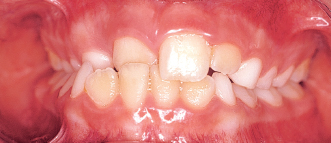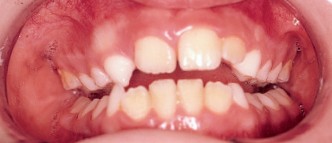 Vertical
Anterior overbites, whether they result from alveolar discrepancies or skeletal ones, such as severe rotation during anterior growth, and open bites can both interfere with vertical mandibular movement (Figs 3-3 and 3-4).
Sagittal interferences result from anterior overjet, linguoversion of the maxillary incisors, anterior crossbite, and molar prematurities or other occlusal interferences with lateral or protrusive excursive movements (Figs 3-5 and 3-6).
Functi/>