Differential diagnosis by site
Cervical lymph node disease
Cervical lymph nodes must be examined in every patient. Though most causes of enlargement (lymphadenopathy) are inflammatory (lymphadenitis), especially arising from local infection; others may be caused by malignant disease (Figure 3.1) – either local, distant or systemic – or other serious causes.
Infection (the usual cause) may be:
•
local viral or bacterial (dental, face, scalp, ear, nose or throat): including staphylococcal and non-tuberculous mycobacterial lymphadenitis
Other inflammatory causes may be:
Salivary gland disease
Keypoints
Causes may include:
Acute bacterial (ascending) sialadenitis
Rare, except when following hyposalivation.
Typical orofacial symptoms and signs:
painful swelling of one gland only, with red, shiny overlying skin, trismus, and purulent discharge from duct (
Figures 3.3
,
3.4
).
Aetiopathogenesis
: usually a bacterial infection ascends the duct of a reduced- or non-functioning salivary gland. Infectious agents include pneumococci,
Staphylococcus aureus
or viridans streptococci.
Mucocele
Typical orofacial symptoms and signs:
dome-shaped, bluish, translucent, fluctuant, painless swelling, usually <10 mm diameter (
Figure 3.5
) which may rupture. Recur frequently. Deeper mucoceles are less common, more persistent and are often retention cysts (
Figure 3.6
).
Main oral sites affected
: lower lip mainly. Superficial mucoceles are small intra-epithelial lesions (<5 mm diameter) sometimes simulating a vesiculobullous disorder but usually producing a small vesicle only; seen often in the soft palate. Ranula is the term used for the 'frog belly' appearance of a large retention mucocele in the floor of the mouth often arising from the sublingual gland and, rarely, burrowing through the mylohyoid muscle (plunging ranula).
Aetiopathogenesis:
usually extravasation of mucus from a damaged minor salivary gland duct; rarely retention of mucus within a salivary gland or its duct.
Main associated conditions:
superficial mucoceles may be seen in lichen planus or Graft versus host disease.
Differential diagnosis:
diagnosis is clear-cut but neoplasm must be excluded, particularly in the upper lip.
Necrotizing sialometaplasia
(see page 289)
Salivary gland neoplasms
These are uncommon. Classification of the most common salivary neoplasms is:
•
Adenomas:

Warthin tumour (adenolymphoma or papillary cystadenoma lymphomatosum)

'monomorphic': adenolymphoma/oncocytic adenoma/ (canalicular, basal cell, others)
Typical orofacial symptoms and signs:
asymptomatic, firm and sometimes nodular swelling in one gland (usually parotid) and possible eversion of ear lobe (
Figures 3.8
). Warthin tumour may be bilateral. No hyposalivation. Malignant neoplasms classically may grow rapidly, may cause pain, may ulcerate and may involve nerves (e.g. facial palsy).
Main oral sites affected
: most tumours involve the parotid (75%), where most are benign pleomorphic adenomas (60%). Most other salivary tumours are in the minor glands, where many are malignant (60%), often arising from palatal glands (
Figures 3.9
–
3.11
). Few tumours are in the submandibular or sublingual glands. Submandibular tumours can be benign or malignant. Most sublingual gland tumours are malignant.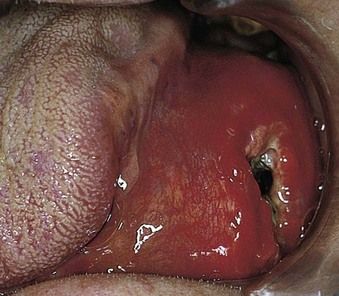 Sjögren syndrome
Uncommon, the cause is unknown but it is immunological and possibly viral. The common features are dry mouth and dry eyes: joint and other problems may be associated.
IgG4 syndrome
IgG4 syndrome ('IgG4 related systemic sclerosing disease', 'IgG4-related autoimmune disease', 'IgG4-related systemic disease', 'IgG4-positive multiorgan lymphoproliferative syndrome') often manifests with enlarged salivary glands (previously called Mikulicz disease or Kuttner tumour [sclerosing sialadenitis]) and one-third also suffer from dry eyes and dry mouth and arthralgias, so for many years this was considered a subgroup of Sjögren syndrome.
IgG4 syndrome affects mainly middle-aged men. Many other organs and tissues are also involved, including pancreas (the most commonly affected tissue), gall bladder, bile duct, retroperitoneum, kidneys, lung, prostate, lymph nodes, breast, and thyroid and pituitary glands.
Patients have neither anti-Ro/SS-A nor anti-La/SS-B autoantibodies but they have low titres of rheumatoid factor (RF), antinuclear autoantibodies (ANA), and decreased serum complement. Treatment includes systemic corticosteroids or anti-CD20 therapy (rituximab).
Lip lesions
Keypoints
Actinic burns and cheilitis
Mainly seen in fair-skinned individuals exposed in sunny climes or at high altitude.
Typical orofacial symptoms and signs:
erythema, oedema, vesiculation and occasionally haemorrhage typify burns (
Figures 3.25
,
3.26
); later whitish lesions or keratosis characterize actinic cheilitis – which is potentially malignant.
Aetiopathogenesis:
shortwave ultraviolet (UV) light (sunlight may also trigger herpes labialis and lupus erythematosus).
Angioma (haemangioma)
These are fairly common oral lesions.
Typical orofacial symptoms and signs:
a painless reddish, bluish or purplish soft vascular lesion which blanches on pressure (diascopy) (
Figures 3.28
,
3.29
).
Main oral sites affected:
most common on the lip, tongue, or buccal mucosa as painless reddish, or often bluish or purplish soft lesions which usually blanch on pressure, are fluctuant to palpation, are level with the mucosa or have a lobulated or raised surface. Haemangiomas are at risk from trauma and prone to excessive bleeding if damaged (e.g. during tooth extraction). Occasionally, oral haemangiomas calcify (phlebolithiasis).
Aetiopathogenesis:
haemangiomas represent hamartomas or vascular anomalies. In children, they are usually congenital and developmental in origin. In adults, they may be acquired.
Age predominance:
many haemangiomas appear in infancy, most by the age of 2 years, grow slowly and, by age 10, the majority have involuted (resolved). In adults, however, haemangiomas rarely involute spontaneously; rather they remain static or slowly enlarge.
Extraoral possible lesions:
haemangiomas are typically seen in isolation but a few may be multiple and/or part of a wider syndrome such as:
Differential diagnosis:
varicosities, pyogenic granuloma, lymphangioma, Kaposi sarcoma and epithelioid angiomatosis.
Investigations:
for large angiomas, angiography may be needed rather than biopsy. After intravenous administration of contrast medium, enhancement is observed in haemangiomas in areas corresponding to those with high signal on T2-weighted MRI.
Main diagnostic criteria:
angiomas blanch on pressure (diascopy), or contain blood on aspiration with a needle and syringe.
Main treatments:
most angiomas are small, of no consequence and need no treatment but if they do for aesthetic or functional reasons or because of previous episodes of significant bleeding, they respond well to cryosurgery, laser ablation or intralesional injections of corticosteroids, sclerosing agents, interferon alpha, or systemic corticosteroids or propranolol. Very large haemangiomas may need to be treated with ligation or embolization – mainly for cosmetic reasons or if bleeding is troublesome.
Carcinoma
Uncommon in England and Wales (600 cases/year) and declining: much more common nearer the Equator, especially in white-skinned people.
Typical orofacial symptoms and signs:
thickening, induration, crusting or ulceration, usually at vermilion border of lower lip just to one side of midline (
Figures 3.30
,
3.31
). There is late involvement of the submental and other lymph nodes.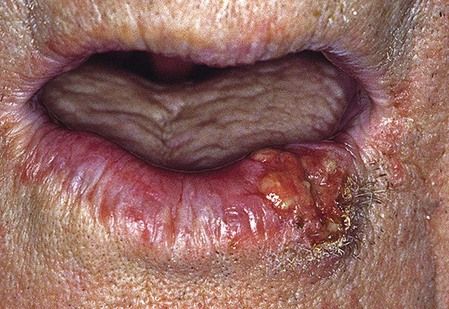 Aetiopathogenesis:
predisposing factors include UV irradiation (sun), immunosuppression and tobacco.
Differential diagnosis:
from herpes labialis, keratoacanthoma, and (rarely) basal cell carcinoma (on skin), molluscum contagiosum.
Investigations:
biopsy. Fibreoptic pharyngolaryngoscopy with autofluorescence (symptom-directed bronchoscopy/oesophagoscopy); ultrasound-guided fine needle aspiration biopsy of any neck mass; staging – supported by MRI (or CT) from skull base to sternoclavicular joints (plus USgFNA and/or FDG-PET if anything equivocal); CT thorax.
Discoid lupus erythematosus (DLE)
Rare. DLE may be categorized as:
•
Widespread DLE – other areas are affected, even if the head and neck are also involved. People with widespread disease may have abnormalities of blood or positive serology, and are more likely to develop SLE (systemic lupus erythematosus).
Typical orofacial symptoms and signs:
lesions on vermilion border are scaly and crusting. Intraoral lesions have central atrophic and often indurated red area with border of radiating white striae, and peripheral telangiectasia (
Figure 3.32
). There is a small predisposition to carcinoma of the lip.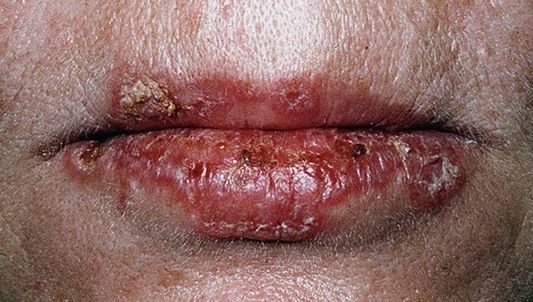 Main oral sites affected:
buccal mucosa, palate/alveolar ridges and lips (almost always the lower lip).
Aetiopathogenesis:
unclear: drugs, hormones and viruses may contribute in genetically predisposed persons.
Extraoral possible lesions
: the discoid rash is usually on the face with red patches that are thick and often scaly, appearing red with a whitish, or at least, lighter-coloured, scaly rim. As the patches heal they tend to scar. If discoid lupus occurs on the scalp the hair will be lost, leaving permanent bald areas.
Main associated conditions:
none; discoid lupus is a type of lupus that tends to be confined to the skin and mucosa and other organs in the body are not involved.
Differential diagnosis:
systemic lupus erythematosus, lichen planus, leukoplakia (keratosis), lichenoid white lesions and carcinoma.
Erythema multiforme
Typical orofacial symptoms and signs:
serosanguinous exudate on ulcerated swollen lips, and ulcers (
Figures 3.33
,
3.34
).
Aetiopathogenesis:
putative reaction to microorganisms (herpes simplex, mycoplasma), to drugs (e.g. NSAIDs, antimicrobials, sulphonamides, beta blockers, dapsone, salicylates, tetracyclines) or to other factors.
Extraoral possible lesions:
may affect mouth alone, or skin and/or other mucosa. The minor form affects only one or two mucosal sites and/or the skin. The major form (Stevens–Johnson syndrome) affects more than two mucosal sites and is widespread, with skin rashes, fever and toxicity. Rashes are various but typically 'target' lesions or bullae. The most severe form is toxic epidermal necrolysis (TEN) when the lesions affect most of the body surface and the condition is life-threatening.
Differential diagnosis:
from other lip lesions, and other causes of mouth ulcers – particularly primary herpes stomatitis and pemphigus.