Differential diagnosis by signs and symptoms
This chapter discusses the main signs and symptoms of diseases affecting the orofacial region. Specific diseases are discussed in Chapter 3.
Pain is by far the most common symptom affecting the orofacial region (see Pain, page 89). The other most common signs and symptoms of orofacial disease fall into a limited number of categories, namely:
This can be remembered by the mnemonic Could Be Someone We Usually Love To Hear.
Bleeding
Keypoints
Causes may include:
•
Gingivitis (plaque-induced) – by far the most common cause (
Figure 2.1
)
•
Medications that impair haemostasis: anticoagulants, platelet aggregation inhibitors, chemotherapy, some herbal supplements
Oral bleeding occasionally arises from a vascular anomaly (Figure 2.3).
Burning mouth
Keypoints
Causes may include (alphabetically):
Once these causes are excluded, the condition is termed 'burning mouth syndrome', when the cause may be psychogenic, and include:
A normal-appearing tongue may be seen in psychogenic causes, and with a burning sensation caused by deficiency states, drugs (e.g. captopril and other ACE inhibitors, proton pump inhibitors) and diabetes mellitus.
This section deals only with a normal-looking but burning tongue.
Desquamative gingivitis
Keypoints
•
Desquamative gingivitis is not a disease entity but a clinical term for persistently sore, glazed and red or ulcerated gingivae.
Fairly common, it is almost exclusively a disease of middle-aged or older females.
Dry mouth (hyposalivation and xerostomia)
Keypoints
Causes of hyposalivation may include:
•
Iatrogenic

drugs (medications) with anticholinergic or sympathomimetic effects, such as tricyclic antidepressants, phenothiazines and antihistamines

irradiation of major salivary glands

cytotoxic agents, bone marrow transplantation and chronic graft-versus-host (GvHD) disease
Mucosal blisters
Keypoints
•
Blisters may be due to a subepithelial split, seen mainly in sub-epithelial immune blistering diseases (e.g. pemphigoid) (
Figure 2.16
).
•
Blisters due to intraepithelial vesiculation are less common and caused particularly by pemphigus, and readily break to form erosions.
•
Blisters rarely are caused by blood extravasation into the tissues (purpura) (
Figure 2.17
).
Mucosal brown and black lesions
Keypoints
Causes may include:
Table 2.1
Features of most important isolated hyperpigmented oral lesions
Lesion
Usual age of presentation
Morphology
Colour
Main locations
Approximate size
Other comments
Amalgam tattoo
>5 years
Macular
Grey or black
Floor of mouth, mandibular and maxillary gingivae
<1 cm
May be confirmed by radiography
Graphite tattoo
>5 years
Macular
Grey or black
Palate
<0.5 cm
May be revealed by radiography
Kaposi sarcoma
>young adult
Macular becoming nodular
Red, purple or black
Palate, gingivae
Any
Mainly in HIV/AIDS
Melanoma
Any
Macular becoming nodular
Brown, grey or black
Palate, gingivae
Any
Rare
Melanotic macules
Any
Macular
Brown or black
Lips, gingivae
<1 cm
Usually benign
Mostly in Caucasians
Naevi
3rd–4th decade
Raised
Blue or brown
Palate
<1 cm
Usually benign
Purpura
Any
Macular
Red, purple or brown
Palate, buccal or lingual mucosa
Any
Usually traumatic and resolves spontaneously

Mucosal erosions (see also mucosal ulceration)
Keypoints
•
Mucosal damage may lead to inflammation and/or partial-thickness loss of epithelium, both of which appear red, or to loss of most of the epithelium, which then may initially appear red but becomes covered with a yellowish fibrinous slough. Full-thickness loss of epithelium typically causes a grey or yellow lesion (an ulcer).
•
Patients often present with a mix of these appearances; mucositis is the term applied to widespread oral erythema, ulceration and soreness.
Causes may include: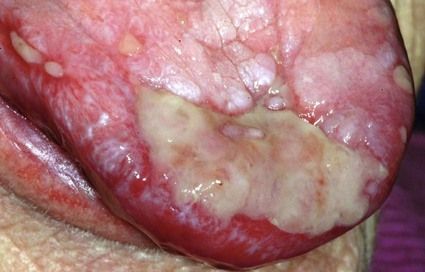 •
Mucositis, and sometimes bleeding, is common after chemo- or radio- or chemoradio-therapy, and graft-versus-host disease (GvHD). Sometimes called mucosal barrier injury, mucositis is common during the treatment of cancer but also in the conditioning prior to haematopoietic stem cell transplantation (bone marrow transplants).
Mucosal fissures or cracks
Keypoints
•
Fissures are common on the dorsum of the tongue (
Figure 2.26
) when they are usually of genetic basis and, as there is no break in the epithelium, they are symptomless unless, as is common, there is an associated geographic tongue (erythema migrans) (
Figure 2.27
).
Causes may include:
Angular stomatitis (perleche; angular cheilitis)
Common, especially in older edentulous patients who are denture-wearers.
Typical orofacial symptoms and signs:
symmetrical erythematous fissures on skin of commissures (
Figures 2.28
,
2.29
), and (very rarely) commissural leukopakia intraorally.
Aetiopathogenesis:
usually due to infection with
Candida albicans
.
Staphylococcus aureus
and/or streptococci may also be cultured from lesions. Patients may have denture-related stomatitis or other forms of intraoral candidosis. Other causes include lip incompetence, especially from orthodontic appliances, iron deficiency, hypovitaminoses (especially B), malabsorption states (e.g. Crohn disease), HIV infection and other immune defects.
Investigations:
occasionally, blood picture and haematinic assays; investigations for diabetes and other immune defects; smears for fungal hyphae and bacteriological culture, if refractory.
Main treatments:
Eliminate any underlying systemic predisposing factors. Treat intraoral candidal infection, in particular denture-related stomatitis. Treat angular stomatitis with topical antifungal such as miconazole or triamcinolone/nystatin combination, or fucidin or mupirocin if staphylococcal.
Mucosal purpura
Keypoints
•
Purpura is the accumulation of blood in the mucosa, appearing usually as red or brown macules (
Figure 2.32
). Purpuric lesions do not blanch on pressure (cf. vascular lesions such as haemangioma, telangiectasia).
•
Petechiae are pinpoint-sized haemorrhages from small capillaries in the skin or mucous membranes. Petechia is the term given to the individual small red or red–blue spots which are about 1–5 mm in diameter and make up the rash.
•
Purpura is seen mainly in areas prone to trauma, such as at the occlusal line (
Figure 2.33
) or junction of hard and soft palates.
•
Occasional small traumatic petechiae at the occlusal line are common in otherwise healthy patients. Otherwise, oral purpura is uncommon.
Mucosal red lesions
Keypoints
•
Mucosal red lesions may also be caused by epithelial loss (as in desquamative gingivitis) or atrophy as in erythroplasia (erythroplakia) – which usually represents severe epithelial dysplasia and is potentially malignant, or redness may represent frank carcinoma or other malignant neoplasms.
Causes may include:
Generalized redness
Mucosal ulceration or soreness (see also mucosal erosions)
Keypoints
•
Soreness typically indicates a break in epithelial continuity, usually caused by erosions or ulcers.
•
Single ulcers lasting more than 3 weeks are a special concern since they may represent a malignant neoplasm (
Figure 2.41
) or a chronic infection such as TB, syphilis or mycoses (fungal infections). Gingival ulcers may be caused by these conditions, or acute necrotizing gingivitis (
Figure 2.42
).
•
Other persistent ulcers may have a systemic cause, such as a skin disease like lichen planus, pemphigoid or even pemphigus.
•
Recurrent ulcers may represent recurrent aphthous stomatitis (aphthae) (
Figures 2.43
–
2.45
) but occasionally they manifest in systemic disease and are then termed 'aphthous-like' ulcers (
Figure 2.46
).