An ulcer is defined simply as loss of epithelium. Ulcers that are preceded by blisters (vesicles or bullae) represent a distinct set of oral conditions, which are discussed in Chapter 1. Ulcerative lesions are commonly encountered in dental patients. Although many oral ulcers have similar clinical appearances, their etiologies encompass many disorders, including reactive, infectious, immunologic, and neoplastic diseases.
Syphilis is a sexually transmitted disease that was virtually incurable until Dr. Paul Ehrlich developed his "magic bullet," arsphenamine, around the turn of the twentieth century. A stunning change in the control of syphilis followed the introduction of penicillin in the early 1940s. By then, approximately 600,000 new cases were reported annually in the United States; during the next 15 years, the rate declined to 6000 cases per year. An increase in the number of new cases (peaking at about 50,000 in 1990), due in part to an association with human immunodeficiency virus (HIV) infection and drug abuse, followed until today, when there seems to be some measure of control of this disease. A significant number of new cases of syphilis are reported in gay men, having a strong association with HIV coinfection and high-risk sexual behavior. In cases with concurrent HIV disease, an atypical clinical course may be noted, including more severe constitutional symptoms, necrotic cutaneous ulcerations, organ and ocular involvement, and a greater tendency to develop neurosyphilis.
Gonorrhea is one of the most prevalent bacterial diseases in humans. It is caused by the gram-negative diplococcus Neisseria gonorrhoeae, which infects columnar epithelium of the lower genital tract, rectum, pharynx, and eyes. Infection is transmitted by direct sexual contact with an infected partner. Containment of the spread of infection in sexual partners is enhanced by the short incubation period of less than 7 days, permitting contact tracing, but is hampered by the absence of symptoms in many individuals, especially females.
Genital infections may be transmitted to the oral or pharyngeal mucous membranes through orogenital contact. Pharyngeal mucosa is more likely to be infected than oral mucosa because of the type of epithelium and its reduced resistance to trauma, with pharyngitis as the chief complaint. Developing this form of disease is apparently much more likely with fellatio than with cunnilingus. Individuals may have concomitant genital and oral or pharyngeal infections that result from direct exposure to these areas rather than from being spread through blood or lymphatics.
Transmission of gonorrhea from an infected patient to dental personnel is regarded as highly unlikely because the organism is very sensitive to drying and requires a break in the skin or mucosa to establish an infection. Gloves, protective eyewear, and a mask should provide adequate protection from accidental transmission.
Tuberculosis (TB) infects about one third of the world's population and kills approximately 3 million people per year, making it one of the most important cause of death in the world. In developed countries, a significant decrease in the incidence of TB has occurred as the result of improvements in living conditions, reductions in overcrowding, and antibiotic use. However, the 1980s saw a re-emergence of significant numbers of cases of TB, many in association with HIV infection and acquired immunodeficiency syndrome (AIDS), in Europe and Africa. In addition, the issue of multidrug resistance has proved to be a growing problem in management of the disease.
TB is caused by the aerobic, non–spore-forming bacillus Mycobacterium tuberculosis (Figure 2-16). The organism has a thick, waxy coat that does not react with Gram stains but retains the red dyes (Ziehl-Neelsen and Fite techniques). With these stains, the organisms do not decolor with acid-alcohol and therefore are also known as acid-fast bacilli. Two major forms of Mycobacterium are recognized: M. tuberculosis and M. bovis. M. tuberculosis is an airborne infection that is transmitted by inhalation of infected droplets. M. bovis is primarily a disease of cows that is transmitted to humans through infected milk, producing intestinal or tonsillar lesions. Two other closely related forms of Mycobacterium are recognized: M. avium and M. intracellulare. Both are nonvirulent in healthy individuals but cause disseminated disease in immunocompromised individuals, such as those with HIV infection or AIDS.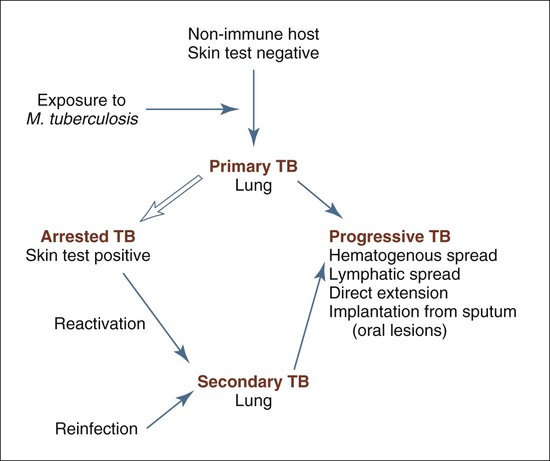 M. tuberculosis infection is spread through small airborne droplets, which carry the organism to pulmonary air spaces. Phagocytosis by alveolar macrophages follows, and the battle between bacterial virulence and host resistance begins. The pathogenicity of M. tuberculosis is due both to its ability to resist degradation by macrophages and to the development of a type IV hypersensitivity reaction. This latter feature explains the destructiveness of lesions in the host tissues and the emergence of drug-resistant strains. As the immune system is sensitized by mycobacterial antigens, positive tuberculin reactivity develops. The Mantoux and tine skin tests, which use a tubercle bacillus antigen called purified protein derivative (PPD), determine whether an individual is hypersensitive to antigen challenge. A positive inflammatory skin reaction indicates that the individual's cell-mediated immune system has been sensitized and signifies previous exposure and subclinical infection. It does not necessarily imply active disease.
A granulomatous inflammatory response to M. tuberculosis follows sensitization. In most cases, the cell-mediated immune response is able to control the infection, allowing subsequent arrest of the disease. Inflammatory foci eventually may undergo dystrophic calcification, but latent organisms in these foci may become reactivated at a later date. In a small number of cases, the disease may progress through airborne, hematogenous, or lymphatic spread, so-called miliary spread.
Oral mucous membranes may become infected through implantation of organisms found in sputum or, less commonly, through hematogenous deposition. Similar seeding of the oral cavity may follow secondary or reactivated TB.
Leprosy, also known as Hansen's disease, is a chronic infectious disease caused by the acid-fast bacillus, Mycobacterium leprae. Worldwide, 20 million individuals are thought to be infected. It is the most common cause of peripheral neuritis in the world. Because the causative organism is difficult to grow in culture, it has been maintained in the footpads of mice and in the armadillo, which has a low core body temperature. Leprosy is only moderately contagious; transmission of the disease requires frequent direct contact with an infected individual for a long period, with an incubation period ranging up to 5 years for the tuberculoid form versus up to 12 years in the lepromatous form of the disease. Inoculation through the respiratory tract is believed to be a potential mode of transmission.