Figure 4.1 Symbol denoting single use item.
You should never use an item marked with this symbol on a second occasion and they should not be sterilised. There are some products marked with this symbol which can be sterilised prior to use and thrown away after use. Such items are fine bore aspirator tips that may be used in a surgical procedure and are not supplied in a sterile state. However sterile narrow bore aspirators are available and should be the product of choice.
The Medicines and Healthcare Products Regulatory Agency (MHRA) regularly publishes guidance and updates on the use of medical devices (instruments etc). The dentist should receive notification of these alerts. They are published if there are a large number of failures of a particular medical device where users need to be aware of potential problems. The dental nurse needs to be informed if the alert gives advice as to the decontamination of a device or other restrictions in its use. The dentist is also duty bound to report to the MHRA any failure of a medical device, i.e. if an instrument breaks it must be retained and the breakage reported to the MHRA, so that the MHRA can investigate if there are a large number of breakages of that particular item.
The BDA also published the Infection Control in Dentistry Advice Sheet A12 in 2003 which gave dental practices detailed advice on how to follow these Standard Precautions. This outlined specific precautions which had to be followed for patients with known infections such as:
Prior contaminations (Creutzfeldt-Jakob Disease (CJD) and variant Creutzfeldt-Jakob Disease (vCJD))
Airborne transmissable diseases (tuberculosis)
Droplet transmissable diseases (mumps, influenza)
Transmission by direct or indirect contact with dried skin (Colonisation by MRSA or contaminated surfaces)
This advice booklet was superceded by the Health Technical Memorandum 01-05 (HTM 01-05) which was introduced by the Department of Health in 2008. The HTM 01-05 is now the document of choice to consult on all areas concerned with infection prevention and control and decontamination. A self assessment tool was also supplied with the hard copies of the document when it was supplied to each and every dental institution in 2008. This self assessment tool was devised by The Infection Prevention Society (IPS) and is updated regularly. It provides an invaluable tool in assessing how compliant your practice is with the new regulations. It is the tool used by auditors who visit to carry out the audit required by the HTM 01-05.
The HTM 01-05 also sets out Essential Quality Requirements (EQR) which are the standards that should be complied with now and Best Practice (BP) which are the standards which must be achieved in the future. Failure to meet the standards set out in EQR could mean that a practice is closed until improvements are made. Written plans on how the practice will achieve BP must be in place when the practice is audited.
What legal obligations do I have?
Even though you are not responsible, legally, for what happens in the practice, you should be aware of the laws that have been enacted to protect your patients, your colleagues and yourself from Healthcare Acquired Infections (HCAI).
The primary legislation setting out basic rules for all healthcare establishments is The Health Act 2006 (DoH). It relates to the provision of healthcare directly by NHS organisations and is presented under three headings:
NHS organisations have a general duty of care ensuring that appropriate management systems are in place to protect patients, staff and others from Healthcare Acquired Infections (HCAI).
Relates to clinical procedures placing a duty of care on NHS organisations to adhere to care policies applicable to the prevention and control of HCAI.
NHS organisations have a duty to ensure as far as possible that healthcare workers are free of, and protected from, exposure to communicable infections during the course of their work. They must also have the necessary education to prevent and control HCAI.
Working in a dental practice, you are also bound by certain other laws and regulations, all of which are regularly reviewed and revised. It is imperative that you, or someone in your practice, keeps an eye on these changes because any breaches of their regulations could have severe consequences as these are enforceable by law. The following is a brief summary of the more important pieces of legislation:
1. The Health and Safety at Work Act 1974
This Act sets out a framework that places a duty of care upon employers and employees to promote high standards in the workplace as well as protecting the public from workplace dangers.
2. Management of Health and Safety at Work Regulations 1999
These regulations take into law the requirements of the European Union directives which address issues of training, risk assessment and development of health and safety policies. Further additions to the regulations required employers to put in place preventative and protective measures and made it possible for an employer to be prosecuted for the actions of an employee.
3. Control of Substances Hazardous to Health 1988 (COSHH)
These are regulations designed to prevent substances used in the workplace from causing harm to people working with them or patients being treated using them. It requires that all and any substances have a risk assessment carried out before they are used and that these assessments are written recorded and revised regularly. The assessment should include maximum safe exposure limits and any first aid and follow up treatments that are required if exposure occurs.
4. Environmental Protection Act (1990)
This Act sets out the legal guidelines for the safe disposal of waste in all forms, especially contaminated waste and clinical waste. It also sets out rules for the safe disposal of substances such as mercury and amalgam.
Many of the requirements set out in these acts of legislation are brought together with other guidelines and standards in the HTM 01-05.
What are the common infections I need to protect against?
It is imperative that you protect yourself against the many infections that are carried by patients, other staff, visitors or escorts. All dental nurses must be vaccinated against blood borne viruses, the main one being hepatitis B. This is currently the only hepatitis variant that can be vaccinated against. The other major consideration is HIV/AIDS but there is, as yet, no vaccination available against this.
These are the most notorious infections that are of concern to dental professionals and it is essential that all dental nurses are vaccinated against hepatitis B and that your immunity level is regularly checked and boosted if necessary.
Other infections which are beginning to become more prevalent are measles, mumps, rubella and tuberculosis. These are infections that can be avoided by vaccination but the uptake of vaccination for children has fallen off significantly following adverse publicity about possible side effects.
Many of these infections are at their most contagious before the visible signs or symptoms are apparent. Reasonable precautions to protect yourself against this possible threat are essential and advice about boosters and immunity levels sought from either your General Medical Practitioner (GMP) or your local Occupational Health Department (OHD). You are responsible primarily for protecting yourself. This may come at a monetary cost as some GPs will charge for these injections. The practice you work for may be willing to help out with these expenses or may have an arrangement with a local GP but if they don't you will have to cover the cost yourself. This should not be an excuse for not maintaining your protection levels.
What should I do to protect myself?
You must have your immunity levels checked regularly and booster injections arranged should your immunity be in doubt. This will involve having a blood test which should be arranged through your local OHD who will give advice on the best course of action after the results are known.
It is possible for some people to not gain immunity after a course of hepatitis B injections. This does not preclude you from working at the chairside but you must take extra care and be scrupulous in your adherence to Standard Precautions.
It is almost impossible to protect yourself completely against infections that may be brought in by patients or their escorts. Patients will not know if they are incubating infections, they may not feel ill or show any visible signs such as spots or rashes. It becomes imperative that Standard Precautions are scrupulously adhered to for every patient that attends. It is also important that other public areas such as waiting rooms or toilets are also kept scrupulously clean.
The main demand of Standard Precautions is that every patient must be treated in the same way to satisfy the requirements of discrimination legislation. When HIV/AIDS was first identified many extreme special precautions were taken when treating known sufferers to protect healthcare workers and subsequent patients. This was deemed as discriminatory and Universal/ Standard Precautions were devised to ensure that cross infection could be minimised or removed but no patient would be treated in a different manner because of their known or unknown infectivity. Hence every patient should be treated in the same way and regarded as being potentially infectious. This also protects healthcare workers and subsequent patients from infection from a patient who does not declare or does not know that they have or are carrying an infection.
Apart from ensuring that your immunity is up to date and appropriate, and that both you and your establishment follow Standard Precautions, you should also use PPE and ensure that you follow effective hand hygiene regimes throughout all aspects of your work.
Other considerations for your protection include:
Wear low heeled or flat shoes that cover the whole of the front of the foot.
Hair should be tied back so that it cannot fall over the face during chairside work.
Any religious headwear should be washed daily and tied in such a way as to not interfere with chairside duties.
What Personal Protective Equipment (PPE) should I use?
There are certain basic items of PPE that you should routinely wear at the chairside and others that you should use for cleaning, decontamination and sterilisation duties. These are outlined below.
Chairside working
1. Examination gloves
These must be well fitted to allow tactile efficiency. They should also have a roughened surface on the finger tips. Ideally they should be latex free but should not be made of vinyl. Vinyl gloves do not offer sufficient protection at chair-side. It is imperative that the gloves you use routinely fit very well to allow manual dexterity and tactile sensitivity. The gloves must be changed between patients and must be removed before touching any item that cannot be decontaminated effectively, if they are contaminated. They must never be washed or sanitised with alcohol gel. Sterile gloves in individual sizes and packed in single pairs must be worn for surgical procedures.
2. Face masks
Face masks protect you from inhaling contaminated aerosols. There are many types available but the minimum standard must be that the mask is type II filtration and water repellent. It is possible to buy masks which have an integral microbial filter which give increased protection. However this type of mask is more expensive. This type II filtration mask is not adequate for protection if treating a known 'swine flu' case, when a specifically fitted respirator mask must be worn. Some masks have integral eye protection but users must ensure adequate protection is achieved. If these are used it is also possible to purchase face visors but these do not give adequate aerosol protection and a mask should be worn as well. Whatever type of protective mask / visor is used, it must be changed between patients. Paper masks must be thrown away. Visors which are not disposable should be disinfected or decontaminated according to the manufacturer's instructions.
3. Eye protection
This is essential to protect the eyes from the aerosol created during treatment. Apart from microscopic blood particle, it will also contain tooth debris or calculus. Apart from the aerosol, other particles can be expelled from the mouth during cavity preparation or scaling. Eye protection should, ideally, be close fitting and wrap around to protect effectively. If you wear prescription glasses routinely, then, depending on the size of the lenses, you may need to wear wrap around protective glasses over the top. Whatever type of eye protection is used it must be thoroughly decontaminated between patients, if it is not disposable or capable of being sterilised. It is also imperative that the eye protection you use is suitable for you. It cannot be a case of 'one size fits all' in the practice.
4. Uniform protection
It is becoming more usual for some type of disposable gown or apron to be worn to protect your uniform. Your uniform should not be worn outside the practice, but a disposable apron or gown will reduce the amount of contamination on your uniform. Some type of disposable cover should be worn whenever there is the possibility of blood contamination, i.e. during surgical procedures, extractions, deep scaling etc. As with other PPE, these gowns or aprons must be disposed of between patients and must never be worn from one patient to another.
Decontamination, sterilising and cleaning
1. Examination gloves
For cleaning and decontamination, heavy duty gloves must be worn, which are washed and dried after use and disposed of regularly. Examination gloves should be worn when removing items from the autoclave and bagging.
2. Face masks
Should be worn during decontamination procedures and cleaning of equipment such as suction tubings. They are not usually necessary when carrying out general cleaning or taking items from the steriliser although they could be worn if you feel it necessary.
3. Eye protection
Essential when carrying out decontamination of equipment or instruments but not essential when for general cleaning or removing items from the steriliser.
4. Disposable aprons or gowns
These should be worn for decontamination and general cleaning but not for removing items from the steriliser.
How do I ensure I effectively wash my hands?
There is a recognised eight stage process for ensuring effective hand hygiene as shown in Figure 4.2.
It is possible that the Infection Control Team (ICT) at your local Primary Care Trust (PCT) may be able to come into your practice to demonstrate an effective procedure and test your technique using an Ultra Violet Light Box.
It is a good idea to have a copy of the procedure presented in Figure 4.2 fixed by every hand wash sink. It is also essential that sinks are designated as either 'Hand wash only' or 'Decontamination only'. It is imperative that the distinction is made and decontamination is not carried out in the same sink as hands are washed.
When should I wash my hands?
There are some essential times when you should follow the hand wash protocol but it would be better if you get used to always using an effective hand wash technique. It will become second nature in just the same way as basic aspects of your day to day job. You should also be aware that this is important at home as well as at work.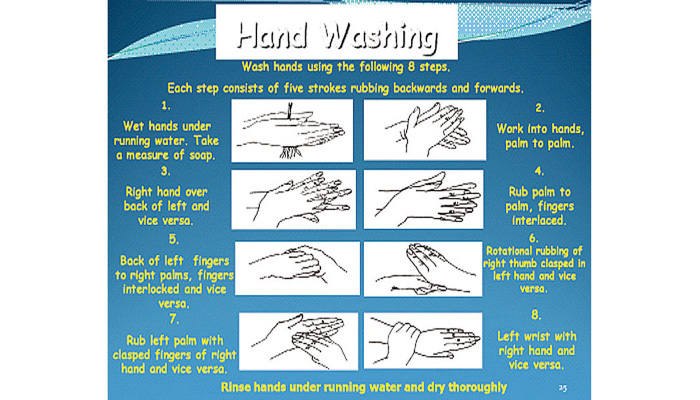 Figure 4.2 Hand washing procedure.
In general, you should wash your hands:
1. At work
After you have used the toilet.
When you first enter the treatment area.
Before putting on gloves.
After changing from heavy duty to examination gloves.
After taking off gloves.
After removing PPE.
When you leave the treatment area.
2. At home
After using the toilet.
After changing a nappy.
After cleaning up vomit, faeces or urine.
After handling pets.
Before handling food.
When preparing food between handling raw and cooked food and between preparing meat or vegetables.
After finishing cleaning.
How else can I ensure I carry out effective hand hygiene?
There are other rules that should govern your dress to ensure effective hand hygiene can be achieved.
Keep nails short, no nail extensions, and free from varnish or polish or other nail adornments.
Do not wear a wrist watch.
Only wear a plain wedding band, no costume or stoned rings. Any engagement rings or stoned wedding bands should be covered with tape if they cannot be removed.
Wear short sleeves and have disposable arm covers if sleeves cannot be short for religious reasons.
Do not wear any wrist adornments. Friendship or religious wrist ornaments should be pushed up the arm and covered with tape.
Is my personal hygiene important?
It is important that your personal hygiene is impeccable to protect yourself and others in your family. You should shower or take a bath daily and wash your hair as often as possible.
You have taken many precautions to protect yourself in the workplace but the aerosol created during treatment will contaminate you and everything you wear as well as your skin, so personal hygiene and effective laundry techniques are imperative.
It is almost inevitable that you will find that your hands will become dry because of the number of times you will wash them, so careful drying and the use of a good hand cream as often as possible is essential. It is possible to reduce the amount of times you wash your hands by the use of alcohol gels or hand sanitizers. These must not be used in place of washing but only if the hands are visibly clean. Constant use will leave a film on the hands which will encourage bacteria and not help the condition of the skin on your hands.
It is important to keep any scratches or abrasions covered with a waterproof dressing before putting on gloves, if they are on your hands, and covered if on the arms. The aerosol that is produced contains bacteria which, if it gets into an open wound, could lead to an infection and mean that you cannot work until it is clear.
What should I do if I have a 'sharps' injury?
A sharps injury is any injury caused by a sharp, contaminated instrument. This includes used needles, used burs, used matrix bands, airscaler tips or other sharp instruments. It can also include splashes into the mouth or eyes from contaminated liquids or bites from patients.
You must take any such injury very seriously. It is this type of injury that can put you at risk of contacting a blood-borne infection. If you sustain an injury from a contaminated 'sharps' you should:
Wash the wound and make it bleed, if possible.
Apply a waterproof dressing.
Check the patient's medical history to see if they have a known infection.
Report in the Practice Accident Book and to the Senior Nurse or Practice Manager.
Inform the OHD that you deal with to have your immunity level checked.
If there is a doubt about a patient's medical history then you should report to the local Accident and Emergency Department (A&E) for expert medical advice and possible blood tests. Details of the patient's medical history should accompany you to A&E.
If the patient has a known blood-borne infection then immediate transfer to A and E is essential.
If you work in a large establishment such as a hospital or in the Personal Dental Service, there will be an agreed protocol to follow which may involve taking blood samples from both donor (patient) and recipient (you).
If you are splashed in the eyes or mouth you should wash the areas with copious amounts of clean, preferably sterile, water. It is important that eyes are flushed very thoroughly and if any doubt about whether there is any debris in the eye, then you should seek immediate medical advice. An antiseptic mouthwash could be taken after rinsing with water.
If you receive a bite from a patient, then the sharps injury procedure described above should be followed.
Who else can I rely on to protect me?
Basically you must take all sensible precautions to protect yourself and that must be your responsibility. You cannot rely on anyone else to protect you, however, as part of a team, you should make sure that all team members take responsibility to protect themselves so that no-one person puts the others at risk by their actions.
Your employer has a duty of care to make the working environment as safe as is reasonably practical, under the Health and Safety at Work Act 1974. You also have a similar duty of care to work in a way that does not put others at risk.
It is also the case that if you are expected to use gloves on more than one patient or are expected to reuse any single use or disposable item or are not allowed to use appropriate and effective PPE, then you must report it. If the situation does not improve then it must be reported to the GDC because it could put a patient at risk. This is part of your responsibility as a registered dental care professional.
The PPE that is provided for your use must be appropriate and adequate for your needs. This is also a legal requirement under the Personal Protective Equipment at Work Regulations 1992. If the PPE is not adequate and appropriate then the practice owner is liable under these regulations.
The correct PPE must not be governed by the cost but by its adequacy and appropriateness. It must fit well, be of the correct type and be fit for purpose.
A more detailed description of infection control and decontamination and your role and responsibilities can be found in the book The Dental Nurses Guide to Infection Control and Decontamination (Porter K 2008).
References:
British Dental Association (2003) Advice Sheet A12 – Infection Control in General Dental Practice
Department of Health (2008) Health Technical Memorandum 01-05 – Decontamination in Primary Dental Care
Porter K (2008) The Dental Nurses Guide to Infection Control and Decontamination Quay Books, London
Chapter 5: Radiography
Is there a qualification that I need to achieve to take radiographs?

What are the laws and rules on radiography that I should know about?

What should I do if my dentist wants me to do radiographs and I do not have the qualification?

Do I need to learn about radiography for my CPD?

What should I do to assist in the taking of radiographs?

How do I process radiographs?

How do I deal with processing chemicals and film debris safely?

What is digital radiography?

What are the infection prevention and control measures required with regard to radiography?
Is there a qualification that I need to achieve to take radiographs?
In 2005 a radiography course accredited by the National Examining Board for Dental Nurses (NEBDN) was launched to allow dental nurses to be taught how to safely take radiographs. The course was developed with the help of the Royal College of Radiographers and the British Society of Dental and Maxillofacial Radiology and supported by the Dental Nurses Standards and Training Advisory Board (DNSTAB) of the General Dental Council (GDC). The course sets out to train dental nurses in both the theory and practice of taking radiographs. Candidates are required to complete a log book of a number of differing radiographs taken as well as a written examination. There are a number of centres accredited to carry out the training, a list of which is available from the National Examining Board for Dental Nurses (NEBDN).
The need for such training was evident when the Ionising Radiation (Medical Exposure) Regulations 2000 (IRMER) was enacted which updated and refined the primary legislation, Ionising Radiation Regulation 1999. This legislation describes the different responsibilities for all practitioners and operators of radiographs. Dental nurses are designated as operators and the legislation demands that all operators who are directly involved in X-raying patients must be adequately trained. This adequate training involves learning theory and developing the practical skills needed to safely carry out dental radiography and comply with the legislation.
Further details of the full curriculum and entrance requirements for this post qualification certificate are available from the NEBDN. The course is only open to registered and qualified dental nurses who have the full support of their dentists. The dentist will have to agree to supervise the trainee and fill in the log book. There is a fee to take this course which will vary depending on the institution that runs it. You cannot expect your dentist to pay this fee for you although some will and some will offer to help by paying part of it. You may also have to obtain agreement from the dentist for time off to attend lectures etc. All this must be taken into account when deciding whether or not to enrol on a course.
What are the laws and rules on radiography that I should know about?
The rules concerning the taking of radiographs are contained in three pieces of legislation:
1. The Ionising Radiation Regulations 1999 (IRR 1999)
This long document sets out many regulations under the headings:
Interpretation.
General principles and procedures.
Arrangements for the management of radiation protection.
Designated areas.
Classification and monitoring of persons.
Arrangements for the control of radioactive substances, articles and equipment.
Duties of employees.
Miscellaneous.
There are also nine other Schedules included in the regulations.
2. The Ionising Radiation (Medical Exposure) Regulations 2000 (IRMER 2000)
This piece of legislation sought to clarify parts of the earlier document and set out more precise regulations on radiography training. It provided a more exact definition and explanation of what is acceptable as 'Adequate Training'. The IRMER 2000 regulations updated the 'local rules' that must be followed in any establishment where radiographs are routinely and regularly taken. These 'local rules' must be written, reviewed and updated regularly, a process which is the responsibility of the dentist in charge of the practice or a designated person, in a larger establishment. If you have the radiography qualification you must comply with these rules and keep up to date with any changes. However you are not and cannot be responsible for compiling or updating them in your practice, but you should prompt the responsible person to update them if you feel this is necessary.
3. The Ionising Radiation Regulations 2004
This legislation updated the laws and regulations to meet current EU directives in this area.
More details on the exact contents of these three pieces of legislation can be found on the website www.legislation.gov.uk.
It is advisable to regularly check on the latest legislation because all legislation is under constant review and revision and is often updated as new directives are agreed by the European Union.
What should I do if my dentist wants me to do radiographs and I do not have the qualification?
Prior to the introduction of the post qualification certificate in 2005, it was common for dentists in practice to 'train' nurses to take radiographs. At that time neither the dentist or the nurse were actually breaking the law but by taking radiographs without adequate training placed both themselves and their patients at potential risk.
Since the introduction of the qualification, it is now illegal for a dental nurse who is not 'adequately trained' to take radiographs. That 'adequate training' is the achievement of the post qualification certificate.
If your dentist tells you to take radiographs and you do not have the qualification, you must refuse. If you go ahead and a problem arises you will be putting your registration at risk because you will be working outside you Scope of Practice for Dental Nurses (GDC 2008).
If your dentist offers to train you but will not support you to take the qualification, then you should also refuse. The training provided would not be deemed as 'adequate' in the terms of the legislation and you could be reported to the GDC.
Do I need to learn about radiography for my CPD?
Radiography is one of the core subjects and requires annual verifiable updates. The requirement is for 5 hours of verifiable CPD in every 5 year cycle. In other words 1 hour per year every year. Due to the nature of the subject it is important that this CPD is carried out every year and not done in one lump in year one and never touched again.
Dental nurses who have successfully completed the post qualification certificate must also complete an annual update under the IRMER 2000 regulations. This must also be documented. Failure to carry out this update will mean that you cannot legally take radiographs.
What should I do to assist in the taking of radiographs?