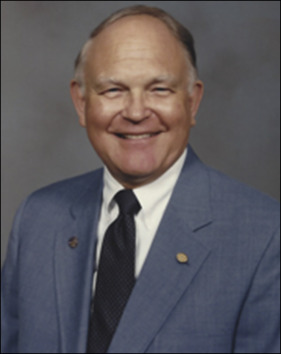 On November 24, 2015, the specialty of orthodontics lost a giant—William Joseph Thompson of Bradenton, Florida. In 1960, when Bill started his practice in Bradenton, he was the first orthodontist in Manatee County. In 1985, he was pleased and proud to accept his son Jeff into his busy practice. He retired in 2002 after suffering a severe heart attack, which was followed by a massive stroke.
Bill Thompson made tremendous contributions to our specialty during his very active professional life. He was a graduate of the University of Michigan's School of Dentistry, and he received his master's degree in orthodontics from the University of Michigan in 1960. He married his high school sweetheart, Darrol, and together they moved to Bradenton. He was a director and president of the American Board of Orthodontics (ABO) and served on the committee that started the College of Diplomates of the ABO. He served as president of the Southern Association of Orthodontists, the Florida Society of Orthodontists, the North American Begg Society, and the Midwestern Component of the Edward H. Angle Society. He served for 11 years on the Council of Orthodontic Education for the American Association of Orthodontists (AAO). He was the AAO Annual Session scientific program cochairman in 1988 and the cochairman for the AAO Annual Session in 1996. As a clinical associate professor at the University of Florida Department of Orthodontics and a professor of orthodontics at Nova Southeastern University, he helped to educate the next generation of orthodontists.
In 1988, Bill received the B. F. and Helen E. Dewel Award for Clinical Research, which is presented for the outstanding clinical article in the AJO-DO . He received the Oren Oliver Distinguished Service Award given by the Southern Association of Orthodontists and was a recipient of the Florida Association of Orthodontists' Distinguished Service Award.
Bill's curriculum vitae does not adequately reflect the time and talent he gave to organized orthodontics, beginning with his efforts to make the Southern Association of Orthodontists more democratic and more responsive to its membership. He continued this tireless and unselfish work with AAO leaders and his fellow ABO directors in the 1980s and early 1990s to ensure that the AAO's House of Delegates system functioned as it should. He played a significant role in the creation of the transparent method by which the ABO's directors are now selected. The years of effort he devoted to these endeavors are his legacy: he helped to make our specialty organization and its certifying body more democratic.
Bill was a pillar of the First Methodist Church, where he served in many positions of leadership. He was a Boy Scout leader who received the prestigious Silver Beaver Award. He was also a founding member of the Library Foundation in Bradenton and a past commander of the US Coast Guard Auxiliary Flotilla in Bradenton.
Bill Thompson was much loved by all with whom he worked—in orthodontics, his church, and the civic clubs in the Bradenton area. Throughout the 13 years after his stroke, he maintained his signature smile; his love for family, friends, and orthodontics; and his strong faith in God. Bill is survived by his wife of 61 years, Darrol; 3 sons, Jeffery, Wade, and Andrew; 7 grandchildren; and 2 sisters. Bill Thompson was a remarkable human being, an unselfish and caring public servant, and a world-class orthodontist. He made our specialty better than it was when he joined it. He will be sorely missed.