Walter Cooper Sandusky was born on December 20, 1923, in Holly Springs, Mississippi, and he began life as a lively and engaging boy. He had a great love for humanity and a powerful appreciation for the natural world around him. During his youth, he often rode his beloved horse, played with his goat and cart, or hunted with his father, a Holly Springs dentist. He played pranks in school, climbed water towers, rode his horse at breakneck speeds across the fields, and enjoyed his youthful life to the fullest.
He entered the University of Mississippi in 1940 and later enrolled in the College of Dentistry at the University of Tennessee. After graduation from dental school, he served our country as an Air Force captain during the closing months of World War II. Soon after the war, he decided to specialize in orthodontics. He entered the first orthodontic graduate training program in the South and received his certificate in 1951.
Soon after Dr Sandusky received his certificate in orthodontics, Dr Faustin Weber, chairman of the Department of Orthodontics at the University of Tennessee, encouraged him to travel to Tucson to meet Charles Tweed and participate in Tweed's Edgewise Course. This experience changed Dr Sandusky's life. He immediately became a teacher at the Tweed Study Course and at the University of Tennessee. He rapidly became a diplomate of the American Board of Orthodontics. He was a devoted friend of Charles Tweed for the remainder of Tweed's life and ultimately served as the president of the Charles H. Tweed International Foundation.
As an orthodontist, Dr Sandusky's talents as a creative artist and "engineer" came into full force. He invented pliers and appliances. He put appliances and instruments that were already in use to even better uses. His work was exemplary and highly prized by his patients, his many students, and his dental colleagues.
Walter taught at the University of Tennessee for 61 years. Upon his retirement from the Department of Orthodontics, he was recognized as the professor with the longest tenure in the history of the Health Science Center at the University of Tennessee. His commitment to orthodontic education was recognized in 2014 by the American Association of Orthodontists Foundation, which bestowed on him the Joseph and Louise Ada Jarabak Award for excellence in teaching. Countless orthodontists have been touched by his professionalism and knowledge. Dr Sandusky once told his students, "Continue to train yourself to carry out the responsibility of treating your patients. Always strive for excellence in all procedures. Do not set getting rich as a goal. If you treat all patients as you should, the economics will take of itself." This became Dr Sandusky's mantra as he taught generations of students at the University of Tennessee Department of Orthodontics and the Tweed Study Course. His service to the Department of Orthodontics was recognized by the naming of its new, state-of-the-art conference facility in the Faustin Weber Department of Orthodontics as the Walter Cooper Sandusky, Jr. Library/Conference Room.
Service to humanity was a consistent and important part of Walter's life. He was past president of the East Memphis Rotary Club. During his years as a Rotarian, he oversaw the support of a downtrodden school in Memphis and volunteered to serve at that school. Because of his work, he received the Rotary Club's Humanitarian of the Year Award. He was president of the Memphis Dental Society and spearheaded efforts to support children's dental health. His service to the First Baptist Church of Memphis was constant and focused. He was superintendent of Sunday schools, chairman of deacons, and chairman of finance. He taught Sunday school and sang baritone in the church choir for 67 years.
Walter was the national president of the Baptist Medical/Dental Fellowship, which energetically helps people all over the world by using people like Dr Sandusky to ease pain and help those who suffer. Walter's 22 mission trips included tours to Nicaragua, India, Romania, Ukraine, Dominican Republic, Venezuela, and his beloved Uganda. His service to the people of Uganda was forever memorialized in 2012 with the dedication of the Walter Cooper Sandusky Dental Clinic.
Other than orthodontics and humanitarian service, Dr Sandusky had many hobbies. He was an avid duck and quail hunter, a renowned turkey hunter, a champion water skier, a carpenter, a machinist, and an artist whose mediums were pen and ink, oil, and acrylic. Walter C. Sandusky, Jr, was a Renaissance man. He had so many interests and so many talents that he was never, ever without a project. He always sprinkled a bit of mischief and fun into all of his projects and entertained everyone with whom he came in contact.
Dr Sandusky is survived by his wife and life partner of 67 years, Lois; his sister, Doris Cochran; 7 children: Lois, Libba, Dale, Cooper, Grace, Marie, and John and their spouses; 24 grandchildren; and 21 great-grandchildren. Walter Cooper Sandusky, Jr, was a tremendously talented orthodontist as well as a caring, compassionate, and warm human being who spread kindness and goodwill to all with whom he came into contact. The specialty of orthodontics has been blessed to have him in its midst.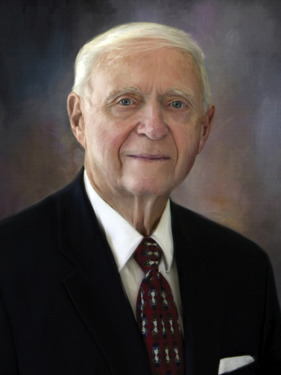 Premium Wordpress Themes by UFO Themes
WordPress theme by UFO themes