• Figure 8-1
Moistened gauze surrounding surgical site to absorb stray laser energy and protect surrounding structures before removal of a tongue lesion.
The most frequent adverse sequelae resulting from the use of lasers are caused by laser energy emitted beyond the working area and striking the surrounding soft tissues. Such misdirection typically occurs when a specimen is transected, because the laser energy passing beyond the margin may redirect off a reflective metal surface of an instrument in or near the oral cavity (e.g., a mirror or other flat retractor). These events usually result in minimal or no injury, but the patient's initial response to the stimulus may be interpreted as pain. This problem can easily be avoided by obstructing the distant tissues with moist gauze or a wet tongue blade and by using matte-finished, nonreflective instrumentation.
3
Wavelength-specific eyewear is mandatory, protecting the user from misdirected or reflected laser energy. During laser operation, high-speed suction or evacuator devices should be used and high-filtration masks should be worn to prevent illness from inhalation of the plume released at the site of energy–tissue interaction. To prevent ignition with flammable gases, nitrous oxide and oxygen should ideally be temporarily discontinued during laser use, to prevent serious harm to the patient. Because CO
2
laser energy is well absorbed by hydroxyapatite, a major component of tooth enamel, significant amounts of laser energy absorbed by the teeth can cause etching and pitting, weakening enamel
37
and increasing pulpal temperature.
38
When in proximity to the tip during a CO
2
laser procedure, the teeth can be protected with moistened gauze or a fabricated tooth guard to absorb errant energy from the laser beam (
Figure 8-1
).
In general dentistry practice, the following three fundamental photothermal techniques for CO2 laser applications can be used to perform various intraoral procedures:
All minor office-based oral surgical procedures are based on these three techniques. The first procedure discussed here is biopsy; however, the incisional techniques used to perform biopsies are applicable to virtually every intraoral procedure.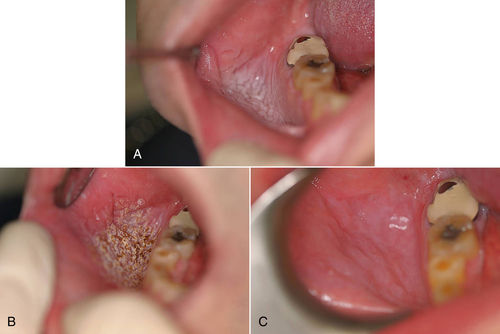 It is important to recognize that one or more techniques may be necessary for any given clinical scenario, depending on three surgeon-controlled laser parameters: energy, time, and spot size.
3
These parameters equate at the focal point of the laser energy emitted from any given laser handpiece. Altering the distance of the handpiece from the tissue serves to focus and defocus the laser beam's focal point, thereby altering the effect of the laser on the target tissue. A laser in focus will excise and incise with the most efficiency. When the laser is out of focus, depth of effect will be less, but with a wider field of effect for ablation and coagulation.