Dr Greene is a clinical professor in the Department of Orthodontics at the University of Illinois in Chicago. Dr Laskin is professor emeritus in the Department of Oral and Maxillofacial Surgery at Virginia Commonwealth University in Richmond. Both have extensive clinical and research experience in the area of temporomandibular disorders.
Numerous textbooks are dedicated to the diagnosis and management of temporomandibular joint dysfunctions and orofacial pain. A common feature of many of these texts is the "cut to the chase": ie, limited information regarding the evidence-based qualifications for the what, why, and how of disease classifications; the pathophysiology of the disorders; and the rational, scientifically tested methods of management. Specifically, clinically generated information is often considered to be more attractive and useful relative to patient care; the end result is an intellectual gap created between the laboratory and the operatory. Drs Greene and Laskin have identified and successfully resolved this discrepancy in their text. Assisting them in this effort are some of the most renowned neuroscientists in the discipline of myofascial pain research.
The editors and the contributors have done an exemplary job in presenting a complex subject in such a way that this text seamlessly connects cutting-edge science with clinical applications. By dividing the text into 5 major sections, the editors have successfully allowed each section to develop its own identity relative to pain and pain management, and to "bridge" with the next section. The first 2 sections are devoted to the peripheral and centrally modulated nature of pain and how it is perceived in the context of temporomandibular disorders. The authors clearly describe the cellular journey from tissue insult (injury) to pain perception, and how comingling factors such as genetics, sex, and sleep contribute to and are affected by the phenomenon of pain. The third section provides a concise description of the functional mechanics of the temporomandibular joint, the dynamic nature of jaw movements as they relate to degenerative change, and the essential elements for joint health and proper function. The final 2 sections are devoted to the technological advancements in pain research, including imaging techniques used to identify neuroanatomic structures involved in pain pathways and the pain response. Cutting-edge research in osteoarthritis biomarkers and pharmacologic advances in pain control complete the body of this outstanding text.
The illustrations are superb, and each chapter is exceptionally well referenced. A comprehensive appendix offers the reader a full description of all abbreviations mentioned in the text. This is an outstanding addition to the body of knowledge regarding temporomandibular disorders and should be a part of every dental practitioner's library.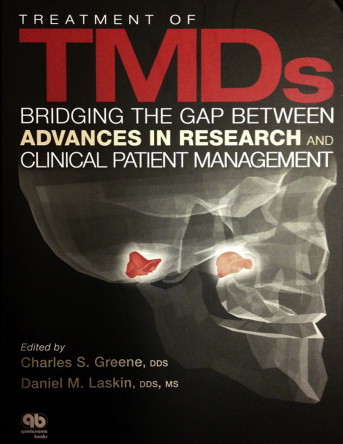 Premium Wordpress Themes by UFO Themes
WordPress theme by UFO themes