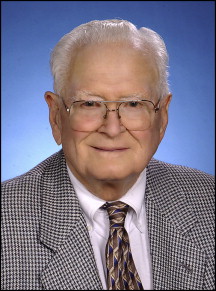 Dr Thomas M. Matthews died on December 27, 2010, at the age of 91. Dr Matthews, along with Drs Robert Gaylord and Tom Williams, established the orthodontic department at Baylor College, which developed into one of the world's most respected programs. He was a faculty member from its inception and served until 2008 when ill health forced his retirement.
Tom was born on March 6, 1919, in Thomaston, Georgia. He graduated from the University of Georgia with a BS degree in forestry. He served as an ensign in the US Navy during World War II, first as an intelligence officer in the South Atlantic and then as a communications officer aboard the USS Mount McKinley in the South Pacific. He saw action at Palau, Luzon, Lingayen Gulf, and Okinawa, and he went ashore at Hiroshima after the atomic attack. He retired as a lieutenant commander.
After the war, he returned to school and graduated from Baylor College of Dentistry in 1950 and served a preceptorship in orthodontics with Dr Robert Gaylord. He was a fellow of the American College of Dentists and the International College of Dentists, a member of the Charles H. Tweed Foundation, and served as president of the Southwest Society of Orthodontists and vice-president of the American Association of Orthodontists. In 1970, he was elected to Omicron Kappa Upsilon honorary dental fraternity. He was a member of the Dallas County Dental Society and the American Dental Association, and a Diplomate of the American Board of Orthodontists and other professional societies.
The orthodontic department established an annual lecture series in his name and dedicated the Tom Matthews Library in the orthodontic department. Each year, the Baylor Dental College orthodontic alumni present the Tom Matthews Award for loyalty, friendship, and advancement of orthodontics. He and his wife of 68 years, Martha Keith (Martie), belonged to Highland Park United Methodist Church and were charter members of the Two by Two Sunday School class. He served as a board member of the Park Cities YMCA and on many other civic organizations. He loved fishing, hunting, and sailing and was a prize-winning skeet shooter. He belonged to the Dallas Gun Club, the Dallas Corinthian Yacht Club, and the Northshore Club.
In addition to his wife, Tom is survived by his daughter Vicki Bejcek and husband John, son Tom Matthews Jr. and wife Cindy, 5 grandchildren, and 5 great grandchildren. His daughter, Cindy Matthews Leitch, preceded him in death.
Of all his admirable traits, and there were many, his authenticity and pragmatism made the biggest impressions. He deferred to no popular or trendy professional fad; rather, he had the uncanny ability to dissect an argument, use his scientific knowledge, and apply his ample common sense to arrive at valid conclusions that amaze me to this day. His reliable, unpretentious personality made him a faithful and dependable source of support and sound advice, which continually nourished his colleagues and friends. Tom never had the conceit of an orthodontic guru who gave novices himself and then his technique; instead, he satisfied his students by giving them his subject and then, more importantly, themselves. In his last few years when we believed Tom was slowly losing some of his memories, they were not lost or gone, he was just giving them back to us for safekeeping. Life may have left Tom, but Tom has not yet left life. The passion, pleasure, and power he brought to the Baylor orthodontic program will continue to enrich, promote, and define its residents, faculty, and patients as long as Baylor exists.