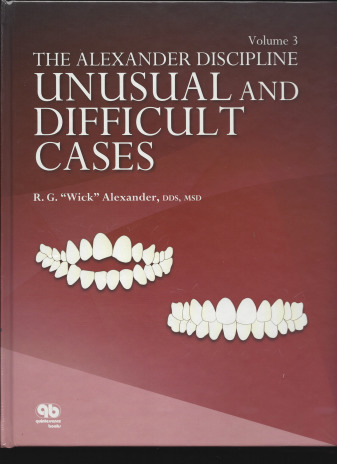 Volume 3 of the series The Alexander Discipline is devoted to the treatment extended to difficult and unusual malocclusions encountered during the author's 50 years of orthodontic practice—and what an experience he has had. As with previous books in this series, the narrative is definitive but not pedantic, complete but not excessive, plain but not deficient.
Dr Alexander has divided the book into 8 chapters, with each devoted to a particular class of difficult or unusual malocclusions such as open bites; deepbites; borderline therapies; Class III malocclusions; early treatments; adult treatments; atypical extractions; and impacted, transposed, and missing teeth.
Each chapter includes 3 patients to illustrate the topic. The author made a point of treating these patients with ordinary brackets, wires, and traditional extraoral appliances such as headgears and facemasks, and simply altering their usual positions, angulations, or applications to take advantage of the adaptability of facial, dental, and oral soft tissues.
Although Dr Alexander reported on a few surgical patients in this book, none of these remarkable therapies relied on temporary skeletal anchorage devices or corticotomies or other regional acceleratory phenomenon-producing appliances. This uncomplicated approach satisfies the KISS philosophy that underlies the other publications in the Alexander Discipline Series: keep it simple, sir.
None of these unusual malocclusions was treated with functional appliances, but when you can achieve this quality of treatment outcomes with simple brackets, wires, headgears, and lip bumpers, why would you need additional mechanisms that require more inventory, laboratory fabrications, and staff development of new skills? These superb therapies with their simplified mechanisms attest to Dr Alexander's unrivaled persuasive ability with patients in their acceptance of auxiliaries such as headgears, elastics, and facemasks.
The text bibliographies are spare, and some chapters do not have them at all, but this book is not for dental researchers but for practicing clinicians; as such, it will be a captivating delight for those entrusted with the daily care of patients who need sound therapies.
No one I know has the long-term records of patients that this author can display. Readers will be impressed by his demonstration of stability of treatment results with model photographs and cephalometric superimpositions of patients 20-plus years posttreatment. Esthetically, the book displays all of the features readers associate with Quintessence publications: clearly edited narrative, thick durable pages, and page layouts with excellent balance between white space, photographs, and printed descriptions. The photos are remarkably clear with excellent color fidelity. For readers who find themselves needing some simple solutions for complicated malocclusions, this fine book is the place to start; it will not disappoint.