In Japan, the Meiji Revolution in 1868 introduced enormous political, social, and cultural changes. As Japanese society opened to the world, Western medicine was introduced and began to compete with Oriental medicine for popularity. Dentists from other countries opened offices in the area of foreign domicile in Japan, and they hired Japanese assistants. These people learned about modern dentistry, and some went on to learn and study in the United States, and then returned home and opened private dental offices of their own. In 1890, the first dental school opened in Japan, Takayama's Dental College. Orthodontics was included in the curriculum, but orthodontic treatment was not widely accepted, and the demand for treatment was low.
This was the situation when Shinjiro Takahashi ( Fig 1 ) was born on February 4, 1897, into the Arai family in Saitama prefecture. When he was 6 years old, he was adopted by the Takahashi family. His uncle and aunt were well-known dentists in Tokyo, and young Shinjiro Takahashi became interested in dentistry; he entered Nippon Dental College in 1914 and graduated in 1919. In addition to studying dentistry, he worked hard to teach himself English. After graduation, he was employed as a resident at the Hospital for National License Examination, Ministry of Education. However, he was ordered to move to the Japanese Army Hospital in Nikolayevsk, Russia, as a dental officer, and he stayed there until 1922. When he returned to Japan, he worked again as an instructor at the Hospital for National License Examination, but he wanted to go abroad to study dentistry. He decided to go to the United States and was accepted at the University of Pennsylvania as a third-year dental student. He was fortunate to arrive just in time to attend the final lecture by Dr John V. Mershon. After graduation from dental school, he entered the orthodontic graduate course under Dr A. L. Johnson, who had just moved from the University of Michigan. In October 1925, he returned to Japan and resumed his work at the same hospital.
Fortunately, he found other Japanese dentists who shared his interest in orthodontic treatment. They met together to discuss their interests; in 1926, 11 of them established the Japan Orthodontic Society (which in 1997 was renamed the Japanese Orthodontic Society). Most were graduates of the Angle School, and Dr Takahashi had a slightly different concept of orthodontic treatment because he had studied with Drs Mershon and Johnson.
In 1929, Dr Takahashi became a lecturer at the Tokyo National Dental School, a former hospital for National License Examination. It was the first government dental school in Japan. However, the orthodontic clinic was part of the prosthodontic clinic, and there was still no independent orthodontic department in the school. Dr Takahashi became a professor there in 1937. It was big news in Japan that a dentist got a professorship in the government school. He was the first dentist to do so, and the seeds of the first independent department of orthodontics were planted.
In 1937, and especially from 1943 to 1945, the world was at war, and orthodontic activity in Japan slowed. When the war finally ended, the United States occupied Japan. General Headquarters (GHQ) assumed control of the Japanese government, and a position of consultant for dentistry in the health care unit was created. Dr Takahashi was asked to participate as an interpreter in many political negotiations with GHQ. Many changes in the Japanese education system were proposed, including dental education. GHQ strongly suggested that dental education should be moved from dental technology schools to universities, and that predental courses should be added. This meant a 6-year curriculum for dental education instead of 4 years. The suggestion was adopted, and the new system was introduced in 1946; a national license examination for dental practice began the same year. At the time, there were 7 dental schools in Japan; 2 were at government-supported universities: the School of Dentistry at Tokyo Medical and Dental University and the Osaka University Dental School. The others were private or municipal schools. Staff members from Dr Takahashi's program at the Tokyo National Dental School were appointed as professors at 5 of the 7 dental schools. He also contributed to the reorganization of the Japan Orthodontic Society and served as president in 1959. The Society's first meeting was held in Sapporo, in conjunction with the Hokkaido Orthodontic Society, which was one of its component societies (at that time, there were 5 component societies in Japan).
Dr Takahashi wrote an orthodontic textbook in Japanese that was revised twice and a textbook for functional jaw orthopedics. These 2 books were a kind of bible for orthodontics in Japanese dental schools. He believed strongly that general dentists needed to open their eyes to see the importance of orthodontics in dental practice. He offered postgraduate orthodontic courses for general practitioners, and this helped to increase the demand for orthodontic treatment in Japanese society.
Dr Takahashi's scientific contributions were the following.
1.

He showed the morphologic differences between Japanese and northern European peoples. The differences affect orthodontic treatment planning and procedures. He established his own classification for Japanese malocclusions based on the anterior occlusal relationship, called Takahashi's classification.

2.

He investigated the mechanism of the functional jaw orthopedic appliance by using electromyography.

3.

Using the labiolingual and twin archwire techniques, he taught strict biologic tooth movement.

4.

He investigated and developed an alginate impression material that replaced gypsum.

5.

He developed a cephalostat made in Japan.
All of these advances were due to his excellent leadership. He always told us (1) your patient is a human being, (2) watch your patient carefully and look for any small symptoms, and (3) don't just compare your patient's data with population standards; it is important to analyze each patient individually.
When he retired from the university in 1962, he opened an orthodontic clinic, the first private orthodontic clinic in Japan. He received the Third Order of the Rising Sun, Gold Rays with Neck Ribbon, from the Emperor of Japan in 1970. When he had free time, he liked to go fishing ( Fig 2 ). He passed away in May 1973 at age 76 years.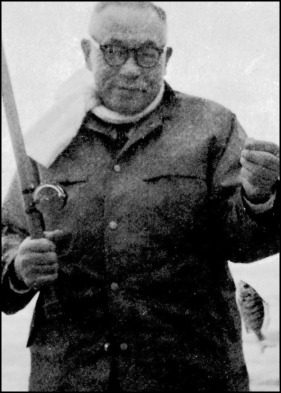 Premium Wordpress Themes by UFO Themes
WordPress theme by UFO themes