Root Fracture
OBJECTIVES
1 Recognize the tissues involved.
2 Define objectives for acute treatment.
3 Describe healing outcomes based on a clinical and radiographic evaluation.
4 Describe treatment options for healing complications.
DESCRIPTION AND CLINICAL APPEARANCE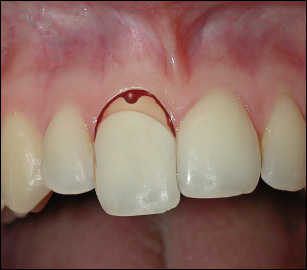 Root fracture involves dentin, cementum and the pulp. They can be further classified based on the type of displacement of the coronal fragment (see Luxation Injuries on page 17). Clinically, the tooth appears elongated and is usually displaced palatally. Transient crown discoloration (red or gray) may occur.
RADIOGRAPHIC APPEARANCE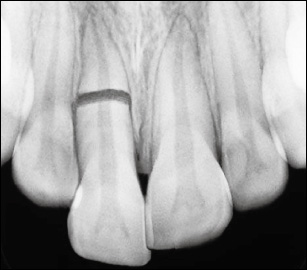 Radiolucent lines separate the root into two or more fragments. The apical fragment is always left in situ, whereas the coronal fragment is often displaced. It should be noted that in cases where there is minimal luxation (i.e. concussion, subluxation) of the coronal fragment, the root fracture may not be evident until a later radiographic examination.
BIOLOGICAL CONSIDERATIONS AND TREATMENT PRINCIPLES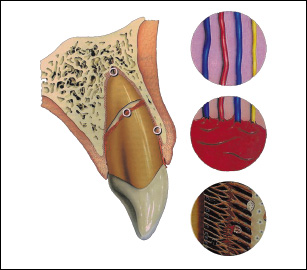 This is a complex injury to the PDL, pulp, dentin and cementum. The injury to the coronal segment can be considered a luxation injury, with resultant trauma to the PDL and neurovascular supply to the coronal pulp. In contrast, the apical fragment remains essentially uninjured.5/>