Fig. 2.1
A simple, logical, evidence-based system for detection and classification of caries (Based on data from ICDAS International Caries Classification and Management SystemTM)
The pit and fissure probing as well as the interdental spaces, with a well sharp-pointed probe, together with a close microscopic inspection allows a good evaluation of the type of fissure or the existence of detectable cavitation (see Chap.
6
). To detect early and hidden occlusal and proximal decays in children and pregnant women, a laser fluorescent device (DIAGNOdent, KaVo, Germany) is very useful, because it allows good sensitivity and specificity diagnosis without exposing the patient to X-ray examination; in case of frequent recall sessions for high decay risk, the laser fluorescent device permits a good check and control over time, avoiding excessive X-ray dose exposure (see Chap.
6
).
The pulp vitality tests should always be performed, especially in case of trauma and deep caries, and noted in the chart, to compare in subsequent tests.
Intraoral periapical and bitewing X-rays can be an important aid in the diagnosis of occlusal caries lesions underlying previous fillings and hidden proximal caries invisible to direct observation.
The examination of the superficial and deep periodontal tissues and its relationship with the restorative therapy should be performed before starting any conservative therapy (proximal and cervical tooth decay or injury, in juxta- or subgingival position) or esthetic treatment (whitening in case of presence of cervical lesions or gum recession).
The occlusal status and TMJ examination allow to evaluate the presence of functional disorders and/or anatomical factors that may affect the choice of techniques and materials to be used (filling or inlay/onlay, hardness and elasticity of the materials to be used).
An intraoral photographic series is useful for planning the work in case of complex quadrant restorations (direct and indirect multiple restorations) and completes the documentation.
The evaluation of the degree of cooperation of the patient also provides a valuable suggestion to predict its future involvement during and after treatment (oral hygiene and regular visits to the control), to direct the best treatment choice.
2.5.1

Caries Risk Assessment

The caries risk assessment (high, low, average) directs toward an operating procedure rather than another and toward choice for different types of restoration.

The presence of decayed teeth, of missing teeth, or of filled teeth and also the presence of white spot, plaque accumulation, crowding teeth, and bad oral and diet habits (dummy, nighttime use of the bottle, fermentable carbohydrates) and the socioeconomic status [

15

] are strong caries risk indicators and suggest for higher caries risk assessment and different preventive approaches for children and adolescents (Fig.

2.2

).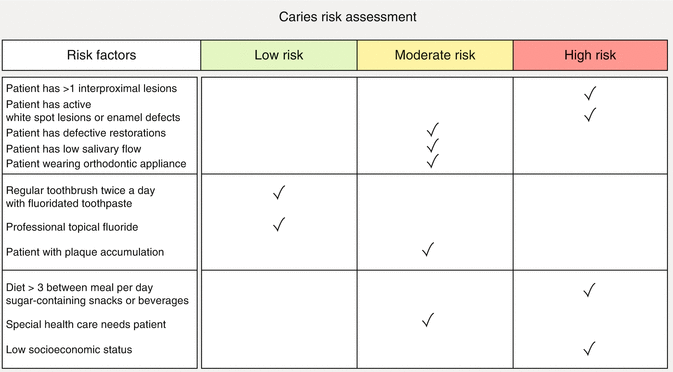 Fig. 2.2
Caries risk assessment guidelines for adolescents (Based on data from AAPD clinical guidelines)
A caries management protocol allows to establish the need to complete the regular (standard) preventive measurements with closest measurements including fluoride supplements and professional topical treatment every 3–6 months during more frequent periodic sessions, monitoring for signs of caries progression and relapse [
13
] (Fig.
2.3
).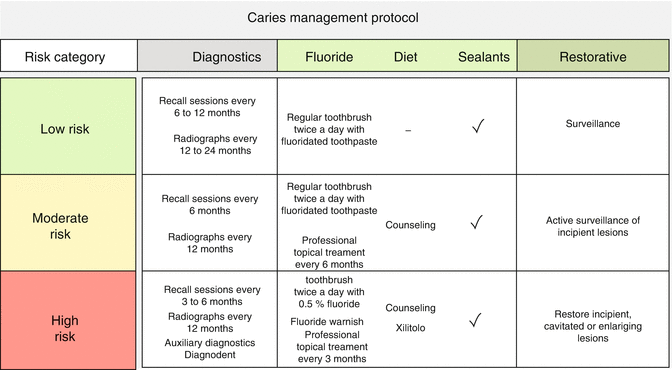 Fig. 2.3
Different caries management protocols according to different caries risk groups (Based on data from AAPD clinical guidelines)
2.6

Treatment Plan

A treatment plan must be explained to the patient who has to provide his informed consent to treatment. The parents or guardians of a minor patient must understand the importance of the prevention phase and provide consent, which must still be motivated and informed on the treatment plan chosen.

Dental caries can be largely prevented; prevention programs should therefore precede, accompany, and follow conservative treatment.
2.7

Methods of Caries Removal

Dentists are familiar with drills because they are the daily more frequently used instruments. These simple informations are necessary only to compare the conventional instrumentation with chemo-mechanical, air abrasion, and laser preparation.