Fig. 8.1
Kennedy class I – mandibular case
1.

Bilateral edentulous areas posterior to the remaining teeth

2.

Bilateral distal extension
8.1.2

Class II (Fig. 8.2)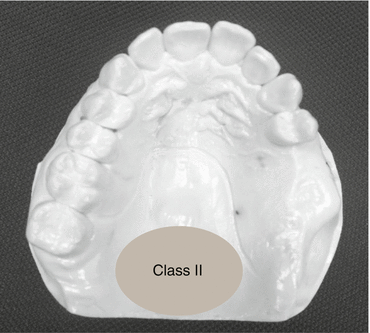 Fig. 8.2
Kennedy class II – maxillary case
1.

Unilateral edentulous area posterior to the remaining teeth

2.

Unilateral distal extension
8.1.3

Class III (Fig. 8.3)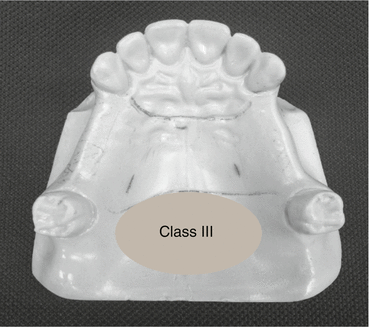 Fig. 8.3
Kennedy class III – maxillary case
1.

Unilateral edentulous area with natural teeth both anterior and posterior to it.
8.1.4

Class IV (Fig. 8.4)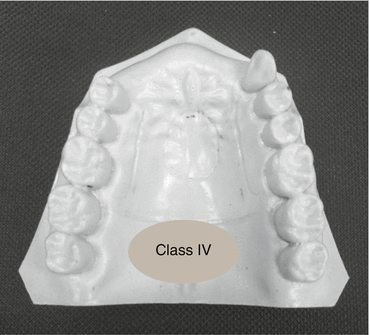 Fig. 8.4
Kennedy class IV – maxillary case
1.

Single bilateral edentulous area located anterior to the remaining natural teeth.

2.

It

MUST

cross the dental midline.

3.

Does NOT allow modification or additional spaces

.
8.1.5

Applegate Rules
1.

Each additional edentulous area (

NOT

each additional missing tooth).

2.

The most posterior edentulous area

ALWAYS

determines the classification.

3.

Edentulous areas other than those determining the classification are referred to as modification spaces and are designated by their number (i.e., mod 1, 2, or 3).

4.

The extent of the modification or number of teeth missing is not considered,

only the number of additional edentulous areas

.

5.

If the second molar is missing and it will

NOT

be replaced, it is not considered in the classification.

6.

Classification should follow extractions that might alter the classification.

7.

If the third molar is missing and it will

NOT

be replaced, it is not considered in the classification.

8.

If the third molar is present and it will be used as abutment, it is considered in the classification.
8.2

Fundamentals of RPD Design Considerations

Significant

displacement differences

should be considered when designing a removable partial denture that is supported by teeth and soft tissues, i.e., Kennedy class I RPD situations – Distal extension cases:
1.

Healthy teeth – displaced ~ 0.2 mm

2.

Soft tissue – displaced ~ 1.0 mm or more
To prevent displacement of RPD away from oral tissues and rotational movements,
retention
is obtained by
direct
and
indirect
retainers. Optimum
support
of distal extension denture base is necessary as well as the use of flexible direct retention to prevent the torquing forces transmitted to the abutment teeth. Additionally, the equitable distribution of occlusal forces preserves the remaining teeth and residual ridges.
Kennedy class I RPD
is a significantly challenging denture since it has a rotational fulcrum:
1.

Two flexible direct retention retainers are needed with the use of stress relief clasps that prevent torquing forces to the abutment.

2.

Provision of indirect retention retainers prevents the rotation of the denture.
Kennedy class III RPD
is supported
by abutments only
(teeth or implants) anterior and posterior to the edentulous space. This class does not tend to move or rotate in function. It is considered the most stable RPD:
1.

Denture bases do not rotate or lift away if there are enough remaining teeth to place four retainers in a quadrilateral configuration.

2.

Compensation of rotational forces is

NOT

needed.

3.

Residual ridges used for support in long-span cases only.

4.

Direct retention is needed to prevent dislodgment of the denture when functioning.

5.

Any clasp could be designed – There are no restrictions.
Kennedy class II RPD
has features of both, class I for the tooth-tissue supported side and class III for the tooth-supported side:
1.

Well-adapted denture base is necessary.

2.

Properly designed direct retention is needed. Three clasps (two must be stress relieve clasps) positioned in a tripodal configuration.

3.

Appropriately positioned

indirect

retention is also needed.
Kennedy class IV RPD
does not allow for modifications as any additional posterior space will change the classification:
1.

Long span acts as a reserved class I RPD. In these cases appropriately positioned indirect retention is needed.

2.

Well-adapted denture base is necessary.

3.

Properly designed direct retention is needed. Four clasps placed on posterior teeth is the most common design (i.e., bilateral embrasure clasps – if occlusion allows) (Figs.

8.5

,

8.6

, and

8.7

).

Fig. 8.5

Guidance for RPD design created by Dr. Luisa F. Echeto

Fig. 8.6

RPD drawing samples created by Dr. Luisa F. Echeto

Fig. 8.7

RPD drawing samples created by Dr. Luisa F. Echeto
8.3

RPD Fabrication Steps

The removable partial dentures fabrication consists of six visits.
Visit 1

: Preliminary impressions, diagnostic casts, and RPD design

Visit 2

: Mouth preparations and final impressions

Visit 3

: Framework try-in and records
8.3.1

Visit 1: Preliminary Impressions, Diagnostic Casts, and RPD Design

Objectives:
1.

Fabrication of diagnostic casts and articulation using facebow and MMR record

(a)

Class III and IV cases will be mounted in maximum intercuspation.

(b)

Class I and II cases will be mounted in centric relation using record bases and wax rims.

2.

Clinical and radiographic examination along with diagnostic casts evaluation

3.

Establishment of the RPD design
At the Treatment Plan Visit We Should Consider:
1.

Disease control on RPD patients.

2.

High caries/periodontal risk.

3.

Previous RPDs and failures.

4.

The distance (8 mm) of the tongue frenulum insertion with a periodontal probe in order to determine the use of the lingual bar or lingual plate as major connector.

(a)

Clinical evaluation is necessary by asking the patient to raise the tongue.

5.

Deep bites/interference/no clearance for the maxillary major connector.

6.

Evaluate for loss of vertical dimension of occlusion.

7.

Evaluate the periodontal prognosis of abutments for RPDs.

(a)

Plan for RPD repairs – by the use of lingual plates.

(b)

Do not use compromised tooth for a distal extension partial when the tooth adjacent may be a better abutment.

8.

Determine if the tooth requires a survey crown as opposed to clasping a tooth with multiple restorations. Can the patient afford the treatment?

(a)

Survey crowns – RPD design done prior to crown fabrication

9.

Risk assessment of endodontically treated teeth with posts for distal extension partials.

(a)

Most of the time they will fail within 5 years.

(b)

(c)

Should receive rest seat only.

See Chap.

6

Restorative Considerations of Endodontically Treated Teeth.

10.

Number of teeth present and the location/distribution of remaining teeth can be critical for the success of the RPD.

(a)

Canines are crucial for maxillary RPD success when no posterior teeth are present.

11.