Enamel completion
Eruption
Root completion
Exfoliation
Mandibular centrals
2.5 months
6 months
1.5 years
6–7 years
Mandibular laterals
3 months
7 months
1.5 years
7–8 years
Maxillary centrals
1.5 months
7.5 months
1.5 years
6–7 years
Maxillary laterals
2.5 months
9 months
2 years
7–8 years
Mandibular 1st molars
5.5 months
12 months
2.5 years
9–11 years
Maxillary 1st molars
6 months
14 months
2.5 years
9–11 years
Mandibular canines
9 months
16 months
3 ¼ years
9–12 years
Maxillary canines
9 months
18 months
3 ¼ years
10–12 years
Mandibular 2nd molars
10 months
20 months
3 years
10–12 years
Maxillary 2nd molars
11 months
24 months
3 years
10–12 years
| | Enamel completion | Eruption | Root completion |
| --- | --- | --- | --- |
| Mandibular 1st molars | 2.5–3 years | 6–7 years | 9–10 years |
| Maxillary 1st molars | 2.5–3 years | 6–7 years | 9–10 years |
| Mandibular centrals | 4–5 years | 6–7 years | 9 years |
| Maxillary centrals | 4–5 years | 7–8 years | 10 years |
| Mandibular laterals | 4–5 years | 7–8 years | 10 years |
| Maxillary laterals | 4–5 years | 8–9 years | 11 years |
| Mandibular canines | 6–7 years | 9–10 years | 12–14 years |
| Maxillary 1st premolars | 5–6 years | 10–11 years | 12–13 years |
| Mandibular 1st premolar | 5–6 years | 10–12 years | 12–13 years |
| Maxillary 2nd premolars | 6–7 years | 10–12 years | 12–14 years |
| Mandibular 2nd premolars | 6–7 years | 11–12 years | 13–14 years |
| Maxillary canines | 6–7 years | 11–12 years | 13–14 years |
| Mandibular 2nd premolars | 7–8 years | 11–13 years | 14–15 years |
| Maxillary 2nd premolars | 7–8 years | 12–13 years | 14–16 years |
| Mandibular 3d molars | – | 17–21 years | – |
| Maxillary 3rd molars | – | 17–21 years | – |
Some general trends of eruption include: (AAPD
2014a
)
"Rule of 4's" for primary teeth eruption: four teeth erupt every 4 months beginning with four teeth at age 7 months.

The eruption of teeth usually occurs symmetrically in each arch.

There may be ethnic and gender variations with respect to eruption times, e.g., African American children and girls may generally experience earlier eruption times.

Variation of 6 months of either side of the usual eruption age may be considered normal for a given child.

Mandibular teeth occur before the maxilla, except permanent premolars.

Formation of all permanent teeth begins between birth and 2.5 years.

Look for missing teeth, supernumerary teeth, submerged teeth (ankyloses), and malformed teeth. Inform parents and treatment plan for the future.

Be aware that children with certain medical conditions such as Down's syndrome or cleft lip and palate may experience generalized delayed eruption of teeth.
16.2

Behavioral Management Consideration
16.2.1

First Meeting with the Dentist

For most general dentists, especially the recent graduate, the idea of treating children can create a certain level of stress and anxiety. Although most practitioners may have received some didactic training during their dental school experience with regards to principles of tooth eruption, space maintenance, and management of children, their clinical experience is limited. This often creates a feeling of intimidation when asked to provide dental care to the pediatric population. The best way for young practitioners to gain experience in working with children is to be open minded and being familiar with AAPD policies and guidelines. In addition, reaching out to local pediatric dental faculty could be an additional resource when faced with particularly challenging cases.

A general dentist has one chance to create a good first impression of dentistry to a child (Fig.

16.1

). The success of this interaction usually determines the outcomes of subsequent dental visits. For example, children can sense if their dentist is uncomfortable and this may inadvertently create mistrust between the child and the dentist. Depending on the age and cognitive development of the child, this distrust can manifest in the form of a refusal to cooperate, crying, and an adverse behavioral pattern, even with the simplest procedures. The authors recommend that the new practitioner review the AAPD policy guidelines on behavioral modification techniques. This can be accessed on ISSN:

http://​www.​aapd.​org/​media/​policies_​guidelines/​g_​behavguide.​pdf

(Accessed on March 30, 2016).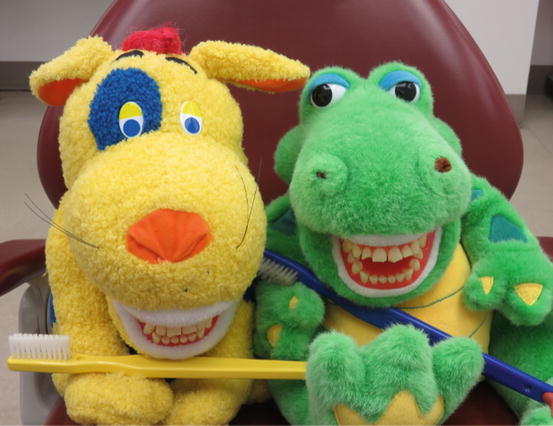 Fig. 16.1
For younger children, the use of puppets is a helpful tool for many reasons (Photo courtesy of Dr. Khiem Truong)
Be confident when you speak to kids and remember that you are the adult and authority figure at that appointment. It is important to understand that not all children are the same nor will they behave the same. Greet them in a friendly manner and asses what type of child is sitting in your dental chair. Also try to engage the parents early to enquire about their child's past dental experience. Some practitioners categorize children by the level of fear and their response to fear.
16.2.2

Types of Children (Casamassimo et al. 2013)
1.

The fearless child

. This is a happy and confident child. They are open to strangers and are willing to try anything once. These children typically have some dental exposure or good coaching/examples from parental figures. These children usually trust the dentist, and it is important to recognize and respect this trust so as not to break it.

2.

The cautious child

. This child may or may not have had any dental exposure. They are not quick to warm up to strangers. The cautious child will participate in treatment but may need some coaching from the parent. Tell-show-do works extremely well with these children. These children can be reasoned with and can easily be behaviorally managed.

3.

The fearful child.

These children may not seem afraid at first when talking to them and even act "macho" but may scream in terror at the sight of an exam mirror. They may have had a bad past dental experience or fearful parents who have reinforced bad behaviors in the chair. It is very important to educate the parent that their dental experience is not indicative of their child's experience. When performing treatments, several behavioral techniques may need to be adopted. Chemical anxiolytics such as nitrous oxide gas or benzodiazepines may also need to be considered.

4.

The scared-out-of-their-mind child

. A completely terrified child. These children are very difficult or impossible to be reasoned with. They do not want to try anything new and do not trust anyone. These children may have had one or a few bad encounters with the dentist. Their parental figures may be also terrified of the dentist and impose this fear on the child. It is recommended to refer these children to pediatric dentist for sedation or more advanced behavioral modification modalities.
16.2.3

Kids' Language

When speaking with children about impending dental treatment, a general dentist should be careful to use language that creates a positive mind-set. The dentist must gauge the child's cognition and use "kids-friendly" words to convey their "dental" message in order to build and maintain trust. Depending on the age of the child, using words like needle, shot, drill, pull, or yank teeth or any other word that suggest unpleasantness and invoke fear must be avoided. Here are some suggestions (Table

16.3

).

Table 16.3

Substituting dental terms for "kids' language"
| Dental terms | Kid's terms | Dental terms | Kid's terms | Dental terms | Kid's terms |
| --- | --- | --- | --- | --- | --- |
| Cotton roll | Tooth pillow | Handpiece | Water whistle | Rubber dam | Tooth raincoat |
| Rubber dam clamp | Tooth ring | Saliva ejector | Mr. Thirsty | Local anesthetic | Sleepy juice |
| Explorer | Tooth counter | Etch | Blue shampoo | Sealant | Tooth face painting |
| Caries | Sugar bugs | X-rays | Tooth picture | Cleaning/prophy | Tickling teeth |
| Fluoride | Tooth vitamins | Fillings | White play-doh | Silver crowns | Tooth jewelry |
| Extraction | Wiggle a tooth | Extraction forceps | Mr. Wiggle | Nitrous oxide | Ice cream air |
| Bite blocks | Tooth chair | Dentist's loupes | Binoculars | Impression | Tooth print with play-doh |
16.2.4

Tell-Show-Do

This behavior-shaping tool is well accepted and very popular with children and adult patients (Fig.

16.2

).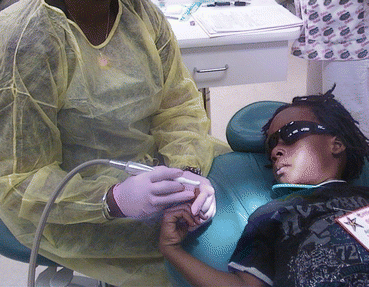 Fig. 16.2
The dentist demonstrating the prophylaxis cup on the child's finger before using it to clean his teeth
Tell

– The dentist informs the child in age-appropriate terms what is going to happen.

Show

–This is then followed by demonstrating to the child, in a nonthreatening way either on themselves, the parent, or the child.

Do

– Then without deviating from the demonstration, continue with the procedure that is to be performed.
16.2.5

Desensitization

This is considered an expansion of the Tell-Show-Do technique. Here stimuli with the least anxiety are presented first. Higher anxiety evokers are presented as the child is able to tolerate them, e.g., using a prophylaxis cup before using a high speed handpiece (Fig.

16.3

).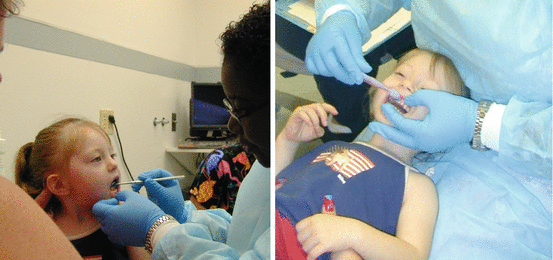 Fig. 16.3
The dentist begins by using the mirror while the young child sits on her mother's lap before proceeding to do a toothbrush cleaning using a lap exam
16.2.6

Positive Reinforcement

This is a technique used to reward desirable positive behavior by praising the child or providing a reward and this further strengthens the recurrence of such behavior in future. Many dental offices have small prizes to give to pediatric patients at the end of the visit such as stickers and simple toys. Other social reenforcers include positive voice modulation, e.g., being "goofy," facial expression, verbal praise, and appropriate physical demonstrations of affection by all members of the dental team.
16.2.7

Distraction

This is a technique of diverting the patient's attention from what may be perceived as an unpleasant procedure or sensation by focusing their thoughts on something other than what is being done. Examples include asking patient to wiggle his or her toes during impression taking; giggle the cheeks during local anesthetic injection; and giving patient storytelling, animated voices, or even a short break during a stressful procedure.
16.2.8

Modeling

This technique is very effective in families that have two or more children. A younger, inexperienced, or apprehensive child learns to stay calm and how to act properly by watching an older sibling or someone they look up to (Fig.

16.4

),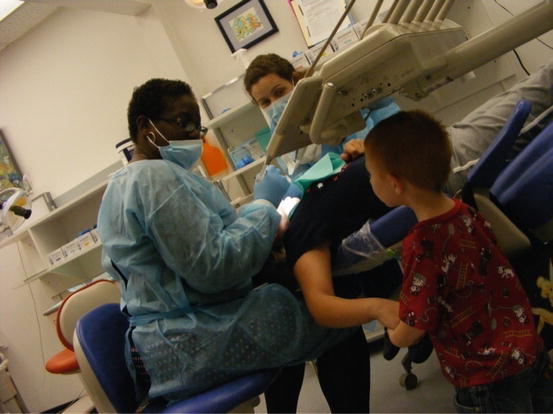 Fig. 16.4
While the older sibling receives treatment, her younger brother holds her hand and watches on. This process usually reassures the younger sibling that there is nothing to fear
16.2.9

Voice Control

Here, the dentist uses a controlled alteration of voice volume, tone, or pace to influence and direct the child's behavior. It may be uncomfortable for new dentists since it is not learned in dental school. It takes time and experience to develop; the facial expression is as important as voice, and it is important to explain this technique to parents beforehand to prevent misunderstanding the dentist or assistants for being "mean" to their child.
16.2.10

Parental Presence or Absence

There must be a discussion and agreement between the dentist and parent before the child sits in the chair. Parents of children >3 years that come into the operatory must be prepared to leave if/when child shows undesirable behavior. Generally children under 36–40 months do better with parents present. The behavior and attitude of a parent can be directly related to a good or a bad dental visit for their child. Children can sense their parents' fear and parents can unintentionally transfer fear to their child by their body language or nonverbal cues. It cannot be perceived by either the parent or child as punitive. Sometimes, a dentist can use parents as leverage to obtain appropriate behavior response. First, explain the procedure to the parents separately. During the procedure, if the child shows negative or undesirable behavior, the parents are asked to leave the operatory immediately. Once the child's behavior improves, the parents can return to the room.
16.3

Pharmacologic Considerations
16.3.1

Fluoride

Using fluoride for the prevention and control of dental caries is proven to be both safe and effective when dosed appropriately (AAPD

2014b

). The frequency of fluoride exposure from various sources should be identified when formulating a dental plan for the patient. Fluoride sources could include water, dietary supplements, mouth rinses, and toothpaste. Prior to prescribing supplemental fluoride to any child, initial testing of the drinking water should be performed. A caries risk assessment is also essential in order for proper parental counseling to reduce the child's caries risk (See Chap.

3

Caries Prevention) (Table

16.4

, Fig.

16.5

).
Concentration of fluoride

Age

<0.3 ppm F

0.3–0.6 ppm F

>0.6 ppm F

Birth–6 months

0

0

0

6 months–3 year

0.25 mg

0

0

3–6 year

0.50 mg

0.25 mg

0

6–16 year

1.00 mg

0.50 mg

0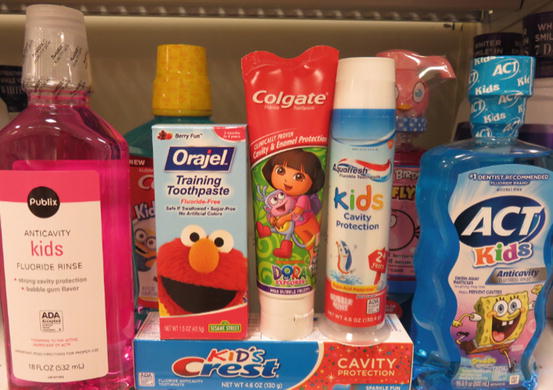 Fig. 16.5
Commercially available fluoride comes in various "child-friendly" packages
16.3.1.1

Topical Fluoride

Topical fluoride application is available via professionally applied topical fluoride treatment, over-the-counter rinses for home use, prescription rinses and gels for home use, and fluoride-containing toothpastes. Over-the-counter fluoride mouth rinses are not recommended for preschool-aged children. Toothpaste usage should be always supervised by parents in young children. American Academy of Pediatric Dentistry recommends for children under 3 years old a smear or rice-size amount of fluoridated toothpaste twice a day. A small amount of toothpaste equal to the size of a pea should be wiped onto the toothbrush by the caretaker for children between ages 3–6 years old twice a day. Caution should be taken by the parents and prescribing dentists to not create fluoride overdose during critical periods of enamel formation and fluorosis (AAPD

2014a

,

b

,

c

,

d

,

e

,

f

).
16.3.2

Local Analgesics

Dosage of local anesthetic in pediatric patients should be measure by the child's body weight. Children do not have fully developed livers which slow down metabolism of certain anesthetics. Use caution in the amount of anesthetic you give and never exceed the maximum total dosage based on the child's weight (Table

16.5

).

Table 16.5

Local anesthetic efficacious dosage for pediatrics (AAPD

2015b

)
Anesthetic

Maximum dosage

Maximum total dosage (mg)

Mg/cartridge (mg)

Duration of action in minutes

Mg/kg

Mg/lb

Pulp

Soft tissue

Lidocaine 2 % 1:000,000 epi

4.4

2.0

300

36

60

180–240

Mepivacaine 3 % plain

4.4

2.0

300

54

5–10

90–120

Articaine 4 % 1:100,000 epi

7.0

3.2

500

68

60–75

180–300

Prilocaine 4 % plain

8.0

3.6

600

72

Premium Wordpress Themes by UFO Themes

WordPress theme by UFO themes