Other Orofacial Pains
Headache Attributed to Temporomandibular Disorders
Daniela AG Gonçalves
A. Demographic Data and Reason for Contact
Female, 31 years old, married, no children.
Profession: professor in a nurse school.
Reports simultaneous attacks of facial pain and headache.
B. Symptom History
Complaint of facial pain and headache (Figures 4.1 and x.2).
The symptoms started 15 years ago but have worsened over the last 5 years.
The pain starts in the face (masseter, temporalis. and TMJ regions) and progressively intensifies until it embraces the whole face and head.
The pain is described as a generalized pressure pain in the face, and the headache as a pressing, moderate pain that started bilaterally in the temporal region and later became holocranial. Both jaw pain and headache are aggravated by mastication, jaw movements, and parafunctional habits.
Pain and headache are always present with moments of increased intensity.
Current pain intensity 9 (NRS 0–10). Characteristic pain intensity 78 (NRS 0–100).
Severe pain-related disability (GCPS).
Emotional stress, mastication, jaw movements, parafunctional habits (as awake bruxism), and other jaw activities (talking, kissing, yawning) aggravate the facial pain.
Patient reports presence of fatigue and pain in the face and teeth upon waking and is aware of daytime clenching (OBCL).
She reports TMJ noises bilaterally during jaw movements, but no history of closed or open locking of the jaw.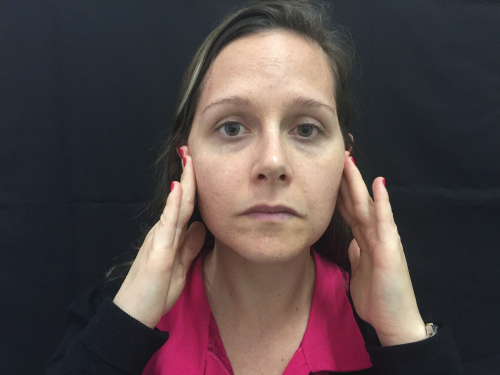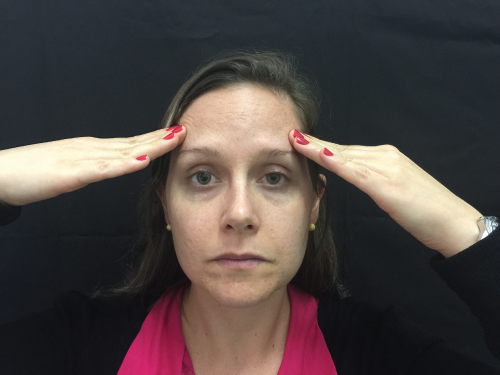 C. Medical History
Hypertension.
Report of frequent poor digestion. She sought medical attention but did not reach a specific diagnosis.
Irritable bowel syndrome.
Recurrent urinary tract infection.
Presence of frequent cervicalgia, abdominal and leg pain (Figure 4.3).
She is using clonazepam and sertraline.
She reported light and restless sleep but has never undergone polysomnography.
She reports presence of varicose veins and intermittent edema in her legs.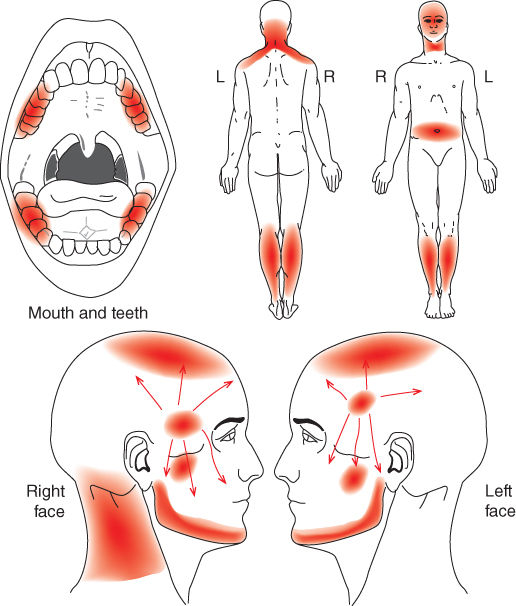 D. Psychosocial History
She works as a nurse and as a teacher, giving classes in a school of nursing.
She has been practicing physical activities, three times per week (gym and walking), for the last 3 months. Before that, she defines herself as sedentary. She started the physical activities aiming to relax, to improve general health, and for weight reduction.
Grade IV (GCPS); that is, high disability, severely limiting.
Severe depression and anxiety according to PHQ-9 and GAD-7.
PHQ-15 shows moderate level of physical symptoms (stomach pain, back pain, chest pain, dizziness, fainting spells, tachycardia, constipation, nausea, feeling tired, poor sleep).
Frequent emotional stress during the last 5 years, moderate stress during last month (PSS-10).
Restricted social life because of pain.
She is undergoing individual psychotherapy.
E. Previous Consultations and Treatments
She recently started homeopathic treatment for her facial pain and headache, but with no improvement so far.
A neurologist prescribed clonazepam, which improved her sleep, but had no effect on pain.
General
Height 1.57 m; weight 59.8 kg; BMI 24.26 kg/m2 (BMI: health); total fat percentage (assessed by bioimpedanciometry): 31.2%.
TMJ
No TMJ sounds during the clinical examination.
Bilateral familiar pain laterally in TMJs.
Masticatory muscles
Bilateral familiar pain on palpation of temporalis and masseter.
Familiar headache during palpation of left temporalis muscle.
Jaw movement capacity
Straight jaw opening pattern.
Maximum pain-free opening 12 mm, maximum unassisted opening 20 mm, and maximum assisted opening 33 mm with familiar pain bilaterally in masseter, temporalis, and TMJs.
Somatosensory abnormalities
She reports a slightly reduced hearing since her facial pain increased. Although, the clinical examination did not show any abnormalities related to the cranial nerves.
Neck
Stiffness, pain, and difficulty in movement.
Hard tissues and dentition
No carious lesions or periodontal problems.
History of dental fracture (right mandibular first molar, free of carious lesion) and presence of tooth wear (the four canines).
No abfractions.
DC/TMD
Headache attributed to TMD.
Myalgia.
Arthralgia (bilateral).
J. Case Assessment
This patient presented a complex case of myalgia and arthralgia, headache attributed to TMD, painful comorbidities (cervicalgia, abdominal, urinary tract infection, body pain), and psychosocial conditions.
Self-report of fatigue and pain in the face and teeth upon waking, plus the presence of teeth wear observed during the intraoral examination indicate a diagnosis of probable bruxism (Lobbezoo et al., 2013).
The psychosocial aspect is very relevant, with a high level of depression, anxiety, and somatization. Stress is relevant and plays a role initiating, exacerbating, and perpetuating pain. She also presents a significant impairment of her social life associated with the pain.
Therefore, it is also important to refer the patient to other health professionals.
A multimodal treatment plan, as well as counselling aimed for behavioral change, is crucial for the general condition.
K. Evidence-based Treatment Plan including Aims
To control the TMD signs and symptoms, the management plan for the present patient included: (1) a self-care program for TMD including automassage, thermal therapy and stretching exercises to increase the jaw range of motion; (2) an educational approach making the patient aware of the parafunctional habits; (3) pharmacotherapy (cyclobenzaprine 5 mg – one tablet before sleep).
We also suggested a substitution of sertraline (serotonin selective reuptake inhibitors – SSRI) by amitriptyline (a TCA), which will be evaluated by the psychiatrist. It is well known that amitriptyline has better analgesic properties than sertraline.
Additionally, because sertraline is a SSRI, it can exacerbate or initiate sleep bruxism; (4) splint for use during sleep because of sleep bruxism; (5) application of transcutaneous electrical nerve stimulation aiming to control the pain.
The patient recently started treatment with a psychiatrist and a psychologist (psychotherapy) because of the depression and anxiety.
L. Prognosis and Discussion
Based on the history and clinical examination, this patient presents a complex case of chronic pain, suggesting an uncertain prognosis. The evidence-based factors indicating a poor prognosis and chronicity include increased mood disorders and somatization, fatigue and sleep disturbances, high pain intensity, generalized pain or other pain conditions, and decreased function of the pain inhibitory system, among others. The patient presented some of the cited factors, such as the long-lasting pain condition, mood disorders (depression and anxiety), complaint of sleep disturbances, high pain intensity, and the presence of painful (widespread body pain, cervicalgia, persistent abdominal pain, urinary tract infection) and nonpainful comorbidities (hypertension).
The patient reports that she started different treatments but did not follow as recommended by the health-care providers, pointing to a possible limited compliance with previous interventions. This suggests that she needs frequent contact with the professionals and intense motivation approach.
Background Information
Headaches can be a symptom of a wide variety of diseases (secondary headache), or they can be the disease itself (primary headache) (Headache Classification Committee of the International Headache Society (IHS), 2013).
TMD and headaches are painful conditions involving the trigeminal system. Both of them are highly prevalent worldwide, and frequently occur in the same individuals simultaneously (Sessle, 2005; Jensen and Stovner, 2008; de Leeuw and Klasser, 2013; Headache Classification Committee of the International Headache Society (IHS), 2013).
TMD and headache can interact in different ways: (a) painful TMD is comorbid with some types of primary headaches, such as migraine; (b) the pain associated with TMD can be a risk factor for primary headaches chronification; (c) TMD (myalgia) can cause headaches. According to the DC/TMD criteria, the diagnostic of the "Headache attributed to TMD" depends on the presence of the myalgia (Cady, 2007; Gonçalves et al., 2011; Schiffman et al., 2014).
The treatment options recommended by the AAOP include patient education and self-management, biobehavioral therapy, pharmacologic management, physical therapy, orthopedic appliance, occlusal therapy, and surgery. Considering the increasing evidence and the AAOP recommendation, TMDs are best managed with conservative, reversible treatment (de Leeuw and Klasser, 2013).