Dentin dysplasia is a genetic disorder of the teeth that affects the dentin and the pulp. Type I is sometimes called "rootless teeth," because of the loss of organization of the root dentin, which often leads to a shortened root length. The purpose of this article was to present a rare clinical case of a girl who was diagnosed with dentin dysplasia type I when she was referred for an orthodontic evaluation. Panoramic and periapical radiographs showed defective root formation and areas with periapical radiolucencies in several teeth. Her Angle Class I malocclusion was successfully treated, providing esthetic and functional results, without clinical symptoms or signs of periodontitis or odontogenic infections.
Dentin dysplasia type I (DD-I) is a rare hereditary anomaly. Its etiology might be related to an autosomal dominant inheritance. This anomaly is also known as "rootless teeth" because of the loss of organization of the root dentin, often leading to shortened roots. Clinically, the teeth have normal morphology. Some main clinical symptoms include mobile teeth and pain associated with spontaneous dental abscesses or cysts. In addition, premature exfoliation and delayed eruption have also been reported. Radiographically, the disorder is characterized by partial or complete obliteration of the pulp chambers, defective root formation, and a tendency for periapical radiolucencies with no obvious cause. In addition, pulpal remnants might be visible in permanent teeth as crescent-shaped horizontal radiolucent lines, whereas deciduous teeth show complete pulp obliteration. Numerous periapical radiolucencies are often seen in noncarious teeth.
Based on the radiographic features, 4 types of DD-I have been suggested: DD-Ia shows complete obliteration of the pulp chambers and no root development with many periapical radiolucent areas; DD-Ib shows horizontal, crescent-shaped, radiolucent pulpal remnants at the level of the cementoenamel junction and a few millimeters of root development with many periapical radiolucent lesions; DD-Ic has 2 horizontal crescent-shaped radiolucent lines concave toward each other at the cementoenamel junction and significant but incomplete root development with or without periapical radiolucent lesions; and DD-Id has radiographically visible pulp chambers and oval pulp stones in the coronal third of the root canal with bulging of the root.
According to several case reports in the literature, some treatments have been carried out in patients with DD-I, including preventive measures and careful observation ; dietary analysis and advice; oral hygiene instructions; fluoride supplements; extractions; restoration of carious molars ; treatment to restore the occlusion, enhance mastication, and improve esthetics ; dental implants ; and endodontic therapy. However, in the literature, there are only a few articles about patients with DD-I who were managed by orthodontic treatment.
Therefore, the objective of this article was to present the successful orthodontic treatment of a patient with DD-I. The patient obtained a good occlusal relationship and better dental and facial profile esthetics with no clinical symptoms or signals of periodontitis or odontogenic infections. Aspects regarding the diagnosis and treatment of DD-I are also discussed.
Case report
A girl, aged 11 years 11 months, was referred to a private orthodontic practice (R.B.F., Guaíra, Paraná, Brazil). Her chief concerns were her crowded anterior teeth. The extraoral examination showed a convex profile and incompetent lips. The pretreatment intraoral photographs and dental casts showed an Angle Class I malocclusion, bilateral posterior crossbite, anterior open bite, severely rotated maxillary incisors, and bilateral ectopically positioned maxillary canines. The patient's oral hygiene was good ( Fig 1 ). The panoramic and periapical radiographs showed defective roots in almost all teeth, with short and tapered roots, obliteration of root canals, and reduction of the coronal pulp chambers to horizontal slits, with some areas with periapical radiolucencies on the roots of the permanent molars and the mandibular left lateral incisor ( Fig 2 ). Considering the clinical and radiographic features, the patient was diagnosed with DD-I. According to the cephalometric analysis, she had a skeletal Class I (ANB, 2°) and excessive lower anterior facial height (FMA, 33°; SN-GoGn, 41°). The maxillary and mandibular incisors were buccally tipped and protruded (U1-NA, 42°; L1-NB, 30°). She had a convex profile (Z-angle, 60°) ( Table ).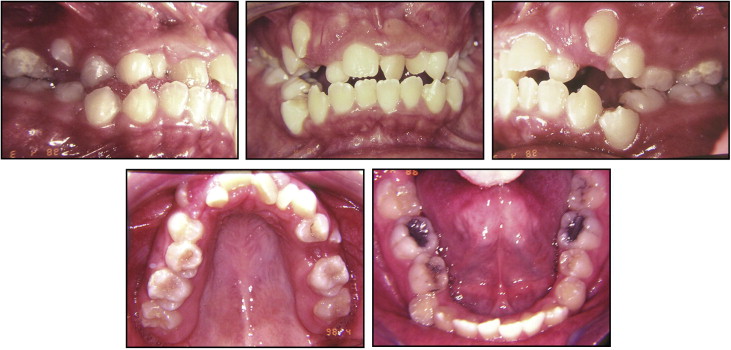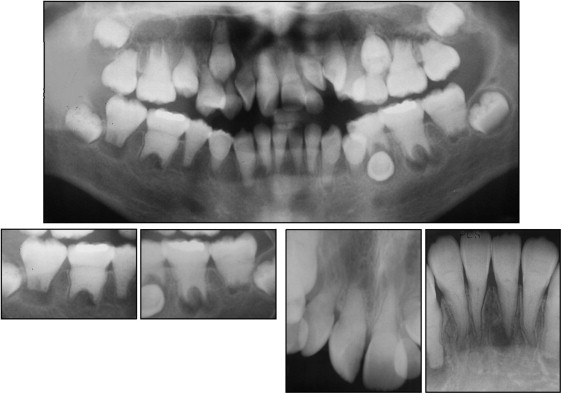 Table
| | Norm | Author | Pretreatment | Posttreatment |
| --- | --- | --- | --- | --- |
| SNA (°) | 82 | Steiner | 77 | 73 |
| SNB (°) | 80 | Steiner | 75 | 70 |
| ANB (°) | 2 | Steiner | 2 | 3 |
| Facial convexity (°) | 0 | Downs | 4 | 4 |
| Y-axis | 59.9 | Downs | 64 | 64 |
| Facial angle (°) | 87.8 | Downs | 85 | 85 |
| SN-GoGn (°) | 32 | Steiner | 41 | 42 |
| FMA (°) | 25 | Tweed | 33 | 34 |
| IMPA (°) | 90 | Tweed | 94 | 85 |
| U1-NA (°) | 22 | Steiner | 42 | 18 |
| U1-NA (mm) | 4 | Steiner | 8 | 4 |
| L1-NB (°) | 25 | Steiner | 30 | 23 |
| L1-NB (mm) | 4 | Steiner | 10 | 6 |
| 1-1 (°) | 130 | Downs | 105 | 137 |
| L1-APo | 1 | Ricketts | 8 | 3 |
| LS-S | 0 | Steiner | 0 | −2 |
| LI-S | 0 | Steiner | 3 | 0 |
| Z-angle (°) | 75 | Merrifield | 60 | 68 |