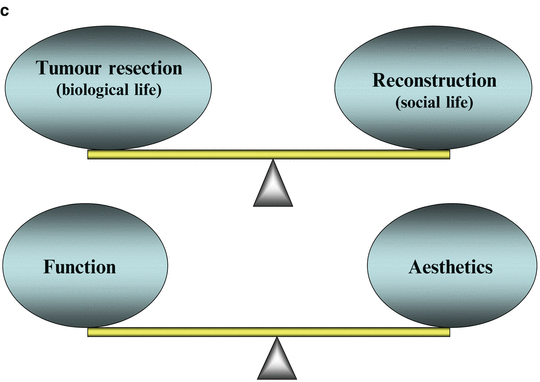 Fig. 9.1
Disability/rehabilitation medicine and maintenance of social life. (
a
) Tumor resection: maintenance of biological life. (
b
) Reconstruction and disability/rehabilitation medicine: maintenance of social life. (
c
) Oral cancer therapy today: treatment of the cancer itself and disability/rehabilitation medicine for any resulting impairment are essential, just like a set of wheels, and reconstructive surgery fills the role of an axle connecting these wheels
Impairment of function after extensive resection of oral cancer can be anticipated when "cancer" is diagnosed, surgery can be planned upon the occurrence of impairment [
1
,
2
], and a rehabilitation plan can be designed before the impairment. These steps provide a clear advantage not available upon sudden onset of cerebrovascular disorders or accidents.
After surgical treatment of oral cancer, subsequent pre- and postoperative rehabilitation by specialists (otorhinolaryngology-head and neck surgeons, oral and maxillofacial surgeons, plastic and reconstructive surgeons, speech-language-hearing therapists, nurses, and clinical psychologists) is essential. It is therefore necessary for medical professionals to cooperate with one another for the benefit of the patients to whom they provide medical care and to facilitate their return to normal social life.
In cancer treatment, "treatment of the cancer itself" and "disability/rehabilitation medicine" for any resulting impairment are essential, just like a set of wheels, and reconstructive surgery fills the role of an axle connecting these wheels.
Reconstructive surgery is a science and an art. To achieve favorable outcomes, surgeons need to select transplantation procedures through which they can perform to their best and utilize their skills. Oral and maxillofacial reconstruction requires both functionality and aesthetics to which due consideration is requisite, despite the difficulties of the reconstruction.
9.1.2

Step-Surgery Concept

In oral and maxillofacial reconstructive surgery, there are two concepts regarding the principle of facial reconstruction methodology: (1) restoration of defects with facial and neck tissue, particularly with adjacent tissue if possible, and (2) unit principle, that is, reconstruction of each facial unit with color and texture. The former is feasible with regard to color and texture compatibility. The latter is subdivided from the aesthetic units [

3

] to sub- [

4

,

5

] and mini-units [

6

]. Initial reconstruction with adjacent facial and neck tissue (applying the unit principle as needed) is conducive to acceptable outcomes for small facial defects. For moderate or more severe defects, however, the outcome of this initial reconstruction with adjacent tissue has often been unsatisfactory. Particularly, when the defect extends over 2 or more units or full thickness, reproducing the outline of each unit and its three-dimensional contour using the skin flap and graft is challenging because predicting and controlling three-dimensional changes induced by postoperative contracture and gravity is difficult. Moreover, when the optimum adjacent tissue for the reconstruction of the defect has already been used in the initial surgery, the most desirable outcome cannot, in many cases, be obtained by repeated revisions.

As a therapeutic policy for moderate or more severe full-thickness facial defects, we propose the step-surgery concept: (1) In

the initial step

, only filling and transplantation of minimum supporting tissue necessary for the restoration of function by free flap transplantation is carried out, and the surrounding tissue is conserved, (2) in

the touch-up step

, aesthetic surgery by transplantation of necessary supporting tissue is carried out with the use of a local facial/neck flap and skin graft, (3) as much cutaneous surface exposed on the face as possible is replaced with the facial/neck skin in

the touch-up step

, and (4) all the steps are planned as a series before surgery. Treatment based on this concept provides two advantages: (1) the free skin and musculocutaneous flaps transplanted in

the initial step

serve as a host side with abundant blood circulation, making secondary aesthetic surgery with a local skin flap easy, and (2) since the exposed cutaneous surface is resected after confirming time-course changes in the transplanted free flap, and since secondary surgery is carried out accordingly, the outline and contour are readily reproduced. When the cutaneous surface of the free flap is exposed on the face, differences of color match, texture, and thickness between the flap and the surrounding tissue present serious aesthetic problems; replacing the free flap with skin of the face/neck is desirable [

7

,

8

]. When free flaps are used in reconstructive surgery, the importance of aesthetic outcomes should be taken into consideration.

The case presented here is of a 51-year-old man with recurrent squamous cell carcinoma of the left buccal mucosa after external irradiation (65 Gy). Resection of the full-thickness cheek, oral commissure, and vermilion was carried out. The number of defective units was 3, and there was no supporting tissue. The defects of full thickness of the cheek, upper lip, and oral commissure were reconstructed with free forearm and vermilion advancement flaps

in the initial step

, and aesthetic revision with a malar flap and a skin graft was carried out in the

touch-up step

. The outcome was acceptable. For patients who receive ≥50-Gy of irradiation, as in the present case,

the initial step

with the use of free skin or musculocutaneous flaps is very important (Fig.

9.2

).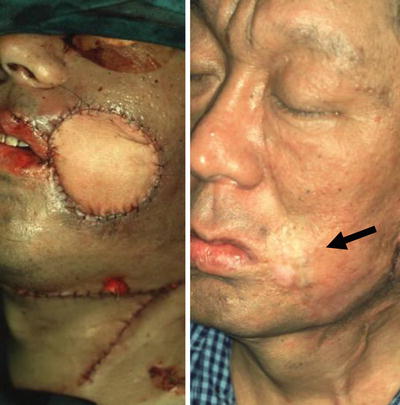 Fig. 9.2
Step-surgery concept. A 51-year-old man with recurrent squamous cell carcinoma of the left buccal mucosa after external irradiation (65 Gy). The defects of full thickness of the cheek, upper lip, and oral commissure (the number of defective units was 3, and there was no supporting tissue) were reconstructed with free forearm and vermilion advancement flaps in
the initial step
, and aesthetic revision with a malar flap and a skin graft was carried out in
the touch-up step
. For patients who receive ≥50 Gy of irradiation, as in the present case,
the initial step
with the use of free skin and musculocutaneous flaps is very important
9.2

Practice of and Strategy for Oral and Maxillofacial Reconstruction