• Figure 17-1
A,
Real-time OCT imaging prototype.
B,
Real-time OCT imaging with the handpiece probe.
(

A

Courtesy Professor Anderson Zanardi de Freitas;

B

courtesy Dr. Petra Wilder-Smith.)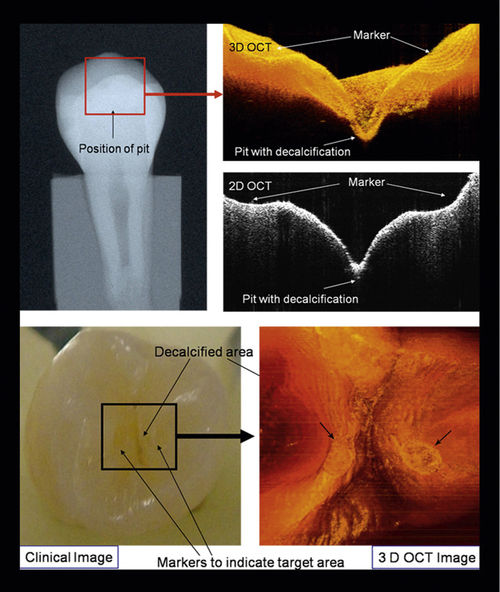 Although OCT is not yet widely clinically available in dentistry, the technique promises fast technological development.
8
Applying OCT to other clinically relevant biologic structures has been complicated because of optical scattering problems. Within the oral cavity, relevant biologic tissues typically are close to the surface, so OCT is a promising technique for obtaining images of human dental tissue in vivo and of carious lesions in particular.
Despite the significant gains in reducing its incidence, dental caries remains the principal cause of tooth loss worldwide. New treatment approaches emphasize early detection followed by minimal intervention. The most common approach to dental caries detection consists of dental radiography in conjunction with visual and tactile exploration.
7
At present, however, these routine procedures are not precise enough to detect early lesions, especially in occlusal surfaces, or gaps at the tooth-restoration interface, which potentially lead to secondary caries.
8
The early detection of restoration failures in the tooth-restoration interface could be the first step in preventing secondary caries formation and progression, as well as hypersensitivity of restored teeth, development of pulpal pathology, marginal staining, and the ultimate breakdown of a restoration.
Also, intraoral radiographs are highly sensitive and specific for the detection of primary caries but are less reliable for identifying recurrent caries around existing restorations.
2
OCT offers a potentially more sensitive method for detecting recurrent caries. In 2005, de Araujo et al.
8
showed the potential usefulness of OCT in clinical diagnosis compared with x-ray films. The 10-μm longitudinal resolution of the OCT system identified "induced" gaps. Conventional radiographs did not show the failure gaps. According to these authors, OCT has the advantage of showing the restored region as well as the gap, precisely localizing its position.
Amaechi et al.
9
quantitatively assessed the mineral changes in a carious lesion based on the effectiveness of preventive measures to remineralize the lesion at an incipient stage. These researchers monitored the changes over time in the mineral status of the caries by using OCT with a system that could collect A-scans (depicting depth versus reflectivity curve), B-scans (longitudinal images), and C-scans (transverse images at constant depth). Bovine teeth were subjected to demineralization in acidic buffer solution for 3 days, with images obtained before demineralization and again after 3 days of demineralization. Whereas the B-scans and C-scans qualitatively described the lesion, the A-scans showed the depth (in mm)–resolved reflectivity (in dB) of the tooth tissue and were used for the quantitative analysis. The results showed that
R
(dB/mm) decreased with increasing demineralization time, and that the percentage reflectivity loss (
R
%) in demineralized
tissue (amount of mineral loss) increased with increasing demineralization time, showing that OCT could quantitatively monitor the mineral changes in a carious lesion over the long term.
Fried and co-workers have spent more than 12 years studying and refining OCT, based on use of 1310-nm light for the detection of carious lesions in enamel, including the very problematic occlusal surfaces.
10–13
Their early work showed the advantage of using polarization-sensitive OCT (PS-OCT) over nonpolarized OCT.
10
PS-OCT gave much better resolution and imaging of early lesions in enamel and produced quantitative imaging as well as qualitative imaging of artificial and natural carious lesions.
12,14
Numerous experiments were conducted in vitro that demonstrated quantitative assessment of demineralization and remineralization of enamel carious lesions using PS-OCT.
12,15,16
The technique also can be applied to lesions in dentin and tooth roots for the assessment of demineralization and remineralization.
17–21
Secondary caries can be imaged with PS-OCT.
22
Of importance, quantitative assessment of carious lesions in vivo has recently been reported by this group of investigators, demonstrating that this methodology is very close to widespread use in clinical dentistry.
23
At the same time, further refinements of the technique have been achieved, leading to the development of cross-polarization OCT (CP-OCT).
24–28
CP-OCT has now been shown to be capable of monitoring carious lesion progress in human mouths.
13,29
Prosthetic materials (e.g., metal, composites, ceramic fillings/crowns) also have been imaged with OCT, showing its potential advantage over conventional methods by visualizing structural and marginal restoration defects
before
significant leakage occurred, thereby minimizing tooth loss and decreasing the need for replacement restorations.
2,7
Although accessibility of the probe tip to the area of interest is likely to be the limiting factor in this application, OCT also easily identifies marginal adaptation of the metal coping to the cavosurface margin and visualizes the internal aspects and marginal adaptation of porcelain and composite restorations.
In periodontics, because of visualization of the microstructural detail of the periodontal soft tissues, OCT offers the potential for identifying active periodontal disease before significant alveolar bone loss occurs. Visual recordings of periodontal tissue contour, sulcular depth, and connective tissue attachment are possible. OCT is a powerful method for generating high-resolution, cross-sectional images of oral structures, with in vivo imaging studies showing much more structural detail of dental tissues than obtainable with previous measurements.
2,7
In endodontics, the OCT probe can be used to obtain a detailed microscopic image through the surrounding root canal circumferential wall to the outside cementum layer of the root.
30
The probe also can image the anatomy and assess the cleanliness of the canal walls and measure the exact thickness of the dentinal wall, which helps prevent canal overpreparation and perforation of the canal walls. OCT also could prove extremely useful in the diagnosis of vertical fractures.
31
OCT has potential applications in dentistry as a noninvasive method for imaging dental microstructure. The cross-sectional images exhibit microstructural details that cannot be obtained with other current imaging modalities. Using this new technology, visual recordings of the detection of very early demineralization and remineralization processes, tooth defects and restorative failures, periodontal disease, soft tissue dysplasias, precancerous lesions, and root canal anatomy can be obtained. OCT is a diagnostic aid that could meet the dental challenges of prevention and early intervention.
Widespread availability of OCT for clinical use can be anticipated in the near future. This technique tracks carious lesion progress or remineralization using infrared light and no ionizing radiation, meaning that high-caries patients could be monitored frequently as therapeutic interventions are carried out, without any concerns regarding excess radiation exposure.