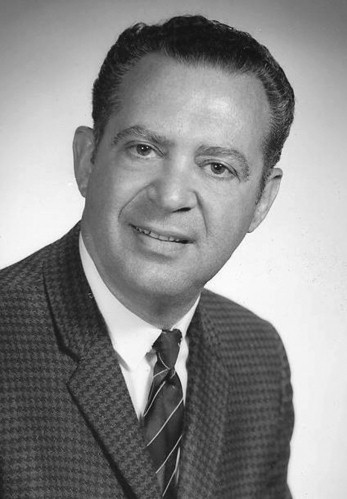 Dr Jack M. Magill, orthodontist, innovative educator, and clinician, died on February 10, 2010, at age 92. He was the cofounder, with his friend and colleague Dr Maxwell S. Fogel, of the orthodontic residency program at Albert Einstein Medical Center in Philadelphia.
Jack Magill was born in Detroit, Michigan. As a child, he and his family moved to California for a few years and then to Philadelphia. He lived for several years in an orphanage in the Germantown section of Philadelphia. After graduating from high school in 1935, he worked in a printing establishment and a dairy, earning enough money to matriculate at Temple University in 1941, majoring in physics. During World War II, he served in the Army. He graduated from the University of Pennsylvania dental school and worked in general practice until 1950, when he became an orthodontic preceptee of Maxwell Fogel. The two were brothers-in-law. He continued his education with postgraduate courses and became a diplomate of the American Board of Orthodontics in 1960.
Committed to providing orthodontic care to underserved populations, he joined the orthodontic clinic at the Jewish Community Health Center in Philadelphia, serving all denominations. After the amalgamation of 3 Jewish hospitals in Philadelphia in 1952, he transferred to the Einstein Medical Center, where he was appointed chief of orthodontics at the Southern Division of the Medical Center. At the Einstein Medical Center, Dr Magill cemented his collaboration and friendship with Maxwell Fogel. Together, they helped to establish a study club that included orthodontists from 4 states and hosted internationally acclaimed speakers twice a year. In 1964, they established an orthodontic graduate program at Einstein Medical Center, the first hospital-based graduate orthodontic program accredited by the American Dental Association and one of the first 3-year programs in the country.
Magill's intense interest in clinical orthodontics led him and Fogel to develop a treatment system that became known as "the combination technique" because it combines the concepts of the light-wire system (Begg) and the edgewise therapeutic approach. In 1972, they published The combination technique in orthodontic practice (Philadelphia: J. B. Lippincott; 1972). Dr Magill lectured extensively on the clinical practice of orthodontics and published 11 journal articles and abstracts. He and Maxwell Fogel developed 9 clinical innovations, including crimpable tube stops with and without intermaxillary hooks, crimpable split tube stops with and without intermaxillary hooks, multiple leveling wires, and a model-trimming template that significantly reduced model-trimming time. Although his creative insights led to many clinical innovations, he was modest and unassuming, comfortable standing in the background while his colleague enjoyed the limelight—a fact that Maxwell Fogel readily admitted.
In 1989, Dr Magill was honored by the Albert Einstein Medical Center with the naming of the Jack M. Magill Orthodontic Clinical Facility. His civic activities included working with the Widener Memorial School (for children with disabilities) and the Pennsylvania Association for Retarded Children. He was a member of the American Dental Association, American Association of Orthodontists, Philadelphia County Dental Society, and Middle Atlantic Society of Orthodontists.
Although dedicated to the clinical practice he shared with Maxwell Fogel and his academic responsibilities at Einstein Medical Center until his retirement, Magill found time for an important leisure pursuit. He and Maxwell Fogel were avid deep-sea sport fishermen and built a sport fishing boat, the Maja, based in Margate, New Jersey. He was also keenly interested in mathematics, physics, and astronomy, and often wrote to lay scientific magazines disputing theories published in their pages or offering solutions to problems that have fascinated mathematicians for centuries. He received a patent in the 1960s for developing a computer based on the trinary system.
He is survived by his wife, Idele; daughters, Merle Martin of Montclair, New Jersey, and Linda Berliner of Bethesda, Maryland; and 7 grandchildren, Sherry, Molly, Marissa, Allison, Caroline, Grace, and Alec. His first wife of 51 years, Esther, predeceased him in 1992, as did his brother Samuel in 1944. He is also survived by siblings John Mogul, Ruth Bialek, David and his wife Marion Mogil, and Sylvia and her husband Herman Gomberg, as well as 6 nieces and nephews, and numerous grand nieces and nephews.