Intrusive Luxation
OBJECTIVES
1 Differentiate type of luxation injury.
2 Identify injured tissues involved.
3 Define objectives of acute treatment.
4 Estimate frequency and type of complications.
DESCRIPTION AND CLINICAL APPEARANCE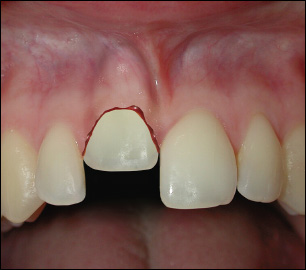 In this type of luxation the tooth is forced into the socket and locked in position in bone. This injury is accompanied by comminution or fracture of the alveolar socket.
Clinically, the crown of the tooth appears shortened. There is bleeding from the gingiva. The tooth is immobile and percussion tone is high and metallic.
RADIOGRAPHIC APPEARANCE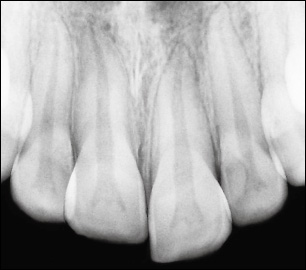 The tooth appears dislocated in an apical direction with partial or complete disappearance of the periodontal ligament space. This is especially evident cervically. However, the radiographic appearance is not always diagnostic. A high ankylotic percussion tone is usually the pathognomonic feature for diagnosis.
BIOLOGICAL CONSIDERATIONS AND TREATMENT PRINCIPLES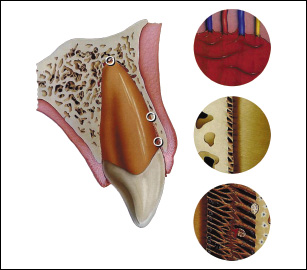 Intrusion represents a very complex wound, involving disruption of the marginal gingival seal, contusion of the alveolar bone, disruption of PDL fibers, damage to cementum, and disruption of the neurovascular supply to the pulp. Such an injury, which involves contusion (crushing) of all components of the dentoalveolar com/>