Implant company
ISSN address
Biohorizons
Dentsply-Astra Implants
Nobel Biocare
Straumann
Zimmer Dental
The successful outcome of any implant osseointegration is mainly dependent on the interrelationship of the various components of an equation that include the following:
Biocompatibility of the implant material and health of the patient

Macroscopic and microscopic nature of the implant surface and designs

The status of the implant bed in both a health and a morphologic (bone quality) context

The surgical technique

The undisturbed healing phase

Loading conditions
18.2

Diagnosis and Treatment Planning

The International Team for Implantology (ITI) has developed a formalized set of parameters to classify the nature of various implant cases, both from a surgical and restorative perspective. The guidelines were developed in a consensus in 2007. These parameters help to formulate a consistent diagnosis with regard to the degree of difficulty and can aid in case selection for any surgeon or restorative dentist. There are modifying factors that contribute to determining the final Straightforward, Advanced, Complex (SAC) classification. They are general, esthetic, surgical, and restorative modifying factors. Different factors are associated with different levels of risk. The assessment tool is available for free online: the ISSN register,

​www.​iti.​org/​SAC-Assessment-Tool

(accessed on 17 Mar 2016).

Outlined below is essential information that a general dentist requires in assessing a patient for implant consideration (Diz et al.

2013

; Holzinger et al.

2014

):
18.2.1

Medical Risk Assessment (Gomez-de Diego et al. 2014; Hwang and Wang 2006, 2007)

A complete and thorough medical history of the patient is necessary to access the patient's ability to tolerate the surgery and for healing after an implant is placed. In patients that have any of these contraindications mentioned below, a discussion with their physician and an experienced implant surgeon should occur.
18.2.1.1

Absolute Contraindications
1.

Acute myocardial infarction

2.

3.

4.

Active treatment of malignancy

5.

Bleeding issues (hemophilia, Idiopathic Thrombocytopenic Purpura (ITP))

6.

Drug abuse/psychiatric illness

7.

IV bisphosphonate treatment
18.2.1.2

Relative Contraindications
8.

Patients taking warfarin needing multiple implants in a quadrant

9.

Chronically hypertensive patients

10.

Type II diabetes with poor glycemic control

11.

Patients taking oral bisphosphonates longer than 5 years (without treatment modification)
18.2.1.3

Other Considerations
12.

History of radiotherapy in the head and neck

13.
18.2.2

Articulated Diagnostic Casts
Good quality diagnostic casts should be obtained and mounted properly on an articulator. These casts will be duplicated later on for planning purposes (Table.

18.2

).

Table 18.2

Items to evaluate when looking at mounted diagnostic casts

Observe

Why or what is needed

Occlusal plane

Evaluate the occlusion (bruxism or the loss of vertical dimension)

Interocclusal space (space measured between an edentulous spot where the implant is planned to the opposing tooth)

Vertically a minimum of 7 mm is recommended; 4 mm for the abutment + 2−3 mm for the restoration

Horizontally (mesiodistal direction; 7−10 mm is needed to accommodate the implant abutment and restoration)

If the area for the implant is already edentulous, evaluate the width and height of the area.

Considerations for need for boney augmentation if the bone has resorbed from the area

–

If the area for the implant still needs an extraction

Considerations for socket preservation when the extraction or immediate placement of the implant is done (See Chap.

15

"Oral Surgery")

Training and experience will allow a practitioner to be well versed when developing a treatment plan for a patient for implants. It is critical to plan well so as not to surprise the patient with unforeseen circumstances that lead to additional expense and surgery.

If using traditional articulators to mount your diagnostic case, insure that you are calibrated with the laboratory to preserve the occlusal scheme. (Refer to Chap.

20

"Communicating with Dental Laboratories.")
18.2.3

Full-Mouth Radiographs and Panorex

Patients should always be treated comprehensively, addressing urgent dental issues prior to placement of implants. Periapical radiographs, bitewings, and panorex would be an initial start to evaluate possible implant sites (Figs.

18.1a

and

18.2b

). Oftentimes these determine the need for additional imaging (Shelley et al.

2014

). The principle of as low as reasonably achievable (ALARA) should be respected in determining which radiographs are necessary for implant placement.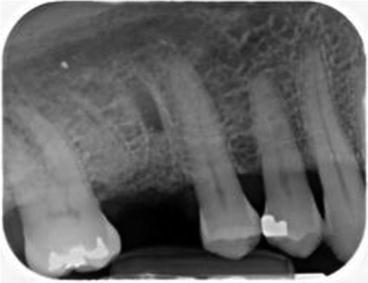 Fig. 18.1
A periapical radiograph is a screening tool to evaluate pathosis on the adjacent teeth. The periapical radiograph is a good indication of the height of the bone in the edentulous area between the teeth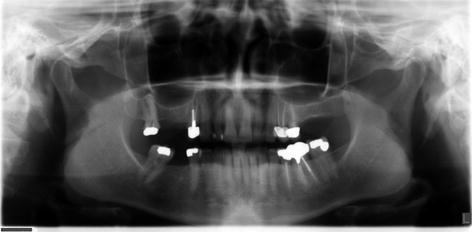 Fig. 18.2
Panoramic radiograph is for initial screening of anatomic landmarks that may alter the placement of an implant. In treatment planning of a lower implant, location of the mandibular canal and mental foramen is critical. In an upper implant, the sinus walls should be noted
18.2.4

Preoperative Photographs

These are great records to keep in planning prosthodontic cases. It can also assist in treatment planning when a patient is not in the office.
18.2.5

Diagnostic Wax-Up

This is a great way to plan the restoration, use for fabrication of temporaries, and for patient acceptance. This can be accomplished the traditional way with wax and a denture tooth or digitally with CAD/CAM design programs. If this is done digitally after intraoral scanning, this would begin the digital path of planning for the implant. (See Chap.

11

"Digital Impressions") (Table

18.3

).

Table 18.3

Critical measurements at this point
Source

What to look for

Radiographs

Vertically, the length of the implant + 2 mm (safety zone)

Diagnostic casts/Wax-up

The implant will need 1 mm of bone circumscribing it

Premium Wordpress Themes by UFO Themes

WordPress theme by UFO themes