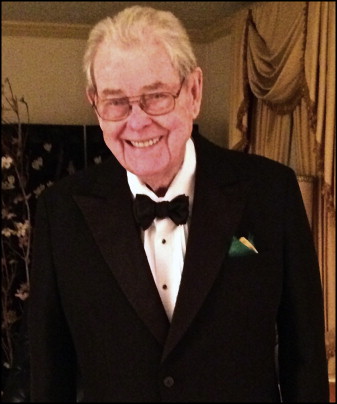 After a short illness, George Dever ("Satch") Selfridge, a national leader in military and civilian dental education, passed away on October 19, 2014.
Dr Selfridge was born in 1924 in Pitman, New Jersey. He received his DDS degree in 1947 from the School of Dentistry, State University of New York at Buffalo. He accepted a commission in the U.S. Navy Dental Corps and subsequently completed internships at the Naval Dental School and the Naval Hospital in St Albans, New York, as well as an oral surgery residency at the U.S. Naval Hospital in Jacksonville, Florida. He served in responsible assignments on various ships and at various shore stations and returned to the Naval Dental School in 1969. Assigned to head both the publications and audiovisual departments, he consolidated them into a new Educational Resources department and inaugurated an Independent Learning Center, where students could select and study audiovisual educational materials at their convenience. He also assisted in the design and development of 2 masters degree programs in cooperation with George Washington University in Washington, DC, one for students and the other for staff officers. Dr Selfridge also received a master's degree in education from George Washington University. Senior leadership positions and a variety of commands culminated in 1973 with Dr Selfridge's promotion to the rank of rear admiral. He completed his distinguished naval career by serving as the commanding officer and dean of the National Naval Dental Center in Bethesda, Maryland.
After his retirement from the Navy in 1976, Dr Selfridge began his second career as the dean of the School of Dental Medicine at Washington University in St Louis, Missouri. During his 10-year tenure as dean, he converted the curriculum from 3 to 4 years, introduced the "research without walls" concept, increased the full-time faculty from 36 to 56, increased alumni participation, improved the physical plant, and grew the continuing education program from 2 to 26 offerings. At Washington University, Dr Selfridge also acted as chief of dentistry at Barnes and at St Louis Children's Hospitals.
Dr Selfridge's third career began in 1986 when he embarked on a 10-year tenure as the executive director of the American Board of Orthodontics (ABO). In that position, he helped initiate significant changes to make the certification examination more user-friendly and more objective. He retired from the ABO in 1997 as executive director emeritus. In 2006, he was honored with the ABO's Earl E. and Wilma S. Shepard Award of Distinction.
Always active in dentistry, Dr Selfridge became president of the International College of Dentists (ICD) in 1980. It honored him in 1984 with its Master Fellowship. Elected as the deputy secretary general of the ICD in 1989, and as the deputy registrar of the USA Section in 1990, he provided outstanding guidance for 2 secretary generals/registrars. Dr Selfridge retired as the deputy registrar of the USA Section and was awarded secretary general/registrar emeritus status in 2005. In November 2013, he received the ICD's Outstanding Dental Leader Award.
Dr Selfridge was predeceased by his wife of 65 years, Ruthe Motisher Selfridge. He is survived by 3 daughters: Pamela Ruane (William) of Randolph, New Jersey; Kimberly Schaffer (Mason) of O'Fallon, Missouri; and Cheryl Townsley (John) of Conroe, Texas, and 2 granddaughters, Chelby and Cramer Townsley.
Satch Selfridge had 3 careers. He served well in each of them and received heartfelt thanks and accolades from his peers. Several outstanding character traits made him who he was. These traits were servant leadership, devotion to duty, and love and empathy for all with whom he came into contact. When one met Satch, he or she knew immediately that he was a special human being. Examples of his servanthood are many. For many years, he and his beloved Ruthe helped new ICD initiates robe before induction ceremonies; none of them knew he was the ICD's former president! Navy dentists who served in the early 1970s saw Admiral Selfridge's photo on their clinic's walls and were always told by their commanding officers that he was a great advocate for each of them and for dentistry in the Navy. Candidates for ABO certification constantly reported to the directors that Dr Selfridge provided significant help to each of them as they worked through the certification process.
Satch and Ruthe had warm smiles and kind words for all with whom they interacted. He always told his friends, "I've lived a magical life!" and he did! He ended notes to his friends with either "God bless," "Take care," or "May you sail with fair winds and following seas." So, Satch, as you pursue many careers in Heaven, we wish you Godspeed–with fair winds and following seas.