Chapter 2
Finding Answers
This chapter outlines a hierarchy of evidence sources to answer clinical problems.
After completing this chapter readers will be able to describe a hierarchy of sources to find the best available evidence.
Time is at a premium for most practitioners and the majority will want to find answers to their clinical problems quickly and simply. While having a clear question puts you on the right track we know that it is answers that practitioners want. In terms of where best to find answers of high quality, a clear hierarchy can be described:
Evidence-based clinical guidelines

Cochrane systematic reviews

Systematic reviews

Studies.
This hierarchy is a simplification based on the levels of evidence tables produced by a range of groups. One of the most detailed of these is available from the Centre for Evidence-Based Medicine website at: www.cebm.net/index.aspx?o=1025.
The hierarchy should be thought of as a distillation or filtering process (Fig 2-1) as Cochrane and other systematic reviews are derived from existing studies and evidence-based guidelines are a synthesis of Cochrane reviews, systematic reviews and studies.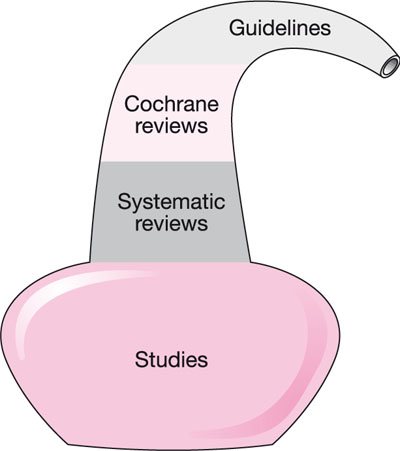 In terms of application of evidence to clinical practice, evidence-based practice guidelines are the best place to start for most practitioners. The development of clinical practice guidelines based on evidence in dentistry is relatively new. Although a number of organisations have produced parameters and standards of care and expert-derived or consensus-based guidelines, there are very few published, peer-reviewed, evidence-based clinical practice guidelines validated by practising dentists.
The best guidelines use an evidence-based process to systematically assemble, organise and synthesise the best available evidence from clinical research. Ideally, these are based on systematic reviews of the literature, which use rigorous and explicit methods to search for and critically appraise the entire body of clinical research evidence related to the question. The methodology is well documented, allowing anyone (who wishes to do so) to replicate the results. This evidence is then integrated with clinical expertise from a number of practitioners and patients to develop workable clinical recommendations. Each guideline is intended for use in specific conditions or circumstances. The clinician is expected to take into account each patient's history and preferences, together with their own clinical experience and judgement, when applying a guideline.
A major advantage of guidelines is that they save the clinician several steps when trying to solve a clinical dilemma. They serve to "translate" evidence from clinical research into language easily understood by clinicians, i.e. they have already carried out the first three of our 5 As – Ask, Acquire, Appraise, Apply and Assess. Many guidelines also provide a patient version as well, which can serve to assist communications between clinicians and patients.
Evidence-based guidelines can be found at the websites given in Table 2-1.
Table 2-1 URLs for evidence-based guideline development groups in oral health
Guideline development programmes
USA
National Guideline Clearinghouse
www.guideline.gov
England
National Institute of Clinical Excellence (NICE), NHS
www.nice.org.uk
Royal College of Surgeons of England
www.rcseng.ac.uk/fds/ clinical_guidelines
Scotland
Scottish Intercollegiate Network (SIGN)
www.sign.ac.uk
Scottish Dental Clinical Effectiveness Programme (SDCEP)
www.scottishdental.org/cep
Sweden
Swedish Council on Technology
Assessment in Health Care (SBU)
www.sbu.se/www/index.asp