This article reviews the current methods for detection and assessment of caries lesions focusing on applicability for daily clinical practice. The end point is to arrive at a diagnosis for each caries lesion. Visual inspection aided by a ball-ended probe is essential for caries lesions assessment and the method must be used for all patients. Use of indices, for example, the International Caries Detection and Assessment System (ICDAS), can improve the performance of this method. Using visual inspection, the clinician must decide about the presence, severity and activity of lesions. After this process, additional methods could aid the dentist in reaching a more appropriate treatment decision in some cases. The ICDAS, including the activity assessment system or the Nyvad system, seems to be the best option to reach final diagnoses for managing lesions. The radiographic method is the most recommended additional method available for daily clinical practice.
The word diagnosis (plural, diagnoses) is derived from the Greek "dia" meaning "through" and "gnosis" meaning "knowledge". Thus, "to diagnose" implies that it is only through knowledge about the disease that a diagnosis can be established. Diagnosis can be a complicated process.
Caries disease diagnosis is not the classical hypothetical-deductive process that diagnosis often is in the medical world. When a patient visits a doctor, the patient tells his or her symptoms to the doctor. The doctor examines the patient and based on his diagnostic hypotheses (knowledge), the doctor chooses the diagnosis that best fits the patient's signs and symptoms and the treatment that offers the best prognosis for the patient. This systematic approach permits thinking about all the possibilities available to solve the patient's problem. Dentists, on the other hand, usually examine their patients thinking about how they will treat the patients' teeth, rather than thinking about the condition (diagnoses) of the patients' teeth. Thus, a great deal of information relevant to disease diagnosis can be lost and some treatment options (usually more conservative alternatives) can be underestimated during the final clinical decision making.
The examination and evaluation of carious lesions has traditionally been limited to physical criteria such as size, depth, and presence or absence of cavitation. The term for this is caries lesion detection. Caries lesion activity assessment is different from caries lesion detection. The assessment of lesion activity is, together with lesion detection, essential to arrive at the disease diagnosis and the appropriate clinical treatment decision. In addition to caries lesion detection, lesion or disease activity assessment must also consider etiologic factor evaluations, such as oral hygiene, count of cariogenic micro-organisms in plaque and saliva, use of fluoride, sugar intake, and also some socioeconomic aspects, such as family income and parents' level of education. It becomes evident that caries disease diagnosis is a difficult task. This article focuses on caries lesion detection including evaluation of caries lesion severity. The authors explore conventional and advanced/modern methods of caries lesion detection, their properties, limitations, and indications. They discuss the interpretation of the results obtained by these methods. Finally, parameters to be used for assessing lesion activity in order to reach a final caries disease diagnosis and relate the treatment decision to this diagnosis are discussed. As caries risk assessment is covered in another article (see the article by Young and Featherstone elsewhere in this issue), the focus of attention in this article is on caries lesions (signs) and the related treatment decisions.
Visual inspection
Visual examination is the most commonly used method for detecting caries lesions, because it is an easy technique that is routinely performed in clinical practice. Visual examination has presented high specificity (proportion of sound sites correctly identified), but low sensitivity (proportion of carious sites correctly identified), and low reproducibility ; the latter because of its subjective nature.
The use of detailed visual indices, however, may improve sensitivity and be an important factor in minimizing the examiner's interpretation of the clinical characteristics of a lesion, and thus improve reproducibility. Such indices may also describe the characteristics of all clinically relevant stages in the caries disease process, making them a cost-effective method of recording caries lesions. The use of indices has permitted early caries signs to be detected and recorded in a reliable and accurate way in visual examination. However, initial caries lesion stages have generated most of the disagreements between examiners in several studies, and their evaluation demands more training and more time for examination.
A review found 29 different visual criteria for detecting caries lesions. Each system has its own particularities and methodology of teeth/surface evaluation. Only about half of the technologies recommend teeth to be cleaned and/or dried before the examination process (14 criteria), which if not included will increase the risk of missing lesions ( Fig. 1 ). Further, caries lesion activity assessment is not considered by most of these indices, which is a limitation in clinical practice. In addition, some indices recommend tactile examination to be performed in conjunction with visual examination, and this has been considered questionable. Probing-related surface defects, enlargements, and damage to dental surfaces have been observed on surfaces with initial carious lesions (see Fig. 1 D and E). Some previous reviews have shown inconclusive results with regard to tactile examination performance, and a lack of information concerning the examiner's training and manner of using the explorer (to remove plaque, to gently probe). The most recent trend is the use of the probe to evaluate enamel surface texture (smooth or rough for enamel lesions; hard or soft dentine for dentinal lesions). Another recommendation is evaluation of the presence of discontinuities in enamel or microcavitations by using the WHO probe, which is ball-ended with a sphere presenting 0.5 mm in the extremity, allowing this kind of evaluation.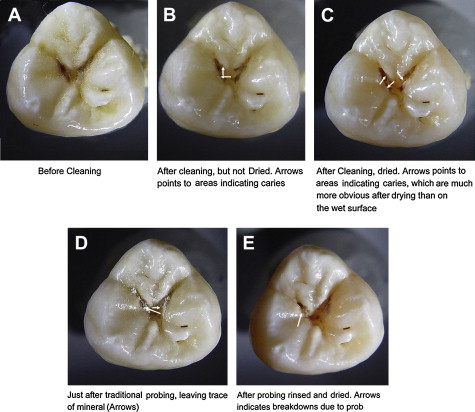 In an attempt to propose an internationally accepted caries detection system, a new index for caries diagnosis, the International and Caries Detection Assessment System, was created in 2002 by a group of cariologists and epidemiologists, based on visual examination aided by a WHO probe. The short name of this system is ICDAS. This system is a modification of a previous visually ranked caries lesion scoring system that has been shown to detect occlusal lesions in permanent teeth and to assess their depth with acceptable accuracy and reproducibility.
ICDAS is a 2-digit identification system (X-Y). Firstly, the status of the surfaces is recorded as unrestored, sealed, restored, or crowned. After that, a second code is attributed (Y). This code ranges from measurement of first visual changes in the enamel to extensive cavitation. The description and examples of each code are presented in Fig. 2 . Before examination, teeth have to be carefully cleaned and examinations must be performed with light illumination, an air syringe, plane buccal mirror and, if necessary, a WHO periodontal probe.
The validity of ICDAS has been tested and expressed in many ways. For example, ICDAS has presented content validity (the system is comprehensible for describing and measuring different degrees of severity of caries lesions). Further, a significant correlation with lesion depth in the histologic examination has been shown. Criterion validity of ICDAS, which means how well the system is correlated with the actual severity of the caries lesions, was also observed in vitro for permanent and primary teeth. Its performance has varied from moderate to good. In terms of figures, the sensitivity for occlusal surfaces have varied from 0.63 to 0.82 and specificity from 0.63 to 0.94.
In primary teeth, ICDAS cannot distinguish accurately between lesions related to the outer or inner half of the enamel ; this can be done fairly accurately in permanent teeth. One explanation for this difference in performance is that the enamel in primary teeth is much thinner compared with permanent enamel.
Few studies have been performed in proximal surfaces using ICDAS. In general, the interexaminer reproducibility has been similar to that observed for occlusal surfaces. The system has presented good performance (high sensitivity and specificity) for in vitro conditions. However, its sensitivity has been low for proximal caries in vivo, whereas the specificity has been high, even when considering the noncavitated threshold. These properties should encourage the use of ICDAS also in proximal caries detection, although other additional methods should be added to improve sensitivity on these surfaces.
Initially, ICDAS was devised as a detection system for primary caries. Adjunct criteria have recently been devised for activity assessment. Thus, the system can be used for caries lesion activity assessment (LAA) also. The LAA is based on the combined knowledge of clinical appearance (ICDAS) of the lesion, whether or not the lesion is in a plaque stagnation area, and the tactile sensation when a ball-ended WHO probe is gently drawn across the surface of the tooth. Such criteria related to activity receive an individual score (points) based on predictive value in determining activity status, and the sum of these points is judged based on a cut-off point ( Table 1 ). These individual criteria have presented moderate to good intra- and interexaminer reproducibility values, as well as good reproducibility results for the system overall. This system also presented construct validity (ie, the system is able to reflect theoretical concepts regarding the caries process).
Table 1
Criterion
Description
Activity Score
Clinical parameter 1 (Visual appearance: severity score)
ICDAS score 1, 2 (brown lesions)
1
ICDAS score 1, 2 (white lesions)
3
ICDAS score 3, 4, 5, or 6
4
Clinical parameter 2 (Plaque stagnation)
Plaque stagnation area (PSA)
Plaque stagnation area (PSA) along the gingival, below or above the contact area on proximal surfaces, entrance to the pits and fissures and cavities with irregular borders
3
Non plaque stagnation area (non-PSA)
Flat pits and fissures
1
Clinical parameter 3 (Surface texture)
Rough or soft surface on gentle probing
4
Smooth or hard surface on gentle probing
2
Two studies have already used the ICDAS+LAA system in caries activity assessment. One of these studies concluded that areas of plaque stagnation were more associated with caries lesion activity status than surface texture. The other study used the system successfully to verify an association between caries lesion activity and some biologic parameters. Results have suggested that the use of this system could overestimate caries lesion activity status for primary teeth, because cavitated lesions invariably would be considered active, which is not certain in all cases. However, validity parameters could be improved if new cut-off points were adopted. New studies should be encouraged to reevaluate the importance attributed to each clinical parameter or to revise the cut-off point used to classify caries lesion activity in primary teeth.
Using the ICDAS in combination with the LAA criteria described here, it is possible to detect a lesion, estimate its depth or severity, and assess its activity, which are all fundamental prerequisites for the diagnosis and management of the individual lesion.
Nyvad's System
Nyvad's system ( Table 2 ) is another reliable option for activity assessment of noncavitated and cavitated caries lesions. This system has presented construct and predictive validity (the different status of caries lesions can be predictive of different outcomes) concerning caries lesion activity status. According to this system, a score can be attributed to all observed characteristics of the lesion, eventually classifying the lesion as inactive or active. If a lesion presents at least 1 feature compatible to an active lesion, the examiner should classify the lesion as active. The original system used plaque as an indicator for caries lesion activity and used standard probes to assess roughness. Some recent studies have performed examinations using Nyvad's scoring criteria exactly as published. However, to standardize the methodology used in the examinations, the Nyvad system was modified in several ways compared with the original version, adopting inspection after prophylaxis and the use of the WHO probe.
Table 2
| Score | Category | Criteria |
| --- | --- | --- |
| 0 | Sound | Normal enamel translucency and texture (slight staining allowed in otherwise sound fissure) |
| 1 | Active caries (intact surface) | Surface of enamel is whitish/yellowish, opaque with loss of luster; feels rough when the tip of the probe is moved gently across the surface; generally covered with plaque. No clinically detectable loss of substance. Intact fissure morphology; lesion extending along the walls of the fissure |
| 2 | Active caries (surface discontinuity) | Same criteria as score 1. Localized surface defect (microcavity) in enamel only. No undermined enamel or softened floor detectable with the explorer |
| | Active caries (cavity) | Enamel/dentine cavity easily visible with the naked eye; surface of the cavity feels soft or leathery on gentle probing. There may or may not be pulpal involvement |
| 4 | Inactive caries (intact surface) | Surface of enamel is whitish, brownish, or black. Enamel may be shiny and feel hard and smooth when the tip of the probe is moved gently across the surface. No clinically detectable loss of substance. Intact fissure morphology; lesion extending along the walls of the fissure |
| 5 | Inactive caries (surface discontinuity) | Same criteria as score 4. Localized surface defect (microcavity) in enamel only. No undermined enamel or softened floor detectable with the explorer |
| 6 | Inactive caries (cavity) | Enamel/dentine cavity easily visible with the naked eye; surface of the cavity feels shiny and feels hard on gentle probing. No pulpal involvement |
| 7 | Filling (sound surface) | |
| 8 | Filling + active caries | Caries lesion may be cavitated or noncavitated |
| 9 | Filling + inactive caries | Caries lesion may be cavitated or noncavitated |
Although it was not its original purpose, the Nyvad index worked well in assessing the depth of lesions on primary teeth. As observed for ICDAS, microcavities, that is, cavitation limited to enamel (scores 2 and 5 in the Nyvad system, score 3 in ICDAS), usually involve dentin demineralization in primary teeth.
It is inherent that visual examination must be the main method for caries detection, whereas the methods described below tend to act as adjuncts, depending on the purpose of the examination. It is worth emphasizing that visual examination is the only effective method available to assess caries lesion activity. The use of the indices to assess caries lesion activity described in this article ,should be considered in daily clinical practice.