Figure 2.10 Frontal view of patient.
B. Symptom History
Transient jaw lock, right side, that takes a few minutes to recover from each time.
Pain intensity varies between 0 (at rest) and 6 (on locking, right TMJ) on a 0–10 NRS.
Characteristic pain intensity 10 (NRS 0–100), current pain intensity 0 (NRS 0–10), pain-related disability 10 (NRS 0–100; GCPS) in the right TMJ.
JFLS reveals limitation in mouth opening and chewing. Few and infrequent daytime parafunctions according OBCL.
The patient began experiencing discomfort at around the age of 6–8 years.
On a monthly interval, she could feel a sensation of grinding sand in her ears when she chew but cannot remember whether it was prompted by something particular or not. For several years she has experienced her jaw lock problem on a weekly basis.
C. Medical History
No food intolerance or allergies.
She broke her left tibia and damaged her knee ligaments in a bicycling accident 3 years ago. The medical report on the tibial fracture also diagnosed ligamentous laxity.
D. Psychosocial History
Middle-class background; mother and father are both employers.
Since she was young she has loved and engaged in horse riding.
For the last 5 years she has worked as a shop assistant, spending many hours standing and not wearing appropriate shoes. She says that at the end of the day she feels pain around the back of the neck and jaw soreness because she is always tense.
The locking episodes were much more frequent 1–4 years ago and related to a period of working particularly hard and under constant pressure.
Describes herself as a stable person normally but with limited stress management. Mild scores for depression (PHQ-9) and anxiety (GAD-7). Some physical symptoms (PHQ-15) but moderate level of stress (PSS-10). Good sleep quality (PSQL).
GCPS grade I; that is, low intensity, low disability.
No smoking, no alcohol consumption.
F. Extraoral Status
Concave facial profile due to mandibular protrusion (Figure 2.11).
Hypertrophy of masseter muscles by palpation.
Maximum unassisted opening during an episode of locking is 15 mm (Figure 2.12a).
Right TMJ clicking during jaw opening (late click) and closing movements (early click).
Limitation on lateral mandibular movements (Figure 2.12b and c).
No locking during examination.
No TMJ pain during examination.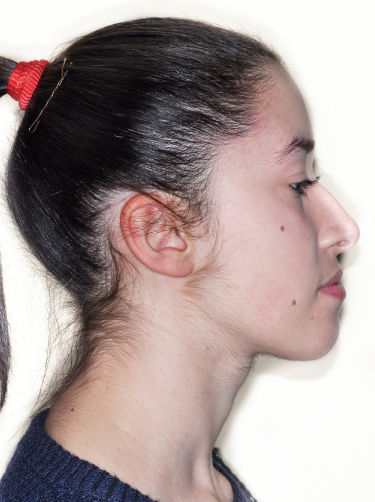 G. Intraoral Status


H. Additional Examinations and Findings
Radiographic examination requested by her previous dentists included panoramic radiograph and latero-lateral radiographs (Figure 2.14).
MRI at open and closed mouth positions shows a reducing anteriorly displaced disc in the right TMJ (Figure 2.15a and b), but normal findings in the left TMJ (Figure 2.15c and d).
DC/TMD
Bilateral disc displacement with reduction with intermittent locking.
J. Case Assessment
Right TMJ disc displacement with intermittent locking in a patient with Angle class III.
No TMJ pain on clicking during the examination, but the anamnestic information reveals occasions with TMJ pain on lockings. This is most likely a nociceptive-type pain due to mechanical intraarticular stimulus causing pain.
No findings pointing towards concurrent arthritis.
There is an increased risk of development to disc displacement without reduction in cases with intermittent locking.
K. Evidence-based Treatment Plan including Aims
Counselling, with the aim to reassure the patient.
Jaw exercises, with the aim to avoid overloading the joint.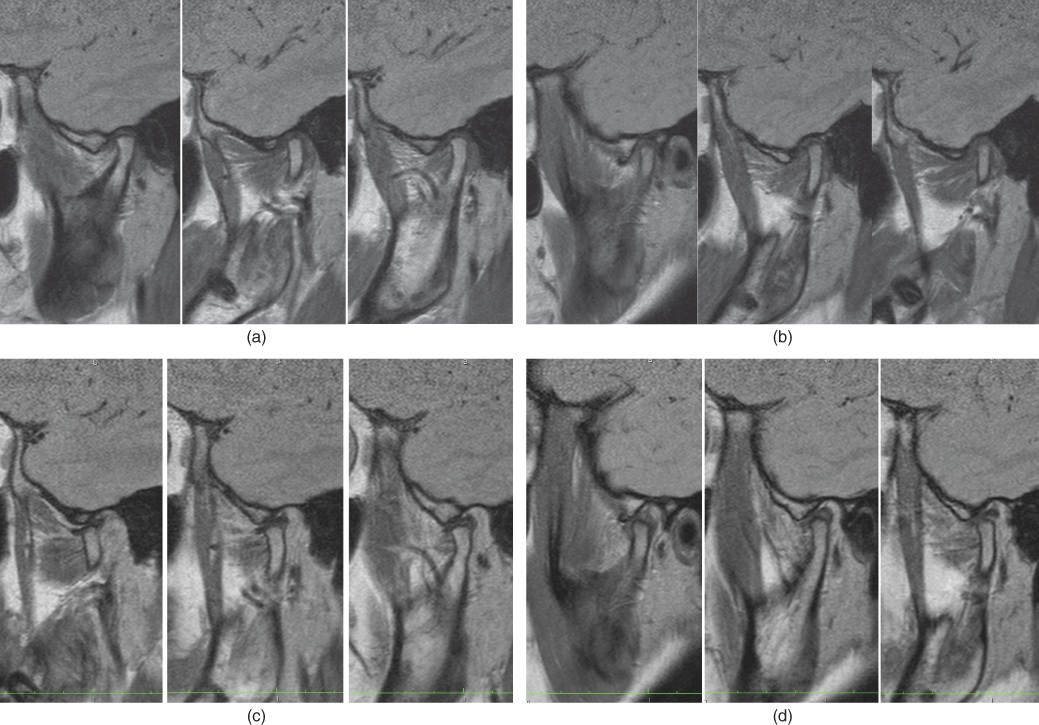 L. Prognosis and Discussion
Prognosis for the disc displacement in itself is poor.
There is an increased risk of development to disc displacement without reduction in cases with intermittent locking.
The prognosis for increased function, less lockings, and less pain is good with the proposed treatment.
Background Information
Intermittent locking is an intermediate stage between disc displacement with reduction (i.e., clicking joint) and disc displacement without reduction with limited opening (i.e., closed lock; Kalaykova et al., 2011).
Intermittent locking usually manifests with joint clicking because of an anterior disk displacement with reduction that sometimes is associated with limited mouth opening as a result of a transient lack of reduction. Intermittent locking accounted for 2.5–12% of all cases of TMD (Manfredini et al., 2011; Takahara et al., 2014).
Data on risk factors are scarce. It is likely that parafunctions, especially in the form of jaw clenching, and anatomical factors may play a role in the onset of intermittent locking. Parafunctional static loading may contribute to the temporary loss of reduction of an anteriorly displaced disc. Furthermore, there may be a relationship among the onset of intermittent locking, disc deformation, and degree of anterior displacement (Kalaykova et al., 2011).