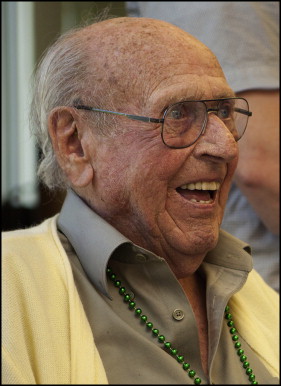 Cyril O'Brien, a long-time orthodontist in Salem, Oregon, passed away on January 13, 2015, at age 90. Born on May 30, 1924, Cy grew up on a farm near Cheney, Nebraska, southeast of Lincoln. After high school, he attended the University of Nebraska and then enrolled at the School of Dentistry at Creighton University in Omaha, where he received his DDS in 1948. He joined the U.S. Army as a captain and was stationed at Fort Lewis (now called Joint Base Lewis-McChord) in Tacoma, Washington, where he met and married Elizabeth "Betty" Meyerling in 1950.
After military service, Cy moved to Chicago for orthodontic training at the University of Illinois under the tutelage of Allan G. Brodie and William B. Downs during the "golden age of orthodontics" at the University of Illinois, when the department was known as the "West Point" of orthodontics. After he graduated in 1954, Cy and Betty decided to return to the Pacific Northwest and settled in Salem, Oregon, where Cy opened his orthodontic office.
The graduate orthodontic program at the University of Oregon in Portland (now Oregon Health and Science University) was established by Harold Noyes, whose father, Frederick Noyes, had established the graduate orthodontic program at the University of Illinois. After starting his practice in Salem, on the recommendation of Dr Alton Moore (an Illinois graduate and the Chair of Orthodontics at the University of Washington), Cy joined Ernie Hixon and Doug Buck in the Department of Orthodontics as a part-time clinical professor. For 35 years Cy taught graduate students from all over the world, including the United States, Canada, Australia, Mexico, France, Ireland, Israel, Costa Rica, Venezuela, Brazil, Thailand, and Japan. Cy was an excellent clinician and teacher who imparted to his students the fundamentals of mainstream orthodontics that he had learned at the University of Illinois. Cy's students will well remember having to memorize each cranial bone in osteology class. He told them that they had it easy because when he was an orthodontic student at Illinois, the students had to carve each cranial bone in wax, in addition to memorizing the description. Cy was a longtime member of the American Association of Orthodontists and the Edward H. Angle Society of Orthodontists.
Cy was such an avid golfer that, in rainy Oregon, he always commented that "it never rains on a golf course." One of his rules for a successful orthodontic practice was to always have a tee time. His son, Dave, said that golf was a way for Cy to connect with family and friends, and was a metaphor for how to live life, especially between shots—walking and talking and enjoying the moment, yet serious about the task at hand, celebrating your successes, accepting your failures, and knowing that both are fleeting.
A dedicated family man, Cy was married to Betty for 55 years; she predeceased him in 2005. He is survived by 6 children, 18 grandchildren, and 4 great-grandchildren. He was a warm, friendly person with a fine sense of humor and an Irish twinkle in his eye. He will be fondly remembered by the faculty and the orthodontic graduates whom he taught and with whom he socialized.