White
Red
Ulcers
Raised soft tissue (bumps)
Pigmented
1. Leukoplakia
1. Geographic tongue
1. Squamous carcinoma
1. Pyogenic granuloma
1. Varicosity
2. Lichen planus
2. Desquamative gingivitis
2. Aphthous stomatitis
2. Peripheral giant cell granuloma
2. Amalgam tattoo
3. Leukoedema
3. Candidiasis
3. Herpetic stomatitis
3. Fibroma
3. Macule
4. Cheek/tongue chewing
4. Erythroplakia
4. Traumatic
4. Peripheral ossifying fibroma
5. Candidiasis
5. Mucocele
6. Papilloma
7. Lymphoepithelial cyst
Table 14.2
Hard tissue lesions
Radiolucent

Radiopaque

1. Periapical granuloma

1. Odontoma

2. Periapical cyst

3. Dentigerous cyst

2. Cemento-osseous dysplasia

4. Odontogenic keratocyst (keratocystic odontogenic tumor)

3. Idiopathic osteosclerosis

5. Lateral periodontal cyst

6. Ameloblastoma

4. Condensing osteitis

7. Simple bone cyst (traumatic bone cyst)

8. Nasopalatine duct cyst
14.2

White Soft Tissue Lesions
14.2.1

Leukoplakia
14.2.1.1

Synonyms
Leukokeratosis; erythroleukoplakia
14.2.1.2

Introduction
A white lesion of unknown cause which is considered precancerous (Warnakulasuriya

2007

).

It is a common premalignant lesion of the oral mucosa.

Risk factors include consumption of alcohol and tobacco, microorganisms, and trauma.

All leukoplakias should be assessed histopathologically and treated vigorously if dysplasia is prominent.
14.2.1.3

Demographics
Strong male predilection

Female predilection in regional populations where women use tobacco products more than men

Seen more frequently in older individuals (average age 60 year)
14.2.1.4

Appearance (Fig. 14.1a–d)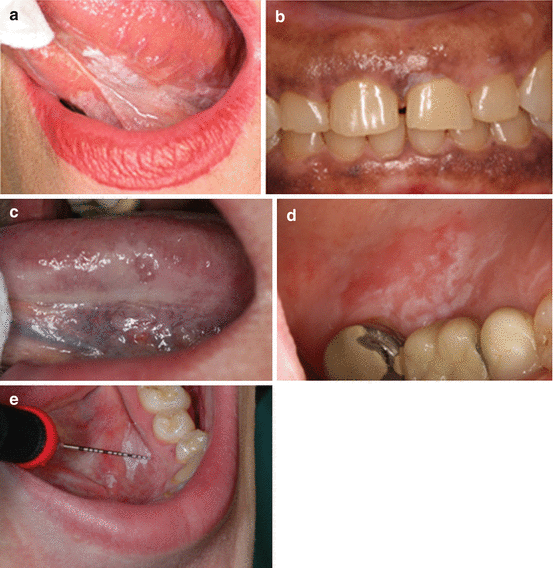 Fig. 14.1
(
a
) Thick extensive leukoplakia of ventral tongue and floor of mouth in a nonsmoker. Biopsy revealed significant epithelial dysplasia. (
b
) Small area of somewhat verrucous leukoplakia on the maxillary facial gingiva. Patient is a smoker. No dysplasia detected upon microscopic examination. (
c
) Thin leukoplakia on the lateral/ventral border of the tongue. Biopsy revealed mild epithelial dysplasia. (
d
) Irregular erythroleukoplakia of the palatal mucosa. Biopsy revealed epithelial dysplasia. (
e
) An irregular bordered rough (verrucous) surfaced distinct leukoplakic lesion on the floor of the mouth in a heavy smoker
A clinical term defined as a predominantly white lesion of the oral mucosa that cannot be characterized clinically and pathologically as any other disease; a diagnosis of exclusion.

The lip vermillion, gingiva, and buccal mucosa are the sites of predilection; the tongue, lip vermillion, and floor of the mouth lesion account for 90 % of leukoplakia dysplasia/carcinoma.

Classified as homogenous, nodular (speckled), verruciform, and proliferative verrucous leukoplakia (van der Waal

2010

).

Homogenous: well-demarcated uniform white plaques with or without fissuring.

Nonhomogeneous are predominantly mixed red and white lesions in which keratotic white nodules or patches are distributed over an atrophic erythematous background.

Verruciform: presence of thick white lesions with papillary surface; lesions are heavily keratinized and are seen mostly in older adults.

Proliferative verrucous: special type of leukoplakia with extensive papillary or verrucous white plaques that tend to slowly involve extensive mucous surfaces with an invariable transformation into squamous cell carcinoma or verrucous carcinoma over a period of several years.
14.2.1.5

Clinical Differential Diagnosis
Lichen planus

Candidiasis
14.2.1.6

Treatment and Prognosis
No current consensus.

Repeat follow-up visits and biopsies are essential.

Each clinical appearance or phase of leukoplakia has a different potential for malignant transformation.

Speckled leukoplakia carries the highest average transformation potential, followed by verrucous leukoplakia.

Homogeneous leukoplakia carries the lowest risk.

For dysplastic leukoplakia, the clinician must consider the histologic grade when planning treatment and follow-up.

In general, the greater the degree of dysplasia, the greater the potential for malignant change.

Additionally, multiple factors play a role in determining the optimum management procedure. These factors include the persistence of the lesion over many years, the development of leukoplakia in a nonsmoker, and the lesion's occurrence on high-risk areas such as the floor of the mouth, the soft palate, the oropharynx, or the ventral surface of the tongue.

Non-surgical: carotenoids (beta-carotene, lycopene), vitamins A, C, and K, fenretinide, bleomycin, and photodynamic therapy (Ribeiro

2010

).

Surgical: conventional surgery, electrocauterization, laser ablation, or cryosurgery.

Histopathologic evaluation for dysplasia/carcinoma should be done for nonhomogeneous lesion.
14.2.2

Lichen Planus (LP)
14.2.2.2

Introduction
A chronic immunologically mediated mucocutaneous condition of unknown cause resulting from a cell-mediated degeneration of the basal cell layer of the epithelium (Au

2013

).

Affects 0.1–4.0 % of the general population.

Oral lesions may be chronic, remitting, and relapsing with varying degrees of morbidity (Giunta

2001

).

Lesions range from asymptomatic to severely painful in nature.

Genetic involvement is yet to be determined.

The World Health Organization's (WHO) criteria describe lichen planus as a condition predisposed to malignant transformation.
14.2.2.3

Demographics
Female predominance seen

Most patients between 30 and 60 years of age
14.2.2.4

Appearance (Fig. 14.2a–e)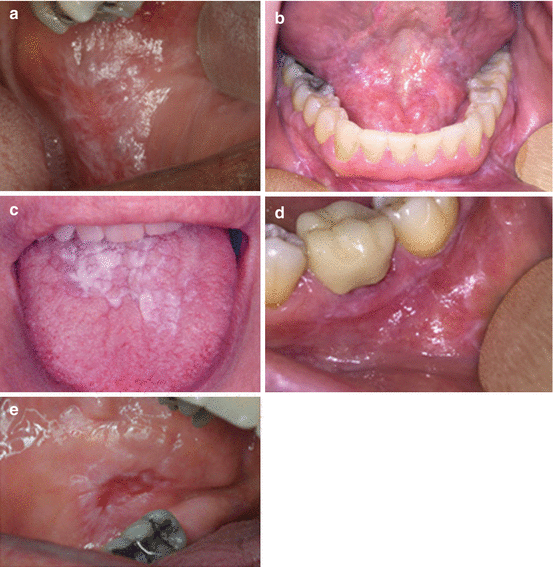 Fig. 14.2
(
a
) Classic reticular LP on the buccal mucosa. (
b
) Reticular LP on the buccal vestibule as well as the floor of the mouth. (
c
) Plaque-like LP on the dorsum of the tongue. (
d
) Erosive erythematous involvement of the posterior mandibular gingiva with striations is typical of LP. (
e
) Central ulcerative lesion of the posterior buccal mucosa rimmed by white striations typical of erosive LP
Classified into three main forms: reticular, erosive, and atrophic (or erythematous).

Reticular: most common type; present as white, slightly raised plaques or papules with interlacing white lines (Wickham striae) on an erythematous background; lesions are asymptomatic; common sites include the buccal mucosa, tongue, gingivae, and vestibule.

Erosive: atrophic, with areas of ulceration, erythema, and keratotic white striae; symptoms range from mild to severe pain.

Atrophic (erythematous): mucosal atrophy; red, diffuse lesion; pain ranges from mild to severe.

Buccal mucosa is the most common sites where lesions are usually bilateral.

Other sites include the tongue, vestibule, and gingiva. However, any part of the oral mucosa maybe involved.

Lichen planus on the dorsum of the tongue often appears plaque-like.

Direct immunofluorescence demonstrates a shaggy band of fibrinogen in the basement membrane zone in 90–100 % of cases.

Malignant transformation of lichen planus is highly controversial; malignant transformation is more likely in erosive lesions.

The reported incidence of malignant transformation is anywhere from as low as 0.4 % to as high as 1.5 % (Fitzpatrick et al.

2014

).
14.2.2.5

Clinical Differential Diagnosis
Drug-induced lichenoid reaction

Contact mercury hypersensitivity

Chronic graft-versus-host disease

Erythema multiforme

Lupus erythematosus

Candidiasis

Mucous membrane pemphigoid

Squamous cell carcinoma

Granulomatous lichenoid mucositis (affects upper lip)

Leukoplakia resembling keratotic lichen planus

Desquamative gingivitis (erosive LP)
14.2.2.6

Treatment and Prognosis
May be difficult to treat.

Lesions tend to regress and reappear in an unpredictable fashion.

Reticular lesions: No treatment needed.

Symptomatic erosive and atrophic lesions: corticosteroids recommended; strong topical corticosteroids usually sufficient (fluocinonide, betamethasone, clobetasol); healing induced within 1–2 weeks; systemic corticosteroids generally not necessary; insufficient evidence that to support the superiority of any specific corticosteroid (Usatine and Tinitigan

2011

, Lodi et al.

2012

).

Recalcitrant cases: topical retinoids, tacrolimus, mycophenolate mofetil, or cyclosporine has been used; side effects and cost may be prohibitive.
14.2.3

Leukoedema

Synonyms: None
14.2.3.1

Introduction
A development alteration, of unknown cause, which is considered to be a variation of normal anatomy rather than a disease (Martin and Crump

1972

)
14.2.3.2

Demographics
Bilaterally on the buccal mucosa.

Less frequent sites include the labial mucosa, soft palate, and floor of the mouth.

Lesions have been reported in up to 90 % of black adults and 50 % of black children (Canaan and Meehan

2005

).

The incidence in white persons in different studies is highly variable (10–80 %) possibly due to darker coloration of the mucosa in blacks, rendering the alteration more visible (Bhattacharyya et al.

2003

).

Similar changes have also been reported on the vaginal and laryngeal mucosa.
14.2.3.3

Appearance (Fig. 14.3)
Buccal lesions are poorly defined diffuse, gray-white, opalescent macules which cannot be rubbed off.

Occasionally, the lesion may present as fine grooves or folds.

Mucosal changes are not usually noticeable until adolescence.

Some studies relate the severity of the lesion to smoking.

Clinical diagnosis is made easily because the lesion disappears or fades upon stretching the mucosa.
14.2.3.4

Clinical Differences Diagnosis
Frictional keratosis

Snuff dippers keratosis

White sponge nevus

Witkop's disease

Clinical stretch test helps distinguish leukoedema from other lesions
14.2.3.5

Treatment and Prognosis
No treatment required; it is a benign condition.

Does not change significantly even after 20–30 years.

Fig. 14.3

Diffuse pale gray-white change of the buccal mucosa in a middle-aged male patient
14.2.4

Cheek/Tongue Chewing
14.2.4.1

Synonyms
Morsicatio mucosae oris; morsicatio buccarum; morsicatio labiorum; morsicatio linguarum
14.2.4.2

Introduction
"Morsicatio" represents changes in the mucosa covering the tongue, buccal mucosa, or lips caused by chronic tissue irritation, such as biting, sucking, or friction (Glass and Maize

1991

).

Etiology unknown (Allen and Camisa

2008

).

Self-induced injury which may be associated with stress or mental illness (Scully and Hegarty

2010

).
14.2.4.3

Demographics
Can be seen in any age and gender

Increased prevalence in women older than 35 years of age (Woo and Lin

2009

)

Known occupational association in glassblowers
14.2.4.4

Appearance (Fig. 14.4a, b)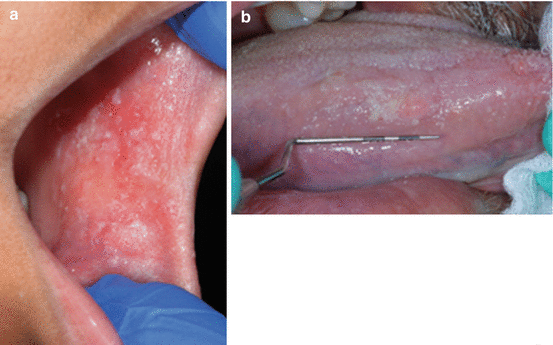 Fig. 14.4
(
a
) CK Chg. Typical "shredded" appearance of the cheek mucosa in a 10-year-old girl. (
b
) CK Chg. White rough area on the lateral border of the tongue in a 65-year-old male
Thick rough white asymptomatic areas intermixed with red and ulcerated zones of oral mucosa (Woo

2010

).

Superficial areas may be peeled off or removed by patient.

Anterior buccal mucosa is affected most frequently; unilaterally or bilaterally.

Lateral border or tongue and lips may also be involved.
14.2.4.5

Clinical Differential Diagnosis
Leukoedema

White sponge nevus

Snuff dipper's keratosis

Chemical keratosis

Oral hairy leukoplakia (Tomás Carmona et al.

2000

)
14.2.4.6

Treatment and Prognosis
If other conditions mentioned above are in consideration, an incisional biopsy may be required.

No treatment required, other than mitigation of trauma.

Complete resolution takes place upon resolution of chronic trauma.

No malignant potential.
14.2.5

Candidiasis (See Candidiasis in Red Lesions)
Condensing osteitis presents as a radiopaque/radiolucent lesion between the apex of teeth #29 and 30.

Large condensing osteitis between the apex of teeth #30 and 31.
14.3

Red Soft Tissue Lesions
14.4

Ulcers in the Soft Tissue
14.5

Raised Soft Tissue Lesions (Bumps)
14.5.1

Pyogenic Granuloma
Premium Wordpress Themes by UFO Themes
WordPress theme by UFO themes