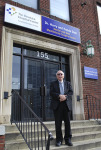 The scope and practice of dentistry in the United States have evolved significantly from its origins as an independent health profession (alongside medicine) in the mid-1800s. The clinical scope of the profession as currently practiced today by thousands of dedicated clinicians encompasses multiple diverse areas that go way beyond the traditional or conventional "drill and fill" most often associated in the past with the dental profession by the general public.
Our profession has rapidly and energetically advanced and significantly expanded our scope of services. Our current clinical roles have evolved to a primary physician model with our area of expertise limited to the maxillofacial region. In fact, the current American Dental Association (ADA) definition of dentistry listed below clarifies this expanded scope of dental care in the United States.
Definition of Dentistry:
Dentistry is defined as the evaluation, diagnosis, prevention and/or treatment (nonsurgical, surgical or related procedures) of diseases, disorders and/or conditions of the oral cavity, maxillofacial area and/or the adjacent and associated structures and their impact on the human body; provided by a dentist, within the scope of his/her education, training and experience, in accordance with the ethics of the profession and applicable law.
Clearly, this definition of dentistry is quite robust and all-encompassing and establishes dentistry as a primary care specialty whose area of interest involves the maxillofacial area and its interface with the overall health and well-being of the patients we treat.
The modern well-trained and educated general dentist is now licensed to diagnose and treat a multitude of conditions way beyond caries and periodontal disease. Dentists are now actively involved in the diagnosis and treatment of patients with special needs in areas such as sleep apnea, chronic facial pain, oral medicine, clefted patients, traumatic injuries to the mouth and facial region, and the dental management of medically compromised patients.
It is in keeping this expanded and widened scope of care that this issue was conceived and developed. General dentists obviously must be well versed in the pharmacology of the drugs they are most likely to prescribe, but equally so, they must be aware of the common medications their patients are taking and their interactions with the drugs they both administer and prescribe, along with their effects on the oral cavity.
I am extremely pleased with the quality of the work submitted by my esteemed contributors and colleagues, and I am certain that this issue will become an often referenced text by our dental community.
I am once again privileged to have been associated with the Dental Clinics of North America— a wonderful series that contributes significantly to the academic and educational advancement of our profession. I am also pleased to have the opportunity to once again work with my capable editor and friend, John Vassallo, who continues to do such an admirable job with these texts, as well as Ms Kristen Helm, Developmental Editor at Elsevier.
I am also deeply indebted to certain individuals with whom I have had the distinct privilege and opportunity to have worked with for decades; who have acted as role models, friends, and confidants; and without whose friendship, my life and career would certainly have been diminished:
•

Dr Peter M. Sherman, Chairman of Dentistry/Oral and Maxillofacial Surgery at Woodhull Medical Center, Brooklyn, NY

•

Dr Orrett Ogle, Immediate Past Chief of Oral and Maxillofacial Surgery, Woodhull Medical Center, Brooklyn, NY

•

Dr Earl Clarkson, Current Director and Chief of Oral and Maxillofacial Surgery, Woodhull Medical Center, Brooklyn, NY
I have had the distinct privilege to have spent my entire professional career at The Brooklyn Hospital Center, where I currently work with a dedicated and committed staff of individuals. I am also forever grateful to the ongoing support to myself and my department of Dentistry/Oral and Maxillofacial Surgery at The Brooklyn Hospital Center, Brooklyn NY by the following individuals:
•

Dr Carlos P. Naudon, Chairman Board of Trustees, The Brooklyn Hospital Center

•

Mr Gary Terrinoni, CEO and President, The Brooklyn Hospital Center

•

Dr Gary Stephens, Chief Medical Officer, The Brooklyn Hospital Center

•

Mr John Gupta, Chief Operating Office, The Brooklyn Hospital Center
Much thanks must be extended to my dedicated Executive Assistant/Oral and Maxillofacial Surgery Residency Coordinator, Ms Melissa Molina, and to my capable administrator, Mrs Sheila Kaufman, for their dedicated service.
Finally, this issue is dedicated to my wife, Freida, and my children and grandchildren, who are forever uppermost in my mind and heart and have always supported my professional endeavors.